Courtesy Of Laurence Grandbois-bernard
Christian Guay-Poliquin
In recent weeks, COVID-19 has forced millions of people into compulsory retreat and wreaked havoc on the global economy, a reminder of the fragility of human-engineered systems. The Weight of Snow, by Québécois novelist Christian Guay-Poliquin, presents another kind of shutdown — a widespread power failure, compounded by an epically fierce winter, that tests the limits of human tolerance for uncertainty.
The Weight of Snow addresses itself to a world in which the postapocalyptic genre has begun to feel disconcertingly like realism. Guay-Poliquin's vision of collapse doesn't involve looting or cannibalism. His prose has the boiled-wool sensibility of far northern climes: a refreshing dearth of adjectives, characters who inquire after each other with variations on "What's with you?" and an almost-hallucinogenic attentiveness to the textural nuances of snow.
Guay-Poliquin grew up in Saint-Armand, a few miles north of the Vermont-Canada border. The Weight of Snow, his second novel, was published in 2016 in Québec, where it garnered a slew of literary honors. Since then, the book has been translated into more than 10 languages; last year, Vancouver-based Talonbooks released an English version.
In February, New York magazine book critic Molly Young featured The Weight of Snow in her monthly newsletter of recommended reading, a small yawp over the publicity chasm into which English translations of postapocalyptic Québécois novels might otherwise vanish. Given Vermont's proximity to Guay-Poliquin's stomping grounds, we have no excuse for not paying more attention, particularly when it comes to regionally applicable tales of survival.
The novel takes place in a snowbound village reeling from the effects of an unexplained power outage. The two main characters become the unwitting hostages of the elements and each other. When the narrator, an unnamed young man, is badly injured in a car accident, the villagers place him in the care of Matthias, a curmudgeonly sort who has taken up residence in an abandoned house on the outskirts of town.
In exchange for nursing the young man back to health, Matthias receives a steady supply of firewood and food rations via a locally administered resource distribution system, which seems like it could fall apart at any moment.
The reader soon learns that Matthias is biding his time until the blizzards stop, at which point he plans to cut loose for the city, on a bus or cross-country skis or whatever conveyance he can wrangle, to reunite with his wife. This quarantine-slash-forced guardianship, an arrangement made more claustrophobic by the relentlessly accumulating snow, creates a simmering tension. Matthias pelts the narrator with words, desperate to draw him out; the narrator, subdued by pain, isn't much of a talker.
To pass the time until he can peace out, Matthias labors over the stove, concocting vittles that sound like menu items from a Civil War encampment: black bread, seductively described by the narrator as "a kind of brick made of buckwheat flour and molasses"; dishwater-proof coffee; and a calorie grenade called pemmican, a deluxe version of black bread with fruit, dried meat and animal fat.
The narrator, for his part, eats the foodstuffs, waits for his tibias to knit themselves back together and contemplates Matthias. It turns out that spending a winter marooned in a house with a random person yields some peculiar intimacies, such as when the narrator watches Matthias scrub his face one morning and notes that the skin of his neck "looks like a snow drift that has withered under the late winter rains."
It's a poetic burn, yet the observation comes across as oddly tender, a testament to Guay-Poliquin's ability to capture the subtle meanderings of affection between strangers. As the coronavirus upends our social rituals, it's weirdly comforting to think about two people circling each other in a ramshackle house at the end of the world.
Guay-Poliquin spoke to Seven Days by phone from Paris, where he was traveling on literary business, about the complexity of writing about nothing, the political power of snow and our existential need to talk to each other.
SEVEN DAYS: What's your writing process? How did you midwife this disasterscape into being?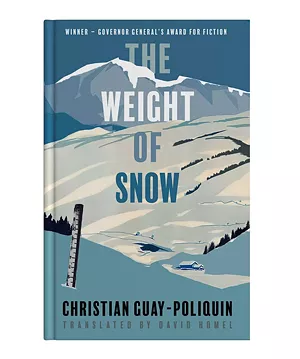 The Weight of Snow by Christian Guay-Poliquin, translated by David Homel, Talonbooks, 240 pages. $16.95.
CHRISTIAN GUAY-POLIQUIN: I always have all these ideas circling around, like moons around a planet, but I need to know if they can hold together. So before I start writing a novel, I test the concept with a short story. A long time before I wrote The Weight of Snow, I knew I wanted to explore how a weird old man thinks, to go inside his head. The premise in the short story is the same: There's an old guy trapped in a house with a young man, and the young man doesn't talk, which makes the old man angry. So he keeps talking to him, trying to make something happen.
SD: What are the challenges of executing a concept that revolves around two characters confined in a tiny space?
CGP: It's hard, and I work slowly. I write novels where not much happens, and it's really complex to write a simple story — to be sure that everything is dense in meaning and simple in form. When nothing happens, at every moment, something might happen, and that tension is necessary for a story to exist; it's the sense of what could happen that makes us believe in the story. So I try to build a world with details, like using centimeters of snow instead of numbers for each chapter. It's just a small thing, but it's thick and heavy upon our heads.
SD: Those centimeters of snow felt completely ominous — the higher the number at the beginning of each chapter, the more doomed everything seemed. And then Matthias would make black bread or something, and a single droplet of water would fall from a ceiling beam. Then, at some point, I'd realize that my face was hurting, because I'd been clenching my jaw the entire time, waiting for the roof to cave in.
CGP: That was the idea. I didn't want there to be any massive death. I didn't want to tell a story about survival for a piece of bread; I wanted it to be about existential survival. The power outage is a trick to trap my main characters in this little house, to put the focus on what happens between two human beings at the end of society. It's deeper than friendship — it's tense; it's complicated. I once read a story about a soldier who shares a bunk bed with another guy. Every night, he looks up and sees the guy's arm, dangling above him. Just seeing that arm, night after night, he begins to feel this deep connection with him.
SD: Did the apocalyptic zeitgeist — climate change, the pervasive suckage of late capitalism — inform the scenario you've created?
CGP: Totally. I live in Pigeon Hill, 40 minutes north of Burlington, just a few miles over the Canadian border. I grew up there, and already in my lifetime, the winters have changed so much. I don't want to be moralistic, but we're, you know, in the deep shit.
The winter in the novel is cryptopolitique — a winter so huge, so strong, like the ones our grandfathers told us about. The fury of this winter recalls our total subordination to nature; it reminds us that we are not the masters. When the electricity is gone, when we have no more screens, we have no choice but to look out our windows. For me, there's a hidden political dimension in that — in slowing everything down, being forced to notice the things we don't normally see.
SD: The details of the village are so vivid. Did you have a specific place in mind when you created this world?
CGP: I guess I saw it as kind of a North American village, pieced together from many different places I've been. Re-creating a real place would have been way more complicated — too much work for me, honestly. The main thing is that there's a village, and beyond that there's a forest, and beyond that is the coast.
SD: Why is that geography so important?
CGP: Geography structures our hopes and fears. In the novel, the coast is the place they don't have news from — it's this preoccupation. When we don't have news from anywhere else, we try to situate ourselves: Are we better off? Worse off? We're wired to think beyond the here and now. Matthias wants to go back to his wife in the city. Even if he doesn't manage to get there, he wants to go toward her. Other people exist for us as a reminder of who we are. Without loving someone, without people around us, we lose our own identity.
SD: When Matthias finally gets the narrator to engage with him, he says: "I always knew you'd end up giving in. No one can keep his mouth shut like that. Everyone turns back to words sooner or later." What does he mean by that?
CGP: Life is so short, but the moments, especially in winter, are so long. It's a really human task to fill the time. For me, telling stories and survival are glued together. For Matthias, trying to get the narrator to talk is sort of a game, but at the same time, it's not really a game. Because in the end, what's more dangerous — starvation or silence? I don't think we can resist the impulse to know another human being. We're made to bond with each other.