Courtesy Of Victoria Blewer
Chris Bohjalian
The rollout of Vermont author Chris Bohjalian's 21st book has been, to put it mildly, atypical. The international thriller The Red Lotus was released by Doubleday on March 17, as COVID-19 began upending public life in the United States.
"When you count my paperbacks, I've had 39 publication dates in my life," the Weybridge resident said in a phone interview. "Of those 39 publication dates, 35 were seamless. Four, not so much."
One book by Bohjalian, 58, was published on September 11, 2001; another, two days before the U.S. invaded Iraq in 2003; and a third, the day after the Boston Marathon bombing in 2013. Now, he's navigating the launch and promotion of a book during a pandemic.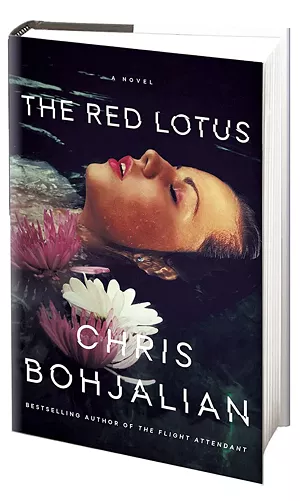 The Red Lotus by Chris Bohjalian, Doubleday, 400 pages. $27.95.
The Red Lotus begins with 33-year-old emergency room doctor Alexis Remnick sitting poolside at a picturesque hotel in Vietnam. Despite her idyllic surroundings, she's not relaxing — Alexis' boyfriend, hospital development executive Austin Harper, has gone missing during a solo bicycle excursion. Readers follow Alexis in her pursuit of the truth about her boyfriend's death and his nefarious reason for visiting Vietnam, which, without spoiling the plot, we'll say involves the distribution of a deadly pathogen.
Despite a challenging rollout, the 400-page novel is faring well with critics. The New York Times called the book "a terrific new thriller" and praised Bohjalian's "muscular, clear, propulsive sentences."
Readers are enjoying the ride, as well. "I loved Alexis and the balance of her character," gushed one fan on Goodreads. "We saw her weaknesses, but she exudes a strength and power that was commendable."
The novel's narrative is the convergence of several ideas that Bohjalian conceived over time. "The Red Lotus had its origins not long after The Flight Attendant was published," recalled Bohjalian, referring to his 2018 novel, which will soon appear as a limited series on HBO Max. He described how the concept came to him while having lunch with a Vietnam veteran in Vermont: "I began to think there might be an interesting novel in some legacy of the Vietnam War."
Then, in April and May of 2018, the writer was intrigued by two articles: one in the Times about antibiotic-resistant bacteria found in New York City mice that can be transmitted to humans, and one in the New York Post describing rat-infested NYC apartments. (The latter pesky rodents play a supporting role in The Red Lotus). Curious, Bohjalian called an epidemiologist quoted in the Times article, who, he said, expressed fear that the Big Apple could be the epicenter of a pandemic.
Bohjalian was once again struck by the possibility of a novel, he said. "I didn't know what it was at the time, but I knew that these threads were going to, in some way, overlap."
For the author, though, the threat of widespread illness is not the main message of The Red Lotus. "Up until early February, I didn't even talk about this as a book that has the plague in it," he said. "I talked about it as a story of an ER doctor who goes on a bike tour of Vietnam with her boyfriend, and he disappears, and she realizes in his absence how much he's told her is a lie. So how well do we really know the one we love?"
Though Bohjalian never anticipated that a real-life public health crisis would become a talking point for The Red Lotus, he felt the impact of COVID-19 as its release date rolled around.
"The virus affected everything with regard to this book," Bohjalian said. "The book came out on Tuesday, March 17. I had a 14-city book tour planned, and we canceled it on Friday, March 13, literally two days before the first event in Concord, N.H."
The tour was to take Bohjalian to 14 North American cities in four time zones, where he would connect with audience members through short readings, Q&As, and swag giveaways, offering insight into his work and life. He even planned to share some short stories he wrote in fourth grade.
Asked whether canceling his tour would have an impact on purchases, Bohjalian quickly answered, "Oh gosh, yes." From fan selfies to local media coverage to rubbing elbows with sellers, in-person appearances generate buzz and, ideally, book sales.
This time around, Bohjalian is finding alternative ways to attract readers. For customers of the Vermont Book Shop in Middlebury, Phoenix Books in Burlington, and Barnes & Noble in South Burlington, he wrote personalized messages in books they'd purchased and would receive by mail. He's also communicating with nearly 40,000 Facebook followers and relying on Doubleday's digital marketing and advertising.
Because he's an established writer with a Times No. 1 best seller and an Oprah's Book Club pick, he can rely to some degree on name recognition and the hope that longtime fans will seek out his latest page-turner.
Bohjalian is aware that other writers aren't as fortunate. "If I'm going to release a book on March 17, at least it's my 21st," he said. "My heart really breaks for the novelist whose first book or second book or third book was published last Tuesday ... For me, it's a disappointment, but I know the sun is going to rise."
Bohjalian has a plea to readers on behalf of less-established authors: "A quarantine is a great time to catch up on your reading, so call your local bookstore ... and see what new books are on their website." Consider what fresh titles you might want to try, he advises. "Especially if it's a new writer you've never heard of, take a look at the book, because this might be a shot for them."