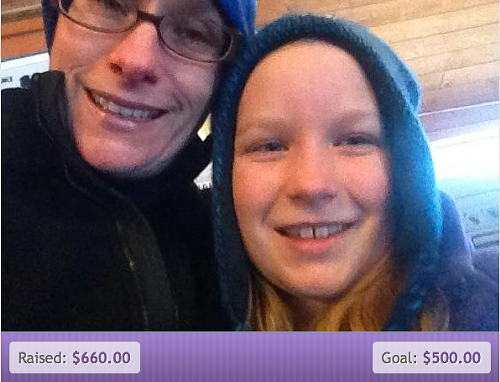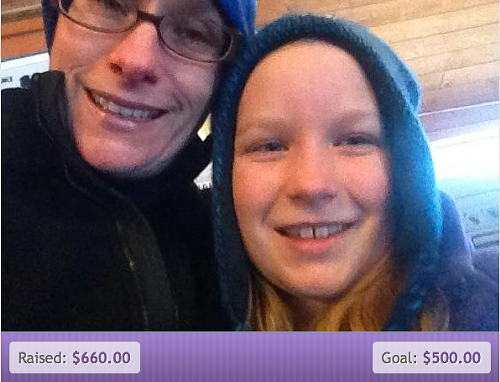 More than 90 business and community leaders — including Burlington Mayor Miro Weinberger — are preparing for an unusual slumber party taking place this Thursday. As part of
Spectrum Youth & Family Service's Sleep Out
, they'll spend the night under the stars — laying on cardboard boxes and tarps — to raise funds for Vermont's homeless youth.
In Westford, 9-year-old Celia Andrews will be doing the same.
A family friend participated in last year's inaugural Spectrum Sleep Out, and Celia thought camping out in the winter sounded fun, says her mom, Julia Andrews. Julia remembers explaining to her daughter, "The point is not that it's fun, but that it's about thinking of what it's like to be homeless."
As Celia learned about the challenges many young Vermonters face, she became more and more interested in helping them. But since she's too young to participate in Spectrum's Sleep Out, Celia is planning her own — in her own backyard.
Julia says she may bend the rules a little and camp out in a tent with blankets, but Celia isn't shirking on the fundraising aspect. Together, they set up a GoFundMe webpage, hoping to bring in $500 in community donations. Celia has already surpassed that goal: As of today, she has raised $660.
"We are fortunate to have family and friends who are supportive of this," says Julia. "In Westford, it would be really easy to just assume that there are no homeless people in Vermont. I think we all know, thanks to Spectrum, that that's not true — and also thanks to COTS."
While that's a hard message for kids Celia's age to learn, continues Julia, "I think it's really important for her to start thinking about what the problems are in the world, and how to solve them."
And to help make it a positive experience for her daughter, Julia says they'll be roasting marshmallows over an open fire, too. That's a dessert well earned.
The Spectrum Sleep Out takes place on Thursday, March 28, and is expected to raise about $150,000 for Spectrum Youth & Family Services programs. Find out more, and learn how to make a donation, at spectrumvt.org.
This post was written by Kids VT managing editor Carolyn Fox.