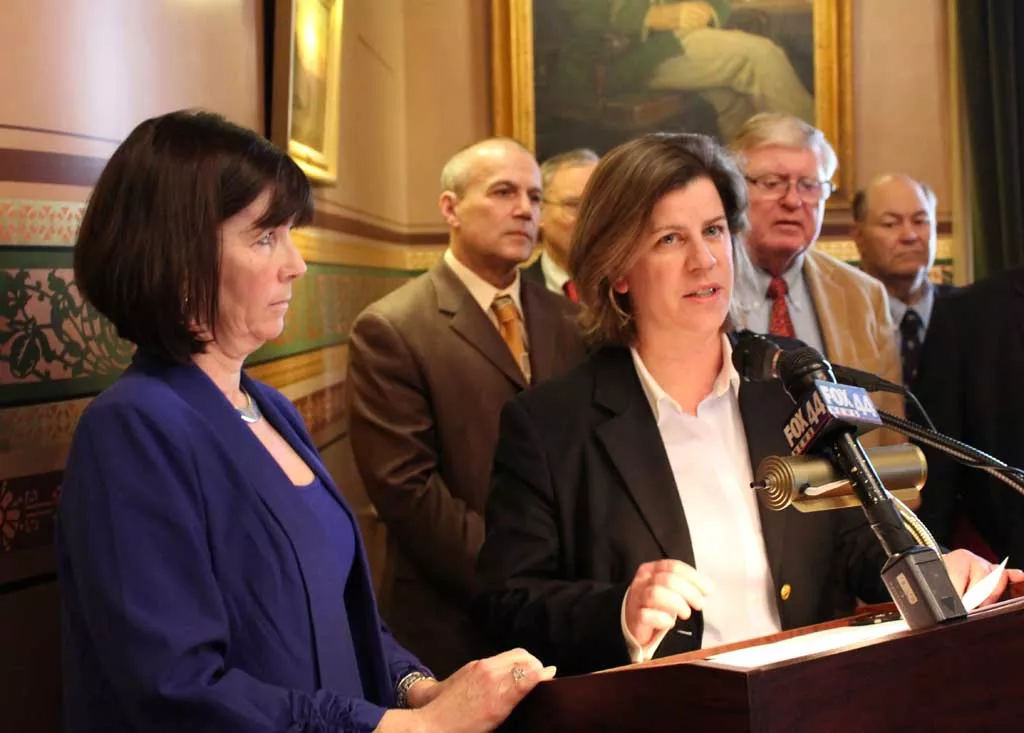 Courtesy of Paul Heintz
Heidi Scheuermann
With Election Day less than six months away, the Vermont GOP appears to be a party without a plan.
On Tuesday, one of its brightest prospects, Rep. Heidi Scheuermann (R-Stowe), announced that after six weeks of consideration, she'd decided against challenging Gov. Peter Shumlin, a two-term Democrat.
The decision, she said, "was a very difficult one, but it is simply not the right time for me."
"I should've started earlier," she explained. "People talked to me about this in the fall, and I should've really started considering it more seriously and thoughtfully at that point. I just couldn't put together the effort that I think I really needed to put together in order to take on this kind of challenge."
That's precisely the problem any candidate would face this late in the game. It used to be that one could bide one's time until the end of the legislative session before gearing up for the fall election.
But these days, campaigns are complicated and costly affairs. It's hard to find experienced staffers, lock down donors, plan advertising campaigns and personally prepare to take on one of the most talented politicians in recent Vermont history.
If he hasn't already, that's what Scott Milne will soon find out. The day before Scheuermann staged her exit, the scion of a prominent Republican family and president of Barre-based Milne Travel said he's "thinking seriously of a [gubernatorial] run, but will not decide until [the June 12] filing deadline."
Milne sent that note from North Africa, where he's currently traveling — and where he's not, presumably, working on debate prep or cold-calling potential donors. On paper, the Pomfret resident sounds like a great candidate, but if he's serious, he'll soon learn that it's pretty tough to go from zero to 60 in the political arena.
Yet to make up their minds are two more potential candidates: former state auditor and senator Randy Brock, the party's 2012 nominee, and retired Wall Street executive Bruce Lisman. Perennial candidate Emily Peyton is the only declared runner in the GOP race — and party officials say they won't give her the nomination.
It's entirely possible that Vermont Republicans have some grand plan to fake out the opposition before unveiling their master candidate. But it seems more likely they're utterly disorganized and devoid of any real strategy.
David Sunderland, the Vermont GOP's recently elected chairman, says he's "confident there will be a candidate." And he's not worried about whoever it is starting so late.
"People have announced earlier before," he says, "but I think nobody really pays attention to gubernatorial campaigns and there's not much real campaigning before the legislative session ends."
Sunderland says he's "disappointed" that Scheuermann bowed out, but he understands her decision.
"It's a daunting task to consider, running for governor," he says. "There are so many things that need to all line up, in terms of professional responsibilities, personal responsibilities, funding and staffing a campaign."
Exactly. And that's the problem.
Vice Squad
Speaking of non-elections, Vermont Democratic Party higher-ups have been beating the bushes in search of a more prominent candidate for lieutenant governor than John Bauer, the sole D in the race.
Montpelier rumormongering has focused on Vermont Deputy Transportation Secretary Sue Minter, a former Waterbury state rep and Irene recovery czar. But Minter says she's absolutely not challenging Lt. Gov. Phil Scott, the two-term Republican.
"I'm very happy in the job I do," she says. "I love serving Vermonters and VTRANS, and that's where I'm going to be staying."
Others mentioned for the gig — Sen. Claire Ayer (D-Addison), Sen. Ginny Lyons (D-Chittenden) and Rep. Kesha Ram (D-Burlington) — all say they, too, are staying put.
"No," Ayer says. "I've been asked, but so has almost everybody else."
Complicating the candidate recruitment was last week's announcement that the Vermont Progressive Party will make a serious bid for the seat. Its candidate? Verdant Power chief technology officer Dean Corren, who spent eight years representing Burlington in the Vermont House during the 1990s. Corren briefly served as outreach director for then-congressman Bernie Sanders.
"I think this is one of the most exciting times since I've been involved in Vermont and Vermont politics," he says. "I think we're on the verge of doing things we've been talking about for many decades — things the people want and the politicians are catching up with."
Like Bauer, Corren's hoping to qualify for public financing, which could provide his campaign with up to $200,000 to take on Scott. And like Bauer, Corren says he plans to stay in the race even if he doesn't qualify for the money by the June 12 deadline.
That creates a real disincentive for any top-tier Dem to give up a safe seat to run for LG. In the right conditions, a well-financed Democrat with strong party support could probably defeat Scott. But if lefties split their votes between a Democrat and Progressive, it just ain't gonna happen.
And something tells me the Dems won't want to cede this one to the Progs.
School Daze
You gotta admire Shumlin's chutzpah.
Just two days after his school governance reform lost big in the legislature, he had this to say on Monday at his first press conference since Saturday's adjournment: "I am thrilled that we got our entire education package that I proposed two years ago through the legislature. I would suggest that that's unprecedented."
Speaking at the Vermont Student Assistance Corporation's Winooski headquarters, Shumlin ticked through his education policy achievements of the just-finished biennium: universal pre-kindergarten, dual enrollment, free breakfast and lunch for low-income students, and a scholarship program for math and science students who pledge to stick around Vermont after graduating.
"You know, we got the package through," he said. "And to me, that's a big deal."
A big deal, indeed. But there were a couple of big elephants in the room, too.
One of them was higher-education funding. Surrounding Shumlin at the press conference were officials from the Vermont State Colleges, University of Vermont and VSAC — all of whom pretty much got stiffed in next year's state budget.
The former came to the table asking for a 4 percent appropriation increase, while the latter two asked for 3 percent increases. In January, Shumlin recommended a 2 percent hike for all three institutions that would start halfway through the budget year (translation: a 1 percent increase). In the end, the legislature approved a mere 0.5 percent bump.*
How did the higher-ed officials in attendance feel about that? VSC chancellor Tim Donovan stepped up to the podium to answer the question.
"Be good," Shumlin cautioned him with a smile.
"I'll try," Donovan said.
"We have, over the course of 30 years, had a steady decline in [public] support for higher education in the state," the chancellor said. "We're 49th in the country. And we're far enough in 49th that a 50 percent increase in funding to the state colleges, the university and VSAC would raise us from 49th to 47th. So we have a lot of work to do."
The lack of public investment, Donovan said, "is a very significant factor in our lower-than-average college continuation rates in the state."
The other elephant in the room was school governance. Other than addressing opiate addiction, Shumlin's biggest priority this legislative session was to take on rising property taxes, which have been fueled by increasing school costs and declining student enrollment.
After Tax Commissioner Mary Peterson projected a possible seven-cent increase in the statewide property tax last December, Shumlin urged voters to "scrutinize" local school budgets and called on the legislature to address the situation.
The House did — eventually. After three months of debate, it voted two weeks ago to consolidate Vermont's 273 school districts into roughly 50 "education districts" over the course of six years. But the Senate wasn't interested in mandatory consolidation, fearing it would inevitably result in a loss of local control and the closure of local schools.
It's hard to say whether voters this fall will be more pissed off about rising property taxes or the threat of school consolidation, but the politically astute governor seemed to have his eye on both possibilities. He kept urging the legislature to do something — something! — but was careful not to tie himself to any one proposal.
In the end, Shumlin got nothing. Nothing!
As the legislature prepared to adjourn Saturday, his education secretary, Rebecca Holcombe, and education adviser, Aly Richards, scurried around the Statehouse trying to salvage a fig leaf of reform. But House Republicans refused to suspend the rules to take up the last-minute measure.
In his closing remarks to the House, Speaker Shap Smith (D-Morristown) acknowledged the failure, but saluted the legislature's "willing[ness] to try."
"The conversation was worth having," Smith said. "And we're going to need to have that conversation in the future, because we need to do better by our kids."
Shumlin, too, now seems to be all about the conversation. He used the C-word at least six times Monday answering questions about that other C-word: Consolidation.
"None of us thought that we had the magic solution and that we were gonna come out of this legislative session with the perfect answer," he said. "Most of us expect to have that conversation going forward, to build consensus."
Whether a conversation will be enough for Vermont voters remains to be seen. Vermont League of Cities and Towns executive director Steve Jeffrey seems to be hoping for more. In an unusually harsh statement, Jeffrey criticized lawmakers Tuesday for failing to take on rising property taxes and, instead, mandating new spending, such as universal pre-K.
"The [VLCT] calls on voters to hold their state leaders accountable during the 2014 election process," Jeffrey said, suggesting that voters "make reducing state education property taxes the paramount campaign issue of this election."
Media Notes
Last week we reported that, halfway through its fiscal year, Vermont Public Radio is $255,000 — or 10 percent — behind its membership revenue projections. The situation, caused by an unsuccessful investment in direct mail and a 13 percent shortfall in major giving, prompted the station to schedule an additional pledge drive this summer — in hopes of scaring up $300,000 in 12 days.
When we asked VPR president Robin Turnau last Tuesday whether any staff would be departing over the financial snafu, she said no. But on Friday, according to a memo obtained by Seven Days, vice president for development and marketing Brendan Kinney informed the staff that, "Dan Palow has submitted, and I have accepted, his letter of resignation as director of development operations."
According to his online biography, Palow's responsibilities include "managing direct-mail campaigns, maintaining VPR's member database, and leading the underwriting, membership and events staff." Palow did not return a call seeking comment.
Asked why she hadn't mentioned Palow's departure previously, Turnau said, "When we spoke last week, those were the circumstances."
In other public media news, the Corporation for Public Broadcasting's inspector general last week recommended that Vermont Public Television face sanctions for failing to comply with federal open meetings law. Inspector general Mary Mitchelson has been investigating an anonymous allegation that VPT's board of directors held at least 22 meetings behind closed doors.
In a 20-page report, Mitchelson wrote that the meetings were closed for valid reasons, but were not properly documented or publicized. It's now up to CPB upper management whether and how to sanction VPT.
Lastly, there's a new boss at Seven Days. Veteran reporter and editor Matthew Roy started Monday as the paper's news editor. He comes to Seven Days from the Norfolk-based Virginian-Pilot, where he spent more than 13 years — the last four leading a team of seven reporters covering Virginia Beach, population 449,628. The Rhode Island native replaces Jeff Good, who left the paper last month after a brief tenure.
"Matthew got his start in journalism here in New England, and he's been wanting to come back for a while," says Seven Days coeditor and publisher Paula Routly. "He'll bring fresh eyes and ears to Vermont news."
The original print version of this article was headlined "Not So Scheuer"
*Correction 5/26/14: An earlier version of this article stated that the Vermont State Colleges, University of Vermont and Vermont Student Assistance Corporation all asked for 3 percent increases in state funding. In fact, VSC asked for a 4 percent increase.