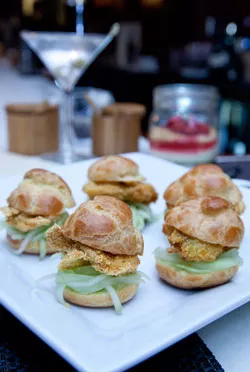 Since E.B. Strong's Prime Steakhouse opened on Church Street in late July, some passersby have wondered about the guy with the umbrella on Pearl Street. Was he there to park cars? Though restaurant valet parking is old hat in many cities, the concept is almost alien to hoof-happy Burlington. In fact, he's not parking cars; he's just there to guard parking spots for Strong's customers at the back of the restaurant.
Is the Queen City ready for the high-end steakhouse that comes with parking?
Tim Halvorson thinks so. E.B. Strong's owner already runs an eponymous pub on the top block of the Church Street Marketplace. This past year, he poured time, money and energy into the renovation of the adjacent space — formerly Sakura — into a handsome, clubby eatery with wine lockers, wet-aged steaks and a vintage feel.
Apparently, Halvorson's instinct is spot on. All of the 30 mahogany wine lockers out front — where regulars can keep special bottles they've purchased from the wine list — sold out within weeks of Strong's opening. More are being built in the back. And, during two visits, the dining room held a steady stream of hungry customers.
Diners who do park in the lot off Pearl Street can slip in through Strong's back door — a mixed blessing, as the passage leads them through a still-unfinished rear space with stacked chairs and tables and a noticeable aroma of fresh wood finish. Strong's is barely a month old, but this tableau serves as a visual (and olfactory) metaphor for a place that still feels like a work in progress.
If you walk in from the Church Street side, though, the transformation of this former sushi restaurant may momentarily take you aback. The Art Deco woodwork, long marble bar and high, leather booths suggest a 1920s steakhouse (only the two flat-screen televisions over the lounge do not). The classic cocktail menu reinforces the vintage feel: From a balsamic-cherry Manhattan to martinis and a bracing Negroni, it's solidly old school, with a few modern twists. There are no beers on tap here — only bottles.
A stiff drink may be needed to help digest the menu. It's filled with enticing-sounding meat and seafood, but at arresting prices, at least for Burlington: $14 for appetizers, $28 and up for entrées, and $43-plus for steaks of herculean proportions. (Who's ready for a 20-ounce porterhouse?) And, this being a steakhouse, those chops come à la carte; side dishes such as a smoked baked potato or creamed spinach were initially $10 each, though that price fell to $8 between my two visits.
Best to surrender to it, right? To unfurl your napkin and ready your knife for a night of big steaks, big red wines and maybe a bourbon or two? For the clutches of businessmen who are typically indigenous to and sustainers of such places, that appears to be the protocol. Yet the tieless and denim clad are welcome at Strong's, too, and the servers are far from the stoic minions of yore: During my visits, they were uniformly warm and attentive.
Chef Brian Jenzer helms the kitchen. He came to Strong's by way of Singapore, where he worked as chef de partie at the much-lauded restaurant Iggy's. Accordingly, Jenzer brings a slightly Asian sensibility to some eclectic flavor combinations. Take the oyster sliders: Coated in cornmeal and fried to a perfect crisp, they were wedged into slightly sweet puff-pastry buns (pâte à choux) smeared with a tangy aioli. Each one burst in the mouth in a jangle of fry and brine, cooled down by a fringe of what tasted like miso-marinated cucumbers. Their flavor made up for presentation: The sliders seemed thrown askew onto an oversize plate that dwarfed them.
The haphazard plating proved to be a theme. A tin tray with oysters on the half shell looked hastily arranged (though the accompanying cider mignonette was delectable). Pan-seared pork belly, crispy yet moist in a silky mustard sauce, dotted with dried cranberries, filled its small plate. To look at it, you wouldn't guess the meat was so well rendered; the charred romaine on the side was out of place, and the cranberries on top appeared shrunken.
On the menu, seared ahi tuna with watermelon and soy-mustard sauce sounded irresistible. In reality, the tuna looked and tasted tired and was so tightly wedged against watermelon slices of equal size that the dish was a monolith of dark pink. The sauce drizzled on top was a bit too unctuous for the fish.
Some starters shone, however. The appetizer menu is dense with shellfish, such as shrimp, crab crakes and ceviche — the last a citrusy tangle of tiny, sweet shrimp and house-cut potato chips dotted with microgreens and herbs. It was summer on a plate.
Strong's salads, too, were excellent. The chopped salad — a jumble of romaine lettuce, baby peas, avocado and crispy onions — was topped with half an oozing poached egg for a welcome, creamy touch. A house salad of buoyant baby greens atop tiny cubes of mango and pear was feather light and an ideal palate cleanser.
Whatever the merits of the lighter fare, most Strong's diners are bound to run headlong toward the steaks and entrées. Strong's "USA prime" steaks are wet-aged for a minimum of three weeks, but they achieve only a fraction of the flavor of a dry-aged chop. At $48 for a rib-eye steak, the cut should be succulent and savory. Yet what arrived on my plate was a chop with a charred, salty skin that drowned out the meat's muted flavor. It was slightly tough, and disappointingly mediocre.
Filet mignon should be extremely tender. Here, though the cut was large, it was also leathery.
Though my server practically swooned while describing the chicken and waffles, I abandoned the dish about halfway through. The chicken, coated in crushed cornflakes and fried to a sunset gold, was still moist inside, but it was layered with hard, overbrown waffles and too little rosemary-dotted maple syrup. The entire thing left me parched.
More wine, please? The wine list is stellar, very well considered, with two dozen creative offerings by the glass and a bottle list customized to seafood or steak.
Like most of Strong's other dishes, the sides were ample but uneven in execution. A hulking plate of tempura baby asparagus was fun and crunchy, but the hoisin sauce on the side was too heavy for the delicate veggies. A $10 plate of sautéed mushrooms lacked seasoning and depth of flavor. The smoky bleu cheese potato gratin, which sounded irresistible on the menu, was a letdown: The crust was more of a soggy skin, overly pungent and cheesy, while the inside was a hard mass of compacted potato.
The steak fries, on the other hand, were oversized wedges of goodness — crispy and almost translucent on the outside, puffy on the inside.
After two visits there, I wondered if Strong's shared a kitchen with the pub next door. I've learned that they partially do. Is it possible that the vibe, mindset and even prep of the two establishments might intermingle?
A steakhouse that aspires to be a modern-day Delmonico's should be a finely calibrated machine, not simply a pricier version of a neighboring pub. Some elements of Halvorson's new vision are already in place: snappy, warm service; great drinks and cozy décor. Give Strong's more time to develop, and all the dishes may match them.
E.B. Strong's Prime Steakhouse, 10 Church Street, Burlington, 497-1214.