Hannah Palmer Egan
Chicken Caesar wrap
From the outside, 133 State Street in Montpelier has an imposing façade. Sparkling granite walls soar five stories high. On the upper floors, neoclassical columns shelter a recessed two-story balcony. Street signage says the building houses the Department of Information & Innovation and the Department of Taxes. Around town, it's known as the "tax building" — not exactly inviting for a casual, low-key lunch.
But on weekdays, hungry workers stream through the heavy brass doors at lunchtime. Inside, they pass under carved plaster arches painted gold, mauve and pale blue, then descend a white marble staircase to the 133 State Street Café. The cheery deli-dinette, with its black-and-white checkerboard floors and shiny red trim, is as unimposing as the building is ornate.
Most days, Montpelier native Sara Chase stands behind a counter spread with pastries, assembling sandwiches, salads and wraps to order — and welcoming visitors with a kindhearted heckle. She and Tim Boltin, both graduates of the New England Culinary Institute, have revamped the menu since Boltin began managing the place last May. They make nearly everything from scratch. "We definitely wanted to keep things as local as possible," Chase said, "and to incorporate a lot of fresh and healthy choices."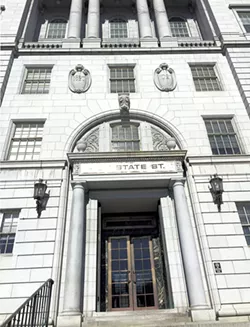 Hannah Palmer Egan
133 State Street
In the past, Boltin cooked at the café as an employee of Enosburg Falls-based Abbey Group. Abbey runs the Vermont Statehouse cafeteria next door, along with dozens of school lunch programs in Vermont, New York and New Hampshire. When Abbey's contract at 133 State expired last spring, Boltin jumped at the chance to step in, Chase said.
Now Boltin supervises businesses in both of the twin cities; in 2014, he purchased Barre's Delicate Decadence bakery and cake boutique, where Chase joined him last fall. Sales at the bakery have swelled nearly 300 percent in two years, Chase said, and its year-old Wednesday-night takeout dinner program now serves about 200 meals weekly. So, when business got busy in Barre, Boltin passed the reins of 133 State to Chase.
On summer afternoons, Chase rolls a grill to the front of the building and barbecues on the sidewalk. Her daily specials swing from pesto chicken wraps to meatloaf with mashed potatoes. On banh mi day, she said, "We have lines out the door."
Last week, a chicken Caesar wrap held crisp romaine, crunchy croutons and hunks of cubed chicken breast, all slicked with pungent housemade dressing that added plenty of flavor but no mess. The herbed macaroni salad on the side married black olives, plum tomatoes, feta and scallions splashed with oil and vinegar. On the building's steps on a sunny, 63-degree February day, my pasta-and-wrap special tasted almost like a summer barbecue.
Hannah Palmer Egan
Inside 133 State Street
While the lunch was a filling bargain at $6.88, Chase said her work at the café is about more than offering affordable sustenance. The chef's neighborhood roots run deep. From the café loading dock, she can see the Terrace Street apartment house where she lived for most of her childhood. In eighth grade, she served as a legislative page. Some of the lawmakers she knew then still work at the Statehouse.
"It means a lot for me to be [here], working with my community," Chase said. "Especially on a small scale like this, I can get to know people every day; ask them how their kids are."
And, while anyone can dine at the café, Chase relishes serving a crowd largely composed of civil servants. "This isn't just another place to get grub," she said. "It's become a place to decompress — some of these [people] have really hard and stressful jobs, or really boring or monotonous jobs. They're always trying to find a place to relax and catch up."