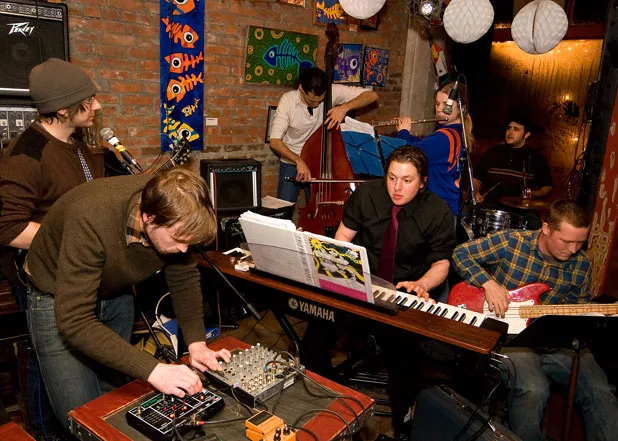 I've been duped. And I blame MySpace.
In my Soundbites column last week, I expressed excitement for a then-upcoming show at Burlington's Radio Bean from Brattleboro-based collective Pretend You're Happy and a satellite act, Blame Gustav. Based on the music available on the former's MySpace profile page, I had the group pegged as something of an orchestral indie-folk band, which, as it turned out, was true. But I also had them pegged as a good one, which, as it turned out, wasn't. At least not live.
The show's listed start time was 9 p.m. Adjusting for the typical rock-show lag — a strategy that works everywhere except Higher Ground, which has an annoying habit of consistently starting on time — and also for Radio Bean's particular nonchalance with regard to punctuality, I strolled through the coffee shop's ice-encrusted doors shortly after 9:30.
Nailed it.
Just as I removed my glasses to wipe the fog from the lenses, Boston's Ambitious Tugboat launched into their final song. As I blindly felt my way to the back of the room, I found myself digging their ragged, drunk-folk sound. Making a mental note to keep an eye out for return engagements, I settled into a spot in the far corner by the bar. The Bean was not quite full. But even at slightly less than capacity, standing room in the cozy hipster haunt translates to "jostling room." When is that expansion happening again?
Some interminable amount of time later — this would become a running theme of the evening — Blame Gustav took the stage. Consisting of Tobias Novak on keys and lead vocals and Jeremiah Morelock Brown on guitar and backing vocals, the duo traded in aggressively uninspired piano-rock. Wildly over-the-top and rhythmically schizophrenic keyboard licks clashed with even more melodramatic lyrical ruminations. You might think such fare would call for appropriately histrionic vocals. And you would be wrong. Instead, Novak's melodies were comparatively unadventurous, delivered in a grating nasal monotone.
Polite applause would soon give way to idle bar chatter, to the point that Novak was compelled to ask, nay, demand the thinning crowd to quiet before a number of songs. That's never a good sign. And it isn't easy to watch any artist go through it, deservedly or not.
Some interminable amount of time later — it was actually 11:40 p.m. But see what I mean? Local rockers The Cave Bees were scheduled to start at 11:00 p.m. — Blame Gustav gave way, or rather, morphed into Pretend You're Happy. The sprawling septet consumed the stage and then some as Brown and Novak were joined by an upright bassist, an electric bassist, a drummer and a flautist — the latter of whom also made a few cameos with Gustav, inspiring a lively discussion on the street concerning the merits, or lack thereof, of flute in rock music. Gotta love the Bean.
A false-start sound check later, the show began with a song called "The Other Side of the Earth." Anyone who's ever wondered exactly how many different keys it is possible for one band to play in at one time would have found the tune fascinating. Answer: all of them, apparently. Everyone else, not so much. Which brings us back to MySpace.
The online versions of the band's tunes — from their self-titled debut album released last fall — present a sonically arresting group with strong indie-folk roots and a flair for the orchestral. Though not immaculate by any means, slight imperfections in pitch and rhythm actually lend the material a sly, quirky charm — not unlike the work of fellow Brattleboro artist Forrest Mulerath, who contributed to the PYH recording. Picture Jonathan Richman fronting Bright Eyes' ragtag orchestra from Lifted and you're close.
Whether through lack of practice, unchecked studio chicanery or, perhaps, sheer inability, Pretend You're Happy simply couldn't reproduce the endearing qualities of their recorded music live. And it wasn't even close. Rather, the audience was treated to a cacophonous din of out-of-tune — or simply not tuned? — instruments, incessant microphone feedback and an overwhelmingly underwhelming night at Radio Bean.
Thanks, MySpace.