Oliver Parini
An instructor working at the Advanced Welding Institute
John Birkett clipped a jumper-cable-like clamp to a steel stand at his knees, cranked open a tank of argon gas, lowered his face mask and fired up a welding torch. Then, wielding a tiny but intense, lime-green arc of electricity glowing at about 10,000 degrees Fahrenheit, Birkett methodically fused two metal rods together at a perfect right angle.
The process, known as TIG welding, is slow, up-close and often tedious work, Birkett noted. Still, his instructors at the Advanced Welding Institute in South Burlington say he's a natural at it.
Working alone in one of 25 individual welding bays, Birkett is among the 16 students expected to graduate in several weeks from AWI's six-month dual-certification program in structural and pipe welding. (An incoming class of new students starts in late September.) The trade school boasts a job placement rate for its graduates of at least 95 percent, with some of the best jobs going to those who are willing to relocate or travel regularly.
In some areas of the country, notably Florida, Texas and California, journeyman welders can earn as much as $55 an hour, or about $114,000 annually, entering the field with little more than a high school diploma and six months of training. That makes welding an ideal career choice for many young Vermonters who aren't cut out for a traditional four-year college degree path.
At 33, Birkett is older than his classmates, most of whom are in their late teens or early twenties; he's even older than some of his teachers.
"You're not the first person to ask if I was an instructor," the Shelburne native said with a laugh.
There's a reason for his delayed entry to trade school; like many recent grads of AWI, Birkett is a military veteran looking to make a career change. After four years in the Marine Corps, which included combat deployments to Iraq's Anbar Province in the mid-2000s, Birkett returned to the States. He spent about 10 years repairing diesel engines before shifting gears into welding. Though he's not sure what he'll do next, he said, Birkett's instructors predicted he'll have no trouble finding work as a professional welder.
Last year, when Sen. Marco Rubio (R-Florida) remarked during a Republican presidential candidates' debate that "welders make more money than philosophers," his calculations were off the mark. In 2016, the median wage for welders was $39,390 per year, compared with $68,360 annually for philosophy professors, according to the U.S. Bureau of Labor Statistics. Still, factoring in the high cost of earning an advanced degree and the dwindling number of such professorships available, Rubio's comments weren't that far afield.
By contrast, the career prospects for trained welders are promising, and becoming more so. The American Welding Society predicts that the United States will need more than 372,600 welders by 2026. Given that one in six professional welders today is older than 55, industry experts foresee an imminent and severe shortage of trained metalworkers. The damage that Hurricane Harvey wrought throughout the Texas Gulf Coast will only exacerbate that shortage as the region begins years of infrastructure rebuilding.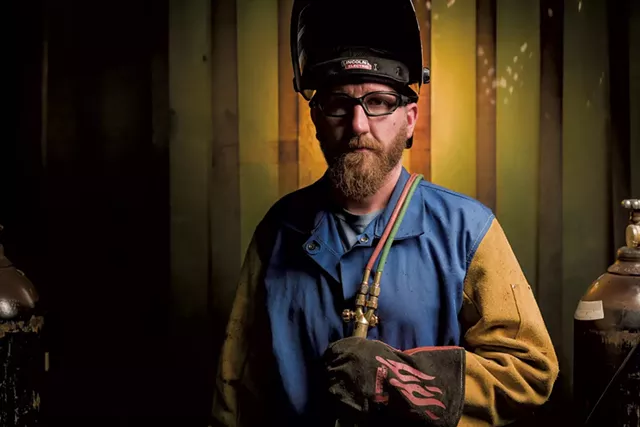 Oliver Parini
Justin Robert
When AWI owner Rick Irick founded the trade school as an offshoot of his other business, Vermont Nondestructive Testing, he was simply looking to fill a local gap. Though Irick isn't a welder himself — VNT conducts commercial metals research and defects testing — officials from the Vermont Agency of Education approached him 13 years ago asking if he could certify two high-school-level welders in Rutland. When Irick discovered that the students' welding skills weren't up to industry standards, he recalled, he sent two of his inspectors, both former pipe welders, to help improve their training.
That informal training program quickly grew to 10 students, and eventually morphed into a fully accredited trade school. Accreditation allowed AWI students to qualify for Pell Grants, financial aid from the Vermont Student Assistance Corporation, and scholarships from the AWS.
Students need zero metalworking experience to enter the program, according to Irick. "We've had guys come in who've never welded before, and we've had kids come out of the welding program at their high school tech center," he said.
Like most trade schools, AWI tends to attract students who don't thrive in a traditional classroom setting. Irick said about half of his students graduated from high school with an individualized education program, or IEP, meaning they qualified for special education services. Others have had run-ins with the criminal justice system and are looking to turn their lives around.
"So they're usually challenged with reading and math but are usually good with their hands," he noted.
AWI begins by teaching students the basic math skills they'll need to be welders, as well as blueprint reading and safety procedures, before launching into their four- to six-month training. Most of their daily eight-hour lessons consist of hands-on work in the metal shop.
Justin Robert, 27, is an AWI welding instructor. When asked what a student needs to be a good welder, he answered without hesitation.
"Devotion," he said. "How good do you want to be? How much time do you want to put in?"
Robert said that, regardless of a student's prior academic achievements, he can tell very quickly which ones will excel in the field. While some, like Birkett, have innate abilities, others do well because they listen, take direction well and ask plenty of questions.
"I have one student who asks a million questions a day, wants me to look at every weld, and wants to know how to improve," Robert said. "He doesn't naturally have the talent ... but he has the mindset that says, 'I want to be good at this.'"
"Throughout the years, we've surprised a lot of parents, because they don't really expect much [from their kid]," said Irick. "A lot of these kids who had trouble in high school can find a niche in the welding field. And they've really done well."
Helen MacAndrews, a teacher in Champlain Valley Union High School's Life Program in Hinesburg, has witnessed that success firsthand. The Life Program is CVU's alternative for at-risk kids who don't fit into the school's mainstream academic environment.
"Normally our students don't go on to any education after high school," she said. But AWI is "great because it's a trade where they can end up making good money."
MacAndrews recounted the experiences of a former student who graduated from AWI two years ago. In high school, he "wasn't into book work" and struggled academically.
Recently, however, he returned to CVU to tell his former teachers about his current job, in which he earns about $50,000 a year. MacAndrews said his employer flies him around the country and covers all of his travel, housing and food expenses. In less than two years, she added, the young welder paid off all his student loans. (Tuition and fees for the six-month program run about $18,000 without financial aid.)
And how's her former student doing personally?
"Oh, my God! He's so happy, and he's really psyched and loves what he's doing," MacAndrews said. "It's so awesome."