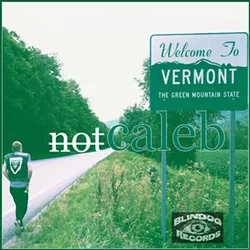 Not Caleb, Welcome to Vermont
(BLiNDog Records, CD, digital download)
In many ways, Burlington singer-songwriter Not Caleb — who is, actually, Caleb Bauscher — has chosen to pick up where he left off with his last album, Good Childhood. Released in 2015, it was a sentimental exploration of the innocence and confusion of adolescence. Several cuts from that record appear again on Bauscher's new full-length album, Welcome to Vermont. At the same time, the new record reveals his transition from awkward youth to questioning, angst-ridden adult.
The opener, "New Is Good for You," describes Bauscher's big move from his childhood home to the slick streets of Burlington. "My father told me there's a big man in the sky, and I believed it / For all I knew, his words were always true," he sings. Then, "Trade my soul for dirty habits and cheap beer / There's no turning back now / Although I loved that house, I think I'll like it here."
"Rise & Shine" harks back to simpler times — as well as Bauscher's previous album. "I can see the sky from my bedroom / And it changed me / I wish I didn't know anymore / I miss those mornings, Mother / How do I get them back?" he sings.
Up next is another of the singer's earlier recordings, "The Redstore." Here he reveals, "I knew my parents loved me like I was their only child / And they were rich to me." Then, a dark turn: "But, ever since I saw my brother try to kill himself / The serenity of life took an awkward nosedive / And then I thought to myself that maybe, just maybe / this whole life thing isn't all it's made out to be."
Some tracks, such as "Good Grief!" and "A State Away," diverge from family strife to love lost. "Maker's Mark" addresses booze-filled Burlington nights and the bonds that spring from such wild abandon.
Bauscher's lyrics can be overly explanatory and clunky at times. Still, there are some insightful moments, such as this observation from "Toy Swords": "But, when we grow up, we get used to the things that don't make us happy / throw it all away / Then, we blame it on the people who truly care about us and just fuck it up." Ain't that the truth.
In the album's quieter spaces, an air of folk wistfulness recalls Sufjan Stevens. At other times, Bauscher crosses over into emo territory, embracing the melodramatic urgency of a Dashboard Confessional track. During these more desperate moments, the album veers wincingly close to self-pity.
Brimming with nostalgia, Welcome to Vermont shows that Bauscher is still grappling with past demons. But the record also shows growth, suggesting he's drawing from a great depth of perspective.
Welcome to Vermont by Not Caleb is available at notcaleb.bandcamp.com.