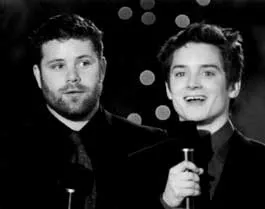 SEAN ASTIN and Elijah Wood of Lord of the Rings: The Fellowship of the Ring at the AFI Awards
I could have sworn the past five years had been middling ones for movies overall, but it seems I was mistaken. Apparently Hollywood has been producing so many motion pictures of staggering quality, there haven't been enough award ceremonies to recognize them all and new ones have been created to handle the overflow.
How else to account for the proliferation of movie awards and award broadcasts? I love movies and enjoy tuning into an A-list gala as much as the next guy, but I've got to say I'm starting to get a tad misty for the days when the Oscars were the only game in town. Sure, they were pompous exercises in self-promotion, and awardees took themselves too seriously and prattled on too long. But it was a special occasion. Entertainment industry types gathered to remind the world how wonderful they were but once a year. No where else could you see so many famous faces in one place at one time.
These days celebrities barely have time to prattle at one awards ceremony before bolting for their limos and hitting the red carpet at the next one. And you wonder why so many suffer from exhaustion. Spring, summer, winter or fall, somebody somewhere is handing out something. The Academy Awards will no doubt retain their top-dog status when they're doled out for the 74th time in March, but film-award junkies will hardly have spent the previous 12 months without a fix.
In April, for example, you've got your annual Italian Film Awards, based in Los Angeles and honoring, of course, excellence in Italian and Italian-American filmmaking. Among the presenting organization's board members are such icons of Italian cinema as Karen Black and Melanie Griffith. Hey, what do you want? It's April.
In June, Mtv puts on a hip, semi-dippy version of the Oscars with its annual Movie Awards broadcast. The show has been around for 10 years — tell me that doesn't make you feel decrepit. It's distinguished primarily by cutesy categories: Best Kiss, Best Fight, Best Villain, etc. For serious aficionados, this is definitely not the Best Bet.
A barrage of awards and nominations follows in late fall when the National Board of Review, the Los Angeles Film Critics Association and the New York Film Critics Circle all make announcements — compulsively characterized by the media as "Oscar precursors."
The next thing you know, it's January, when you can watch as many as three movie award ceremonies in the span of a single week! Every organization that starts a new one wants to get the biggest jump on the Oscars, so they keep popping up earlier and earlier in the new year.
This year the glut began January 5 on CBS with a brand-new event put on by the American Film Institute: AFI Awards 2001. "The first award show of the year. The first award show of its kind. All your favorite stars will be there on opening night," promised its promos and print ads.
Well, it didn't quite work out that way. Maybe someone forgot to send out the invitations, or maybe most of the big names in town considered the shindig too small-time — only four of the 15 winners for individual achievement bothered to drop by. Whatever the reason, the result was a series of no-shows and "accepting on behalf of" speeches, which turned into a running joke that was by far the evening's most entertaining feature.
That wasn't enough, however, to discourage CBS from following with the 28th People's Choice Awards days later on January 13. A popularity contest disguised as a chi-chi awards ceremony, the broadcast announced the results of a nationwide Gallup Poll conducted between November 2000 and October 2001 — in other words, before any of this year's most significant films were even released. In the poll, average Americans were asked to name their favorite TV shows, movies and show-business personalities. With cinematic milestones like The Fast and the Furious and Pearl Harbor among the top vote-getters, this was at least one competition that no one referred to as an Oscar precursor.
The Critics' Choice Awards took place the next day on E!. Put on each year by the Broadcast Film Critics Association — the country's largest organization of reviewers — the ceremony was hosted suavely by Bill Maher. It offered a breath of fresh air by announcing sensible selections in sensible categories, as determined by perhaps the most legitimate voting body of any awards ceremony. And I'm not just saying that because I belong to it.
The honoring was still far from over, though. With the Golden Globes just days away, the National Society of Film Critics — all 52 members — grabbed the spotlight to announce its picks for the best of the past year. I'm sure Russell Crowe was on pins and needles.
Which brings us, finally, to last Sunday's 59th Golden Globes, at which the questionable Hollywood Foreign Press Association hands out the awards. It might explain nominations like Cate Blanchett's as Best Actress for her work in the groundbreaking cinematic achievement Bandits and Legally Blonde as one of the year's Best Pictures. Exsqueeze me? Did the movies not have subtitles when these Foreign Press characters watched them, or what?
Nominations such as those are unlikely to reverse the credibility deficit the 84-member group has suffered since its inception. Neither is the move this year to expand the broadcast by adding an hour of exclusive celebrity interviews à la Joan Rivers' annual red-carpet shmoozefest traditionally broadcast before the Globes on E!. "I know them all," quipped Rivers of the organization's generally undistinguished members upon learning of the development. "They wait on me in various restaurants!"
She's not the only one to express disapproval. Steven Brill, editor of the media watchdog magazine Brill's Content, has called the press organization's attempt to limit the access of rival press outlets "incredible, certainly improper."
That controversy aside, there certainly wasn't much to buzz about after this ceremony. The broadcast itself was distinguished by a conspicuous absence of unforgettable showbiz moments, like, you know, the time Christine Lahti was taking a pee when she should have been receiving a Globe. Many in the mainstream press attributed the toned-down mood and lack of outrageous antics to September 11. My guess is, everybody's just tuckered out from attending too many award functions.
Robert Altman's Best Director win was the evening's closest thing to an upset, and Harrison Ford's acceptance of the Cecil B. DeMille lifetime achievement honor was the closest thing to a coma. So you had to love it when Dick Clark, whose company produces the show, came on at the end and declared it "the biggest Hollywood party ever!"
In the end, the Globes had recognized pretty much the same handful of films as had award shows before it — A Beautiful Mind, Moulin Rouge, Gosford Park, In the Bedroom, etc. So the event may not have generated much excitement, but it did generate cash. Serious cash. The HFPA, which recently moved into luxurious, gilt-ceilinged quarters in West Hollywood, this fall inked a deal with NBC worth $30 million over the next 10 years. Eighty-four members, $30 mill. You do the math. It's almost enough to make a BFCA member think about dropping out, applying for Canadian citizenship and signing up as a "foreigner."
And there's your answer, I guess, as to why new award shows keep popping up. Stick around long enough and the payoff can be huge. AFI, People's Choice, Critics' Choice or Golden Globe award — whatever they're giving out, that lucrative network contract is the prize that organization members really have their eyes on. And for that you can thank the Academy, which started it all.
That show will go on March 24th. But first, believe it or not, come the 8th annual Screen Actor's Guild Awards and the Directors Guild of America announcements. It's official: There are now more movie awards every year than movies worth giving them to.