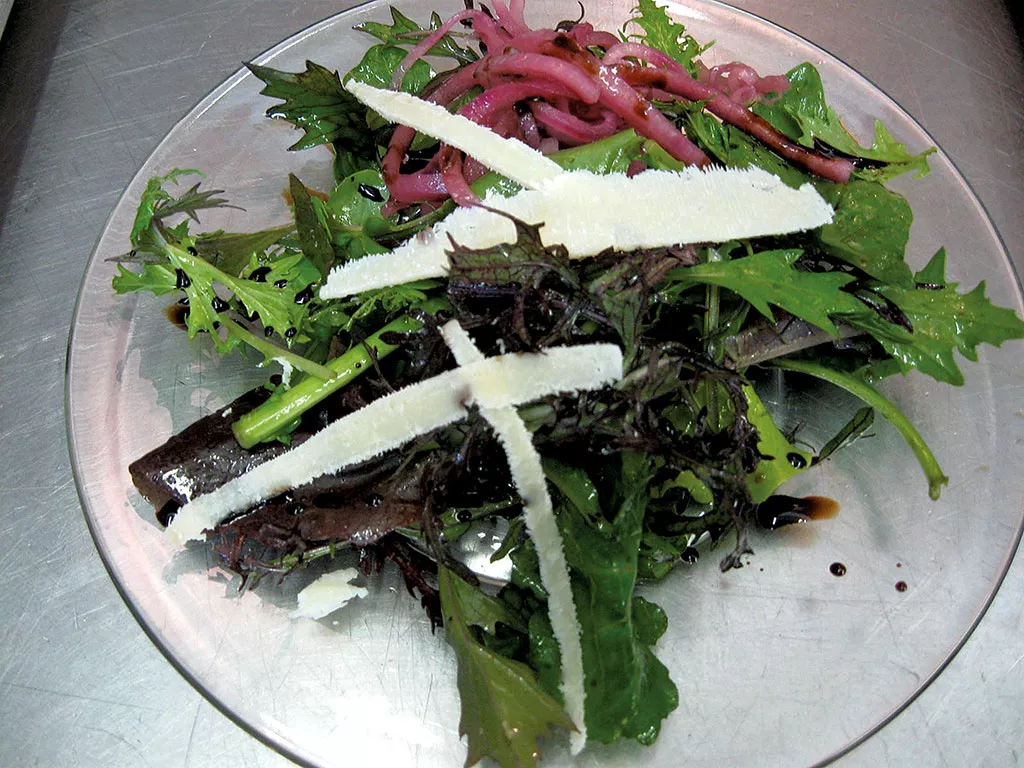 Courtesy Of Woods Lodge
House salad at Woods Lodge
The Woods Lodge in Northfield opened its dining room and tavern on Thursday, October 15. Four years after Tropical Storm Irene, the debut is the delayed realization of a dream that was nearly destroyed by flood waters.
Lisa and Jonathan Burr purchased the former Camp Wihakowi and its 36 bucolic acres in 2005. Over the years, the couple refurbished the cabins into updated lodgings and the main building into an event space. In 2011, they had plans to serve dinner a few nights a week in that main lodge, but nature's wrath intervened. After floodwaters receded, Lisa found herself preoccupied with caring for her 95-year-old grandmother.
Now the long-postponed plan is finally a reality. The lodge has started with Thursday and Friday dinner service only, to leave room for event bookings. Lisa says she expects to open for Sunday brunch and Monday night football in the future; trivia nights are another possibility.
The small debut menu includes dishes already popular with Woods Lodge guests and off-site catering clients, such as creamy kale dip and a pulled-pork tostada flavored with jalapeño sour cream. Garlicky chicken sauté is a major draw, says Lisa, as are the from-scratch desserts, including apple crisp and ice-cream sandwiches made with brownie cookies.
The dining area's new deck is nearly finished, and the Burrs say they may use a patio heater to keep it open even in the encroaching chill. They hope those seats with a view, paired with live music and other events, will make their lodge a central Vermont destination for brews, wine and a warm plate of shepherd's pie.