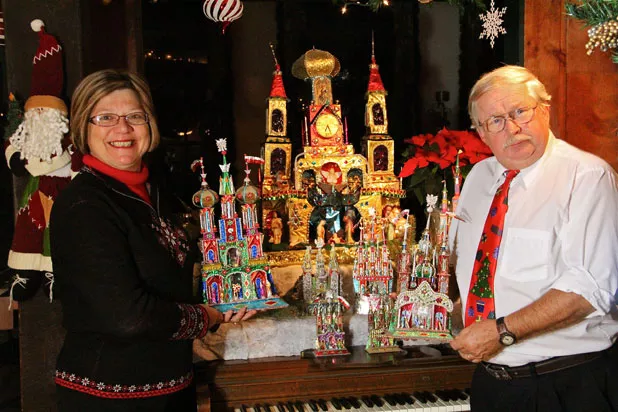 The Great Room at the Matterhorn Inn leaves no question that Christmastime has come. The high-ceilinged lobby at the West Dover inn near Mount Snow bursts with lushly decorated evergreens, and the halls are amply decked with boughs of holly. But it's the adjacent bar area that betrays this scene as a Polish Christmas. Shiny, brightly colored szopki, or Christmas cribs, fill every available surface. Here Baby Jesus, Mary and the three wise men gather not in stables but in replicas of Krakow's historical buildings decorated with metallic paper.
The nativity scenes may seem novel to American visitors, but the food served just through the door in Chopin Restaurant is inarguably comforting. The innkeepers, Joe and Wanda Kruszewski, serve three Polish American meals a day, Wednesday through Sunday, all year long. On the first Saturday of each month, their Eastern European heritage asserts its dominance with a Polish buffet.
On a recent weekend, that buffet fills the dining room to its 75-person capacity with families, friends and colleagues, from Vermont, Massachusetts, and as far away as Connecticut and Québec, speaking a mix of English and Polish. Joe Kruszewski flips effortlessly between the languages as he makes the rounds to each table.
The 63-year-old still harbors a slight Slavic accent, though he left Łapy (the Ł is pronounced like an English W) for the heavily Polish community of Bridgeport, Conn., in 1962. Wanda arrived in Connecticut in 1960, at age 6. In 2005, Joe bought the inn and left his construction business for Vermont. Wanda only joined him last year. Before that, she commuted between the Matterhorn and Connecticut — where, for 39 years, she ran a travel agency that specialized in planning trips to Poland.
Given their backgrounds and their frequent visits to Europe, the two are walking repositories of information on their homeland and fellow immigrants. They partner with the Polish Center of Discovery and Learning at Elms College in Chicopee, Mass., to keep cultural displays at the inn, including photos of Hussar armor, maps and regional costumes. Joe can expound on notable Polish Americans, ranging from Revolutionary War heroes Kazimierz Pułaski and Tadeusz Kościuszko to the railroad workers who settled in the Ludlow and Putney areas in the late 19th century.
In fact, in the Kruszewskis' America, those not of Polish heritage are the exception. When Joe discusses his restaurant's all-out Wigilia celebration, a fish-based Polish Christmas dinner that took place last weekend, he refers to guests who brought non-Polish spouses as having "mixed marriages."
It's no surprise, then, that none of these guests wrinkle their noses at the pot of pickle soup that greets them at the start of the buffet. They know that, while the chunky, light-green broth is indeed made from hot, dill-pickled cucumbers, the taste is far milder than swigging pickle juice would be. In fact, the soup's slight tanginess is mitigated with plenty of stock. It's both comforting and refreshing.
Joe explains that soups are a key element of Polish cooking. "They're more hearty," he says, than soups are in other European cuisines. "They're almost like a meal in themselves."
Since many regulars hit the Polish buffet each month, the Kruszewskis make sure to keep the offerings fresh. Among other soups they have served are żurek, a sour rye broth, populated with eggs and kiełbasa, that tastes equal parts creamy and tart; mushroom soup, particularly popular in Poland in late autumn; and, of course, barszcz czerwony, the sweet red-beet borscht favored by peasants and royals alike.
On the adjacent table, mizeria is laid out with other salads, and, yes, the name means "misery." That refers to the poverty of the people driven to invent the cucumber salad, but the experience of eating it is anything but depressing. Typically, the dish is composed of thinly sliced cucumbers in sour cream, or smietana. Salt and sugar add a vivid flavor. The version at Chopin Restaurant is vinegared, too, which makes it a little more like good old American cucumber salad.
With the salads sits a big basket of rolls and butter. Notably absent is smalec, a seasoned lard spread dotted with salty cracklings that is more apt to be offered in Polish restaurants than plain, boring butter. Joe says he provides it on special occasions, such as New Year's Eve.
Old Poles seeking pork therapy need look no further than a chafing dish full of gołąbki. Legend has it that 15th-century King Kazimierz IV Jagiellończyk fed his armies the stuffed cabbage dish. Chopin Restaurant's rendition, made by Wanda Kruszewski herself, is certainly hearty enough to score a military victory. Both the cabbage leaves and the herb-speckled meat melt in the mouth. Each little package is stewed in a mild tomato sauce that's also clearly homemade.
When the Kruszewskis purchased the Matterhorn Inn, neither had any experience running a hotel or restaurant. "My wife is a very good cook, because when we had family get-togethers, it would be 50 or 60 people," says Joe of their extended clan in Connecticut. So it fell to Wanda to teach each new Chopin chef her family recipes. Right now, she's giving instruction to fresh hire Dan Kosek, who admits he wasn't familiar with Polish food when he started last month. Kosek did, however, impress the Kruszewskis with his way with soups: His recipe for fire-roasted tomato-basil bisque won last year's Vermont Life Wine & Harvest Festival soup contest.
Not everything at Chopin Restaurant is homemade; certain items are simply too popular to produce from scratch. Joe Kruszewski says that on a good weekend, the restaurant goes through 900 pierogi. The dumplings, filled with meat, potatoes, and cheese or sauerkraut, are too labor intensive for the staff to make in such bulk, so they come from a business in Greenpoint, Brooklyn.
Kiełbasa hails from Bernat's Polish Meat Products in Chicopee, Mass. It was the marquee item in Joe Kruszewski's "Vermontski Kielbaski" sandwich, which won second place this year at Brattleboro's Strolling of the Heifers Ultimate New England Sandwich Competition. The local roll, stacked with sausage, homemade sauerkraut, maple bacon and Grafton Village Cheese horseradish cheddar, just missed earning Joe a trip to the World Sandwichship in Sydney, Australia. "Come on, there's no way they'll send a Polish sandwich to Australia," Joe scoffs in retrospect.
Perhaps it's enough for him to gather raves at the buffet as guests try his bigos. At Chopin Restaurant, the classic hunter's stew of slow-cooked sauerkraut is filled with chopped kielbasa. In Poland, it rarely stops there. "In real life, what you put in there is all the leftovers," says Joe of the dish, which can boast as many as seven kinds of meat. "You'd cut them up for later. The big thing is, you have to cook it extremely slowly." While the flavor of bigos is often characterized by sweet tomatoes and earthy mushrooms, the Kruszewski version relies more heavily on its fermented-cabbage base for a highly acidic taste. The fatty, salty sausages are a gorgeous foil, cutting through the tender, sour cabbage with juicy, garlicky meat accents.
The buffet offers several more dishes that aren't exactly Polish classics, including stuffed pork loin in cider cream sauce, prime rib and herbed chicken legs with pasta. But, as Joe puts it, "A lot of what you find [in Poland] is really more European. French, Italian, Hungarian, Russian — everybody walked through there."
As dedicated as the Kruszewskis are to Polish heritage, one event each year harks back to the nation's dark ages, before ruler Mieszko I officially accepted Christianity in 966. Every June 24 (now recognized as John the Baptist Day), the Matterhorn Inn celebrates the summer solstice with a medieval feast that includes a pig roast, long rings of kielbasa, bloodwurst and headcheese. Over a bonfire, the family and their guests share legends of the pagan rituals that were celebrated that day. Christians later adopted some of them. "When I lived in Poland in the 1960s, you would not go swimming in a lake until after June 24 — that's when they've blessed the waters," remembers Joe.
For now, the Kruszewskis are just trying to get through Wigilia, then New Year's Eve, when they will add duck or pheasant to the buffet and have a Champagne toast. After that, the family will focus on introducing a new menu that includes more gluten-free and vegetarian options.
On January 13, the Kruszewskis will celebrate their seventh year at the inn. Joe and his son, a landscape architect, worked on the site for nearly two years after the opening. Making this retirement project profitable is still a challenge. "Seven years, and we're still learning and probably still didn't make money," says Joe. "We had no experience running an inn and running a restaurant, but seven years on we're still here."
If fans of the Polish buffet have any say, there will be many more to come.
Chopin Restaurant at Matterhorn Inn, 248 Route 100, West Dover, 464-4676. matterhorninnvt.com.