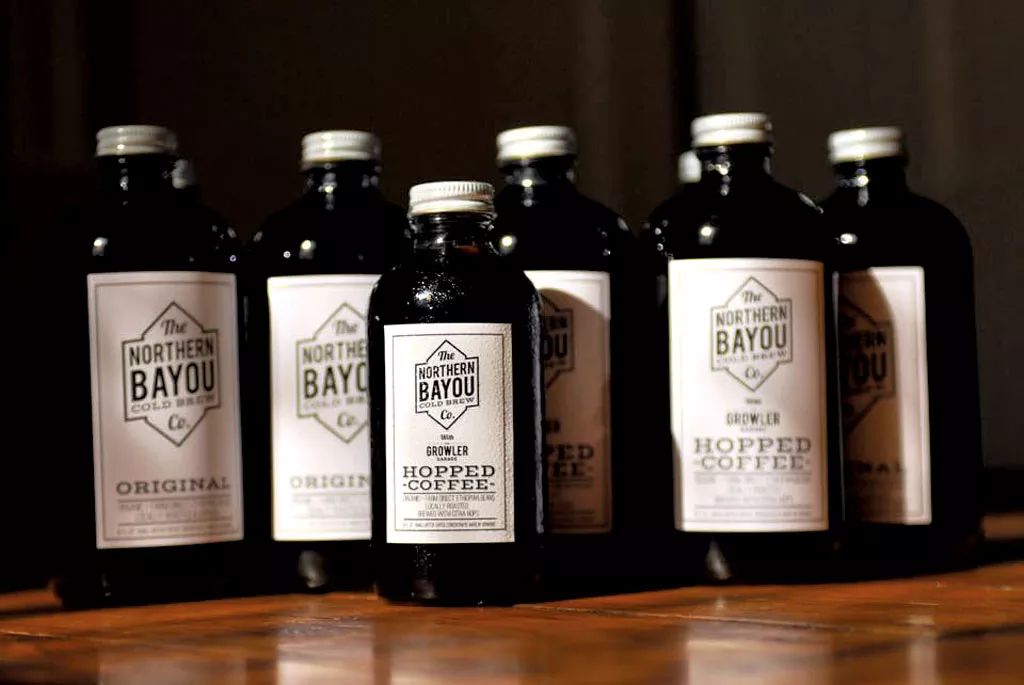 Courtesy Of Northern Bayou Cold Brew Co.
Chittenden County native Benjamin Lee started cold-brewing coffee at home while living in Boston for college. When Lee returned to Vermont last year — he and his fiancée now live in East Charlotte — he realized that no one was making coffee using the cold-brew method, so he set out to fill the void in the market. Lee opened Northern Bayou Cold Brew Company, which delivered its first shipment to South Burlington's the Growler Garage a few weeks ago.
Lee uses the same ingredients as regular coffee makers but steeps his beans in cold water for about 24 hours, he says. The lengthy bean-water contact allows the water to soak up the coffee flavor and become fully caffeinated. But because the process is gentler and slower than traditional methods, the resulting drink is sweeter, smoother and less acidic than regular coffee.
Imagine the aroma of fresh-roasted coffee beans — toasty, chocolatey, a little floral — in liquid form. Lee sources farm-direct, organic Ethiopian beans from Vermont Artisan Coffee & tea in Waterbury. He says those beans are fruitier than some other coffees, with characteristic tropical flavors that the cold brewing preserves in the final product.
Lee homebrews beer for fun — and, in an unusual twist, he's adding hops to his coffee. That makes it a natural fit for the Growler Garage, which opened on Dorset Street on Labor Day weekend.
Hopped coffee, you ask?
Yes, and it's not as weird as it sounds.
Lee says the notes of citrus and other warm-weather fruits in the Ethiopian beans made adding hops a natural next step. "Adding the hops just boosts that flavor. It really amplified the coffee taste, and I just loved that," says Lee, who uses a mix of Citra hops from the Pacific Northwest and whole-cone Newport hops grown in Addison County.
"When I add the hops, it's kind of like dry-hopping a beer," Lee adds. "You're not heating up the hops, so you're getting more of the aroma aspect and not the bitterness."
Lee says he plans to continue experimenting. "I've been playing with the different flavors and trying to find the right balance for beer lovers and coffee lovers," he says. He may make a serious "hop-head" brew, he adds, as well as something more "sessionable."
For now, Northern Bayou is only available at the South Burlington beer shop, but Lee says he's lining up more outlets and hopes to sell at farmers markets next summer — perhaps even a street cart, if he can make it work.
Whatever the next step may be, he says, he's glad to bring fresh, cold brew to Vermont after years away. "I realized there was a really huge market for this here," Lee says. "The only thing I could find was from Stumptown [Coffee Roasters], and that's definitely not local — so I wanted to fill the void and make some fresher stuff and play with the local ingredients."
Lee and Growler Garage will be co-curating "Beans and Bines: Cold Brew Creations by Northern Bayou," a cold brew tasting lineup for the hop inclined, on Saturday, October 4, from 10 a.m to 10 p.m., at the Growler Garage in South Burlington.