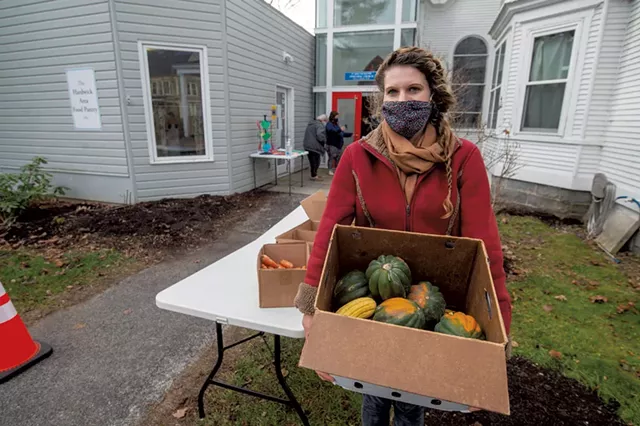 Jeb Wallace-Brodeur
LauraLee Sweeney working at the Hardwick Area Food Pantry
Pastor Jim Casavant was thinking about the sermon he would deliver on November 22 at the First Congregational Church in East Hardwick. It would focus on Thanksgiving and things people could still appreciate in the grip of a deadly pandemic.
"We're thankful for living in Vermont," Casavant said, previewing his address for a reporter. "It's a beautiful state. And the pandemic isn't as bad as some of the other places in the country or the world."
From the pulpit and in the church bulletin, the lay minister also talks about giving to the community. In particular, the church encourages its congregation of eight to 10 people to donate to the Hardwick Area Food Pantry. In non-pandemic years, when the church hosts its annual harvest supper and holiday bazaar, proceeds from the gatherings go to that nonprofit.
"That's been our biggest charity that we've given to over the years," said Casavant, 62, a lifelong resident of Hardwick and East Hardwick who works at HearthStone in Morrisville.
On a chilly, drizzly Monday in mid-November, as a steady stream of people arrived for an allotment of food from the pantry, Casavant's wife, Donna, came by with a contribution. She brought four bags of groceries — including stuffing mix, piecrust and cranberry jelly — and a $100 check for the nonprofit. She also dropped off scarves, hats and mittens that she'd knitted or purchased for food-pantry clients.
"Someday maybe we might need it, who knows," Donna Casavant, 72, said. "And I'd want people to give so we can have food."
The need for food assistance is on the rise in Hardwick and across Vermont, according to hunger-relief experts and advocates. A study released on November 23 by the University of Vermont reports that nearly 30 percent of respondents have experienced food insecurity since the start of the pandemic, roughly triple the percentage in 2018. About one-third of the respondents received food assistance during that time, such as Supplemental Nutrition Assistance Program benefits or groceries from a food pantry. The Vermont findings, based on a representative sample of more than 600 Vermonters, are part of national research studying the impact of COVID-19 on food security and access.
"The response needed is larger than Vermont can handle as a state," said John Sayles, CEO of the Vermont Foodbank.
He's looking ahead to 2021, when federal resources are slated to end, including relief funding from the CARES Act (the food bank got $4.7 million) and the U.S. Department of Agriculture-funded Farmers to Families Food Box Program.
"People aren't going to stop being impacted by COVID at the end of December," Sayles said. "But the federal funding does stop unless Congress takes action in the next month or so."
As one of roughly 300 community food shelves and meal sites that partner with the Vermont Foodbank, the Hardwick Area Food Pantry is on the front lines of addressing a spread-out rural community's growing need for food assistance. Staff and volunteers have stepped up to strengthen the pantry's partnerships with local organizations and add services. They are working to establish permanent satellite pantries in the smaller towns of Craftsbury and Albany.
The nonprofit is housed in St. John the Baptist Episcopal Church, a white clapboard building in the center of town. Since the pandemic put services on hold, the sanctuary has been used to store food.
The number of households served by the Hardwick Area Food Pantry has increased by 25 percent since the start of the pandemic, according to director LauraLee Sweeney. Other measures, including an increase in monthly visits, confirm the growing need.
Sweeney, 34, grew up on a farm in Albany, Vt. "As I got older, I could tell that people were not living equal lives," she said. Sweeney has worked in social services for 10 years, including 15 months as director of the Hardwick Area Food Pantry.
Last spring, a group of volunteers started running weekly pop-up pantries in Craftsbury and Albany, which are in the food pantry's service area. "We imagined doing it until people got their first unemployment checks," said Kris Coville, a Craftsbury farmer who helped organize the effort. "But people kept donating money, and people kept showing up for food, and we kept going."
The two pop-up sites — at the United Church of Craftsbury and the town hall in Albany — provide food to about 140 households a week. To stock them, the pantry purchases grocery items and bulk dry goods such as flour, rice and oats at cost through the Craftsbury General Store.
Every week, Coville hears from people who confront the choice of paying their bills or buying food, she said.
"Will you be here next week?" they ask her.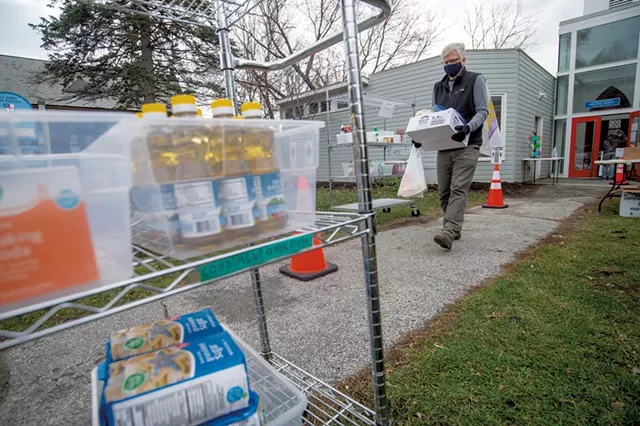 Jeb Wallace-Brodeur
John Tuthill bringing a box of perishables to a customer's car at the Hardwick Area Food Pantry
Satellite food pantries in small, outlying towns serve a particular need in rural Vermont, where lack of transportation can be a barrier to accessing food, Sweeney said. She's worked to address the transportation issue by another means: starting a volunteer-run delivery service to bring food to people who face challenges getting to Hardwick.
That need became apparent in March, when Sweeney saw people hitchhiking to the food pantry. She approached one woman who'd hitchhiked and apologized to her for the unsafe situation in which she'd had to put herself to get food.
"She started crying and showed me [a pocket knife] she was using for protection," Sweeney recounted. "And she said she was just sick of being hungry."
Sweeney immediately started calling people, mobilizing a team of volunteers who could make deliveries. "I just made it happen," she said. "I didn't go through the board. I said, 'This is what we need to do.'"
Today, the delivery service operates twice a week and serves about 30 households, Sweeney said.
For clients who access food in Hardwick, the pantry is open three days a week for two-hour intervals. Boxes of produce and racks of miscellaneous groceries and baking supplies are set on the church walkway, where people can help themselves. But the main allotment of groceries — bread, chicken, pasta, tuna fish, milk — is packed in bags and boxes inside the church and delivered to people who wait outside, due to pandemic restrictions.
Volunteer John Tuthill, who serves on the board of the nonprofit, has the job of carrying out the boxes of food. His wife, Terry Tuthill, also a volunteer, checks people in at a desk in the vestibule and takes their orders for perishable food.
The couple moved from Virginia to Hardwick in the summer of 2019 to retire in northern New England. They started volunteering at the food pantry several months before the coronavirus struck, and they stayed on as part of a core group continuing the work in these unprecedented circumstances.
"The majority of people are very grateful for what we are providing," John Tuthill, 58, said. "I think that would be the overall sentiment."
Donna Ferland was among the clients who received food at the pantry on the day Seven Days visited. The Hardwick resident lost her housekeeping job in the summer and is still trying to collect unemployment benefits, she said.
She shares the food from the pantry with her grown daughter. "It's helped us so we don't have to worry about going hungry sometimes," Ferland said.
Karen Baldwin, a retired nurse, also came for groceries that day. Her part-time job in eldercare ended with the coronavirus. Her husband works part-time at Hardwick's Buffalo Mountain Food Co-op. The Baldwins' two teenage grandchildren live with them in East Hardwick.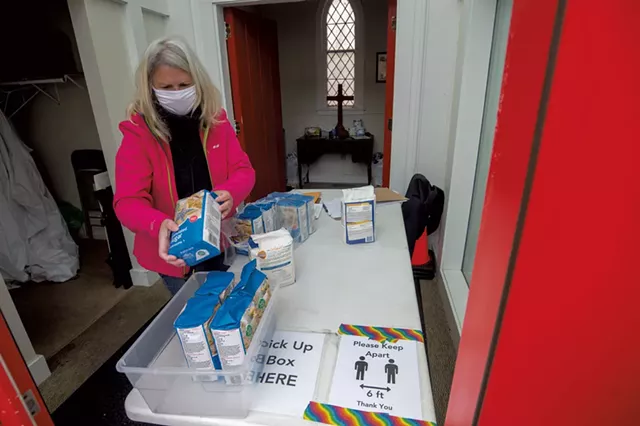 Jeb Wallace-Brodeur
Terry Tuthill Restocking Shelves At The Hardwick Area Food Pantry
"I'm really thankful that the Hardwick food bank has such good-quality food available," Baldwin, 71, said, adding that the service is an "immense help."
A former volunteer at the Hardwick Area Food Pantry, Baldwin said she canned, preserved and froze food from her garden this year to feed her family.
"This is a really great example of Vermonters taking care of each other," Baldwin said. "People are very welcoming. It's only here to help. There's no stigma."
The network of help includes local food producers, whose donations supplement the 50,000 pounds of food the pantry received this year from the Vermont Foodbank.
At Pete's Greens, an organic produce farm in Craftsbury, volunteers glean the fields every week to help supply the local food pantries, Coville said. Pete's also provides storage space. "It's like a blessing to have him next door," Coville said of founder Pete Johnson.
Last week, Coville picked up bags of lentils at High Mowing Organic Seeds in Wolcott and 150 pieces of Jasper Hill Farm cheese at the Center for an Agricultural Economy in Hardwick.
The center serves as a site for Vermont Everyone Eats, a state program that makes free restaurant meals available once a week. (Barring a new round of funding, that program will end with 2020, according to organizers.) This week, center staff expect more than 200 people to pick up a free Thanksgiving meal prepared by the Scale House restaurant in Hardwick.
Through its Just Cut program, the Center for an Agricultural Economy provides Vermont produce — peeled, cut and bagged — to the Hardwick Area Food Pantry. The center has also given out 580 $50 food vouchers to community members, reaching people in need through its partnership with the food pantries.
"This is a moment to acknowledge that all of the work and all of the input in the local food system is playing out now in terms of how it's supporting communities," said Jon Ramsay, executive director of the center.
"We are one of many organizations that are doing a lot of work," Ramsay continued. "People are digging deep to get that work done. It's not easy logistically. It's also very important work, and that is what's keeping everyone going and motivated. It's having a real impact."
In the area served by the Hardwick food pantry, the proof is in the pudding — or in the pie. In late October, the community put out a plea for pies, asking for Thanksgiving desserts for the 140 families who get groceries each week at the pop-up pantries. People offered to bake a pie or two, sometimes three or four.
"All 140 got donated," Coville said, "one pie at a time."