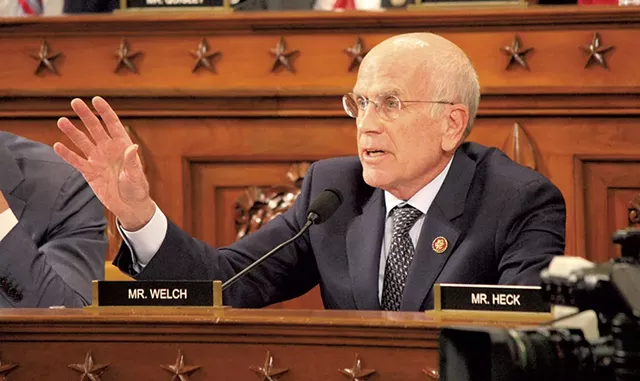 Paul Heintz
Rep. Peter Welch at the House impeachment hearings
They hail from sprawling, Canadian-border congressional districts on either side of Lake Champlain and represent similarly rural, white and aging constituencies. They sit just four seats away from one another on the 22-member House Intelligence Committee.
But when it comes to the impeachment of President Donald Trump, Reps. Elise Stefanik (R-N.Y.) and Peter Welch (D-Vt.) couldn't be further apart.
Over the past week, as their committee commenced the public phase of its impeachment proceedings, the northern neighbors distinguished themselves as leading voices of their respective parties.
Even before the House panel's first witness could deliver his opening statement on November 13, Stefanik sprang into action with an indictment of its chair, Rep. Adam Schiff (D-Calif.).
"Mr. Chairman, will you be prohibiting witnesses from answering members' questions, as you have in the closed-door depositions?" she asked.
"As the gentlewoman should know, if she was present for the depositions—" Schiff began, issuing an unusually biting rebuke of a fellow committee member.
"Which I was," Stefanik interjected.
"Some of them, yes," he responded tartly.
Schiff said he had only halted questioning when Republicans "were seeking to out" the unnamed government whistleblower who provoked the impeachment inquiry by alleging that Trump had withheld military aid to Ukraine to extract a political favor. Glaring at Stefanik, Schiff said he was "disturbed to hear members of the committee, who have in the past voiced strong support for whistleblower protections, seek to undermine those protections by outing the whistleblower."
Hours later, when it was his turn to speak, Welch also addressed Republican demands that the whistleblower be publicly identified. Rep. Jim Jordan (R-Ohio) had just delivered a diatribe complaining that the one witness Democrats refused to "bring in front of the American people" was "the guy who started it all: the whistleblower."
"I'd say to my colleague," Welch responded to Jordan, "I'd be glad to have the person who started it all come in and testify." The Democrat from Vermont pointed toward the witness chair. "President Trump is welcome to take a seat right there."
Though Welch is not known for drawing the spotlight, his impromptu retort brought down the house, and clips of the exchange soon went viral. One version, produced by Comedy Central's "The Daily Show," featured the tagline, "You just got Welch'd."
Stefanik and Welch would seem to be unlikely party standard-bearers on the issue of impeachment.
A former aide to president George W. Bush and vice presidential candidate Paul Ryan, Stefanik spent her early career aligned with the traditional Republican establishment. During her three terms in Congress, the 35-year-old Harvard University graduate has often bucked the conservative fringes of her party, supporting the Paris climate accord, criticizing a travel ban on Muslim-majority countries and opposing construction of a border wall with Mexico.
Ahead of the 2016 election, Stefanik kept her distance from Trump, criticizing his behavior and rhetoric. But according to North Country Public Radio reporter Brian Mann, that changed after Trump traveled with her to Fort Drum, in the western end of her district, in August 2018.
"Since then, she's increasingly been just very unambiguous that she supports him," Mann said. "She thinks that he's the right man for the job."
Now, Stefanik seems perfectly comfortable speaking in Trumpian terms. She refers to her 2018 and 2020 Democratic challenger, former county legislator Tedra Cobb, as "Taxin' Tedra" and denigrates Cobb's supporters as "far-left Socialist Democrats." Schiff's impeachment inquiry, she frequently tweets, is a "#RegimeofSecrecy."
"I would say this is not common for North Country politics," Mann said. "It feels much more personal, and it feels much more driven by social media attacks than a real conversation about issues."
Stefanik's transformation from Trump skeptic to #MAGA loyalist has dismayed some moderate Republicans. MSNBC host Nicolle Wallace, with whom she served in the Bush administration, tweeted last week that Stefanik was "drinking the same loony tune juice with her breakfast" as former ambassador to the United Nations Nikki Haley, "going from occasionally reasonable republicans to Trump shills. #pathetic."
Closer to home, Glens Falls' Post-Star editor Ken Tingley questioned in a recent column whether Stefanik would "just be carrying water for her party" during the impeachment hearings. "That would be unconscionable considering what is at stake," he wrote.
Paul Heintz
Rep. Elise Stefanik at the House impeachment hearings
Welch, meanwhile, has undergone his own transformation.
Since his first term in the House in 2007 and 2008, when many liberal Vermont activists were seeking Bush's removal from office, Welch has been wary of using Congress' impeachment powers.
For more than two years after special counsel Robert Mueller was appointed to investigate Russian meddling in the 2016 election, Welch refused to say whether he believed Trump had committed crimes, and he frequently threw cold water on the notion of impeaching the president. Welch alternately argued that impeachment would never succeed and that attempting it would only help Trump win reelection.
It wasn't until July 2019, a week before Mueller was set to testify before Congress, that Welch became the 87th House Democrat to endorse impeachment. Even then, he said he hadn't based his decision on Mueller's findings. Rather, he argued that Trump's continued obstruction of congressional oversight and his racist attacks on House colleagues of color merited removal from office.
According to Vermont writer and activist Susan Ohanian, who introduced a successful advisory motion to impeach Trump at Charlotte's 2017 town meeting, Welch was late to the game. "I think he was safe to the game," she said in a recent interview.
Welch, 72, has never been one to rock the boat. The former attorney and longtime state legislator has carefully cultivated a reputation as a moderate Democrat — at least by Vermont standards — who works hard to partner with Republican colleagues. (Welch and Stefanik have collaborated on initiatives related to Lake Champlain and dairy policy, but they don't appear to be particularly close. "We totally disagree about impeachment, but she's a very capable person," Welch said of Stefanik.)
Even last week, in the moments before his committee's impeachment hearings began, he appeared ambivalent about the task at hand.
"None of us particularly want to be here. It's not a good thing for our country that we're having an impeachment debate," he told Seven Days. But, he added, "It feels like this is the job I have to do at this point."
Welch hasn't explicitly stated that he will vote for impeachment articles related to Ukraine, but he has left himself little room to retreat, calling the president's actions "a profound abuse of power."
As for his concerns about the price Democrats may pay for pursuing impeachment? "You know, I got past that with Ukraine because I think it went from being politically inconvenient to constitutionally essential," he said during an interview last week in his Capitol Hill office.
Welch is facing at least some criticism back home for supporting impeachment. Deb Billado, who chairs the Vermont Republican Party, called it "sad and misguided," adding that he and his congressional colleagues were simply "trying to remove the president that they don't agree with because I don't believe they can beat him at the polls."
But it's hard to imagine Welch paying too great a political price. The seventh-term House member hasn't faced a competitive race since he was first elected — and a higher percentage of voters in Vermont opposed Trump in the 2016 election than in any other state.
The politics of the moment are trickier for Stefanik. Her district, which stretches from Lake Ontario to Lake Champlain and includes the entire Adirondack Park, generally sends Republicans to Congress, but her immediate predecessor, Bill Owens, was a Democrat. Her constituents backed Democratic president Barack Obama in 2008 and 2012 — then Trump in 2016. She defeated Cobb by 14 points in 2018, a banner year for Democrats.
Though the prospect of a robust Democratic challenge could push her toward the center, Stefanik is surely loath to alienate the president's supporters in her district.
"I think that the congresswoman has pretty brilliant political instincts," Mann said. "She is probably reading the district pretty well that while there are a lot of people here that are dismayed by President Trump's behavior, there are also a lot of people ... who are very loyal to Donald Trump and who are convinced that he is facing unfair attacks."
Saranac Lake resident Ray Collin, who chaired New York's Franklin County Republican Party for five years, has mixed feelings about Trump but thinks Stefanik has acquitted herself well during the impeachment process.
"I will tell you that I think Congresswoman Stefanik is significantly more popular than any congressperson we've had in the last decade or better," he said, adding that he finds the impeachment inquiry "a little silly."
Given the challenges Republicans face winning statewide office in New York, Stefanik may have concluded that she has a better chance at a promotion by moving up the ranks into House leadership or even securing a job in the Trump administration. That could explain her willingness over the past week to become one of her party's most visible anti-impeachment warriors.
Her party also has a reason to put her front and center: Stefanik is one of only 13 women in the House Republican caucus and the only GOP woman on the Intelligence Committee. When she first took office at 30 years old, she was the youngest woman ever to win election to the House. (Rep. Alexandria Ocasio-Cortez, a New York Democrat, later supplanted that record at 29 years old.)
Stefanik's gender was a particular asset for Republicans at last Friday's hearing, when Democrats sought to establish that Trump and his allies had bullied former U.S. ambassador to Ukraine Marie Yovanovitch out of her post. Soon after the hearing began, Stefanik again attempted to initiate a debate over Schiff's conduct.
"The gentlewoman is not recognized," the chair said, cutting her off.
"So we know clearly you're going to interrupt us throughout this hearing," Stefanik responded, shaking her head.
That afternoon, she and her Republican colleagues appeared intent on goading Schiff into preventing Stefanik from asking questions. Though House-passed rules allowed only Rep. Devin Nunes (R-Calif.), the Intelligence Committee's ranking member, or a designated staffer to question Yovanovitch for a 45-minute period, Nunes attempted to turn the microphone over to Stefanik.
Before she could utter more than a few words, Schiff interjected: "The gentlewoman will suspend. The gentlewoman will suspend."
"What is the interruption for this time?" Stefanik asked. "It is our time—"
"The gentlewoman will suspend," Schiff repeated.
"You're gagging the young lady from New York?" Nunes complained.
"This is the fifth time you have interrupted members of Congress — duly elected members of Congress," Stefanik said.
The set piece drew a strong reaction from skeptics. "They knew calling on Stefanik was 100% a stunt," the Atlantic's veteran correspondent, James Fallows, wrote on Twitter. "And still they did it, knowing that it would be bolstered on Fox and probably get 'both sides' treatment elsewhere."
"Elsie [sic] Stefanik is lying here," former Vermont governor Howard Dean tweeted. "I'm embarrassed to have her representing so many of my friends across the lake."
Soon, prominent Trump opponents — including attorney George Conway, the spouse of Trump adviser Kellyanne Conway — were calling for contributions to Cobb's second campaign against Stefanik. "@EliseStefanik is lying trash," Conway wrote on Twitter. "Please give to her opponent, @TedraCobb."
On Sunday, Cobb announced that she had raised more than $1 million over the weekend — nearly tripling her war chest. Stefanik's campaign was also fundraising off the hearings, though it did not release a total. Neither Cobb nor Stefanik responded to interview requests.
If Stefanik's goal was to speak to her party's base, it worked. Clips of Schiff cutting her off aired repeatedly on Fox News and congressional allies leapt to her defense.
"@RepStefanik is a young, powerful, conservative woman — and Democrats are threatened by that," House Minority Leader Kevin McCarthy (R-Calif.) wrote on Twitter, "Retweet if you are on #TeamElise."
By the end of the weekend, that team included Stefanik's most prominent supporter yet: Trump himself. As the president shared a clip of her questioning on Twitter, he wrote, "A new Republican Star is born. Great going @EliseStefanik!"
Colin Flanders contributed reporting.
Disclosure: Paul Heintz worked as Peter Welch's communications director from November 2008 to March 2011.