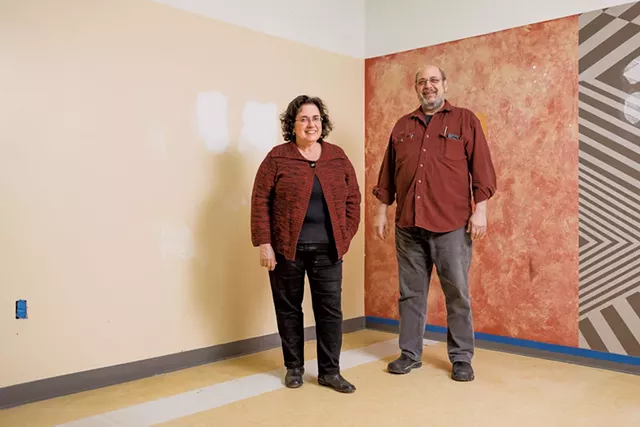 Oliver Parini
April Werner and Ben Bergstein at North End Studios' future location
This summer, North End Studios will start to transition into new digs at the O'Brien Community Center in Winooski. By June 2022, the Old North End institution plans to shift the majority of operations from its current headquarters at 294 North Winooski Avenue to the Onion City, per an agreement with Hinsdale Properties, which owns the Burlington building.
North End Studios plans to lease a number of unoccupied spaces in the O'Brien Center, including the former teen center, the community room, three studios and a meeting room. In total, proprietors Ben Bergstein and April Werner are looking at approximately 5,000 square feet — about 200 square feet more than their North Winooski Avenue accommodations.
For the past 26 years, Bergstein and Werner, partners in business and in life, have produced the Vermont International Festival, held annually at the Champlain Valley Exposition. They also maintain North End Studio's jam-packed roster of performances, events, and fitness and dance classes, which run the gamut from folk to pole.
With the recent arrival of Little Morocco Café and Knead Bakery, the former Fassetts Bakery building has become a mini food hub. As previously reported in Seven Days, property manager Jacob Hinsdale opted not to renew North End Studio's lease in order to accommodate more food-and-drink establishments. Bergstein said that Hinsdale has indicated an interest in potentially converting the rear of the building into a brewery. Hinsdale could not be reached for comment.
Though an arrangement is not yet official, Bergstein and Werner hope to continue limited use of North End Studio A, their main music and performance space, even after their lease is up.
In its Winooski quarters, North End Studios will continue to offer rental space for events, performances and classes. As they've done in the ONE, Bergstein and Werner want to make the O'Brien Center a welcoming space for the area's New American community to hold family gatherings and celebrations.
"We're expanding in part to help our refugee and immigrant families meet their social and community needs," said Werner.
Over the years, Bergstein said, they've learned that the best way to accomplish that goal is to meet folks where they are, which occasionally means having a staff member (often Bergstein, a professed night owl) on-site for a party that doesn't wrap up until sunrise.
"For people whose family members are traveling from far and wide, or whose loved ones work second shifts, those weird hours are a necessity," he said. "We want people to be able to celebrate the way they're accustomed to celebrating."
The O'Brien Center, managed by the City of Winooski, currently houses the city's parks and recreation department, the public library and an assortment of nonprofits, including Vermont Works for Women and offices of the Howard Center. A grocery store in a past life, 32 Malletts Bay Avenue has had a hard time finding tenants with stamina: The Winooski YMCA, once the building's main public attraction, closed in 2017. A few years before that, the Underground Teen Center shuttered.
Winooski community services director Ray Coffey said he's glad to see these vacant spaces — particularly the erstwhile teen center, which he called "the largest storage closet in Winooski" — under the stewardship of North End Studios.
"I think their mission meshes well philosophically with the intent of a community center," Coffey said. "The way they think about community is a good fit for the space."
Bergstein and Werner's agreement with Winooski hasn't been formalized yet, but they're in talks with the city council about starting a lease this June. On Martin Luther King Day, a crew of volunteers readied four rooms and some of the corridors by giving the walls a fresh coat of paint.
Still, the couple get a little misty-eyed when they think about leaving the space they built from the ground up in the Old North End. Bergstein, a choreographer, designed the dance floor in Studio A himself. The walls are covered in folk art, puppets and masks from all over the world, ephemera that Bergstein and Werner have amassed from travels, auctions and yard sales.
"We were here long before people wanted to venture into this neighborhood," said Werner. "We were part of the revitalization of the Old North End."
As Bergstein walked past the entrance to the bakery's former loading dock, which they've been using as storage, he sighed.
"That's gonna be a real headache to clean out," he said wistfully.