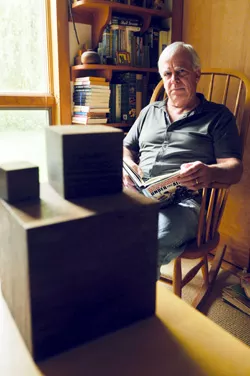 Jeb Wallace-Brodeur
Don Bredes
Don Bredes didn't set out to write mysteries. But one fall day in 1984, a mystery found him. On the tennis court, a friend told the Wheelock writer that a couple from Canada, mutual acquaintances of theirs, had been slain in their Jay ski chalet. Bredes' tennis partner had, in fact, discovered the bodies. But what he saw so disturbed him that he waited a day to report it, casting potential suspicion on himself.
The case stayed with Bredes. When he began turning it into a novel, he focused on his friend's dilemma. In the book, originally called The Sugar Woods Murders, the witness became a dairy farmer "who finds himself a suspect in a double homicide just because he reported the crime," says Bredes. At the end of the book, the farmer is exonerated, but the murders remain unsolved, just like the real-life killings that inspired them.
Bredes had never thought about writing whodunits or even genre fiction. He'd made a name for himself in the 1970s with Hard Feelings, a popular coming-of-age novel critics compared to Catcher in the Rye. His second novel, Muldoon (1982), was about the son of a women's tennis champion finding his path in life. Both had the sprawling, picaresque, road-trip elements of much fiction that emerged in the turbulent wake of the Vietnam War. Neither took place in rural Vermont, where the New York native had been living — with a few breaks — since graduating from Syracuse in 1969.
Some novelists find a theme or a formula — a brand, if you will — and stick with it. Others reinvent themselves, trying new voices and genres in response to their muse, the market or both. Bredes does the latter. While he's lived on the same patch of land for decades, his literary territory shifted in the nearly 20 years that passed between the publication of his second novel and his third. The book he's currently working on — a dystopian young-adult novel — could mark a third big move.
But first, back to the mystery. After his tennis novel, Bredes drafted one based on his post-college experiences teaching high school in the Northeast Kingdom. But publishers weren't interested — the "back to the land" experience was considered hopelessly retro in those days, he says. New York editors didn't seem any more intrigued by his new novel about murder at the height of foliage season. Bredes showed the manuscript to his longtime friend and fellow NEK writer Howard Frank Mosher, who told him, he recalls, "'You know, Don, I think what you have here is a genre novel. It's a detective novel. You're writing an anti-genre novel. What you've gotta do is introduce a sleuth character and have him solve the crime.'"
"I thought, Damn, he's right," says Bredes, now 61, who has flinty blue eyes and speaks with a raconteur's unhurried cadences. In his new version of the novel, he gave his dairy farmer a half-brother — town constable Hector Bellevance, a ex-Boston cop with dark memories. Bellevance, who describes himself in the first few pages with the memorable announcement, "God-fearing and decent weren't attributes I'd lay claim to," became Bredes' sleuth. "I invented him to solve a problem I didn't realize I had," the writer says. "Someone else had to point it out to me."
From this roundabout process came Bredes' first suspense novel, Cold Comfort, finally published in 2001. New York Times critic Marilyn Stasio hailed it for its "rawboned rural setting" and "clear, unscented style that smells like fresh air." She also praised the "grave eloquence" of Bredes' 2005 follow-up, The Fifth Season, in which Bellevance solves more small-town killings— but always with Bredes' characteristic focus on character over police procedure, the journey over the destination.
This month, Bredes' tenacious constable returns in The Errand Boy, set 11 years after the previous novel. Once an angry divorcé, Bellevance is now a happily married truck farmer with a precocious daughter. But when he isn't driving his raspberries to farmers markets and food co-ops, he's investigating a case that involves poultry farming, meth farming and quite a bit of legal and illegal activity in between. The feds want him out of it before he can damage another case they're building.
But Hector's wife is in the hospital, her brain slowly recovering from a violent trauma. And, for reasons that make sense as Bredes unfolds them, the sleuth wants to solve the brutal murder of the young man who put her there.
Ask local readers to name a fictional Vermont detective, and many will mention Archer Mayor's intrepid Brattleboro cop Joe Gunther. Mayor has written 19 police procedurals that take readers on an action-packed tour of Vermont's human fauna, from elites to bottom feeders. Bredes' three novels are more of an immersion experience. He places us in a rural landscape that both sustains and traps its inhabitants; one where crimes can be committed out of boredom and concealed out of loyalty and habit.
"In rural communities crime often took on an intimate complexity," Bellevance reflects in The Errand Boy. "Whatever it was about, odds were you knew who, where, when, how and usually (sooner or later) why. My mother used to say that small-town life enhances a person's understanding of what it means to be human, though seldom for the better."
When he began the novel, Bredes had a specific case in mind: the 1957 murder of Orville Gibson in Newbury. Though the detectives were pretty sure they knew who had tied up the rich dairy farmer and dumped him in the river, they never found an informant. "In many small towns in rural America, there can be a person or people that the people in the town and even the police know is a killer, but they can't prove it," Bredes says. "In a rural community where everybody knows everybody else, you can actually know someone is a murderer. What are you gonna do?"
Living cheek by jowl with a uncaught killer may be one hazard of neighborliness, but it has its benefits, too. Bredes speaks warmly of the people he's met in his decades of living at the end of a hilly dirt road on the outskirts of North Danville. He bought the land in the mid-'70s after selling Hard Feelings, then used the income from its paperback sale to build the house — "the house that Bantam built," he says with a chuckle. Later, he expanded the naturally weathered wood-frame structure where he now lives with his wife, Eileen Boland, who's the human resources director at St. Johnsbury Academy and served as commissioner of personnel in Howard Dean's administration. Their daughter is at Yale.
Bredes writes so feelingly about Bellevance's struggle to keep his farm going with his wife in a coma — "Eighty feet of spinach needed cutting or it would bolt" — that it's hard to believe he doesn't sell vegetables at farmers markets, like his fictitious protagonist. But the garden that stretches up Bredes' green slope to the woods is for personal use — and for viewing through the house's broad stretches of plate glass.
Like Hector Bellevance, Bredes doesn't like cellphones and the constant connectedness they impose. Another thing he doesn't like is knowing exactly where a book is going when he starts writing it. He recalls the difficult gestation of The Fifth Season, a sequel he hadn't intended to write until publisher Shaye Areheart offered him a two-book deal: "Here I was 150 pages into the book, and I didn't know who the killer was or why! It took a while to figure it out. There were times when I thought, I may never be able to figure it out. I may never be able to finish this book."
In the end, Bredes says, like his protagonist, he does figure things out — "The solution grows out of the situation for me. When you're writing a novel like this, when you're writing as slowly as I am, you're living in a daydream all day long," he explains. "Here I am in this quiet house, all day." When he's done with his part-time work teaching English online for the University of Maryland, he devotes himself to "gardening and writing," he says. "The way little revelations about the story will come to me is the way they come to anyone who's entirely obsessed about a subject that exists only in his head."
The process may be dream-like, but the result is concrete, specific and often topical. One character in The Errand Boy is a Canadian industrialist who builds a factory-style egg farm on a scenic hill, drawing swarms of flies that torment the nearby small dairy farmers. (As research, Bredes toured a farm that caused similar problems in Highgate.)
Being on the little guy's side, Bellevance doesn't want to consider the possibility that one of those struggling farmers might have beaten the egg baron's son to death. But he has no choice, as it becomes clear that wholly innocent parties are in short supply.
Bredes describes his main setting as "an untraveled part of the state that has been bypassed by the interstate, hard by the border with both Canada and New Hampshire." Hector's town, Tipton, is "sort of a composite of Newport, Island Pond, Barton or even some smaller place like Derby. It's an invented place, and I can see it in my head." But, Bredes says, readers can't seem to shake the idea that Tipton is a real town — just as they often pester Howard Frank Mosher to tell them the true identity of his Kingdom Common.
Bredes' life has mirrored his older friend Mosher's in a startling variety of ways: They graduated from the same college, both taught at Lake Region Union High School — a job Bredes took in '69 to obtain a draft deferment — and lived a mile apart on a Barton back road. Not long after Mosher drove out to the University of California at Irvine to study creative writing — and discovered he hated the climate and "turned around and went right back," Bredes recalls — Bredes made the same pilgrimage. He ended up completing the program and connecting with a literary agent who would eventually get Mosher's first books into print, too. Later on, Bredes wrote the screenplays for Jay Craven's film adaptations of Where the Rivers Flow North and A Stranger in the Kingdom. He sees his work and Mosher's as complementary: "His stories are about the Kingdom that used to be, at least in the imagination, and mine are about the contemporary Northeast Kingdom."
"Don is a realist," concurs Mosher on the phone from his Irasburg home. "He writes about the contemporary Kingdom and contemporary rural Vermont in a strictly accurate, realistic vein, while I tend to gravitate back to the past." He has high praise for Bredes' technique, calling him "one of the best stylists that we have. I've often thought his prose is just as crystal clear as F. Scott Fitzgerald's. You never have to read a Don Bredes sentence twice to figure out what he wants to say."
Craven is another fan, saying, "I learned a lot about how to write from Don by collaborating with him." If the resources presented themselves, the director says, he'd be happy to put Cold Comfort on screen: "Don's sort of muscular narratives definitely lend themselves to film."
Bredes' plan is to write a Hector Bellevance book set in each season, which means he has just winter to go. (The Errand Boy takes place in high summer, Cold Comfort in fall, The Fifth Season in everyone's favorite, mud season.)
For now, though, Bredes is working on something completely different: a young adult novel "set in an America that looks nothing like the America we know," he says. After climate change and "unspecified cataclysms" unseat the U.S. from superpower status, religious fundamentalists take over the government. All this is just backdrop to Bredes' story, which he describes as "wild": "The main character is a witch. She can fly."
Making her way from Orlando back to her Vermont home, the teenage heroine navigates a world of crime, disease, storms and dead oceans. Bredes likens the two-thirds-written book to Philip Pullman's His Dark Materials trilogy and says it "stands to be pretty controversial."
That won't be anything new for Bredes. After the American Library Association named Hard Feelings a Best Book for Young Adults in 1977, many high school librarians acquired it — including the one at Lyndon Institute, where the parent of a freshman noticed the novel's frank sexual passages and complained. "There was this whole uproar about it, purely coincidental to my living here," remembers Bredes.
Today, Hard Feelings is out of print, and a film based on it never had a theatrical release. The voluble, confessional voice of a midcentury suburban teenager that Bredes used in that novel has given way to the clipped, skeptical Yankee utterances of Hector Bellevance. And Bredes has found a new niche and a new community of readers: At the Boxcar and Caboose Bookstore in St. Johnsbury, he says with a laugh, "The only book that's sold more copies than mine is J.K. Rowling's."
Beth Kanell, co-owner of Kingdom Books in Waterford and author of the YA novel Darkness Under the Water, says of Bredes' Bellevance books: "I think that people especially enjoy them here because they have a feeling that they know the landscape. That turn in the road is just out of reach, and they might have gone past it themselves. People seem to recognize themselves in [his fiction], whether they're old timers or newcomers." Kanell particularly likes that Bredes "deliberately writes about people who are less than perfect."
The imperfect sleuth Bredes invented to make his psychological novel more marketable has taken on a life of his own. While he always gets his man eventually, Hector Bellevance can't solve the big problems: the factory farm versus the small dairyman, the cops versus the growing meth trade.
But he can keep his family safe — for the most part — and get his spinach and raspberries ready for market. And sometimes, Bredes suggests, that's enough.