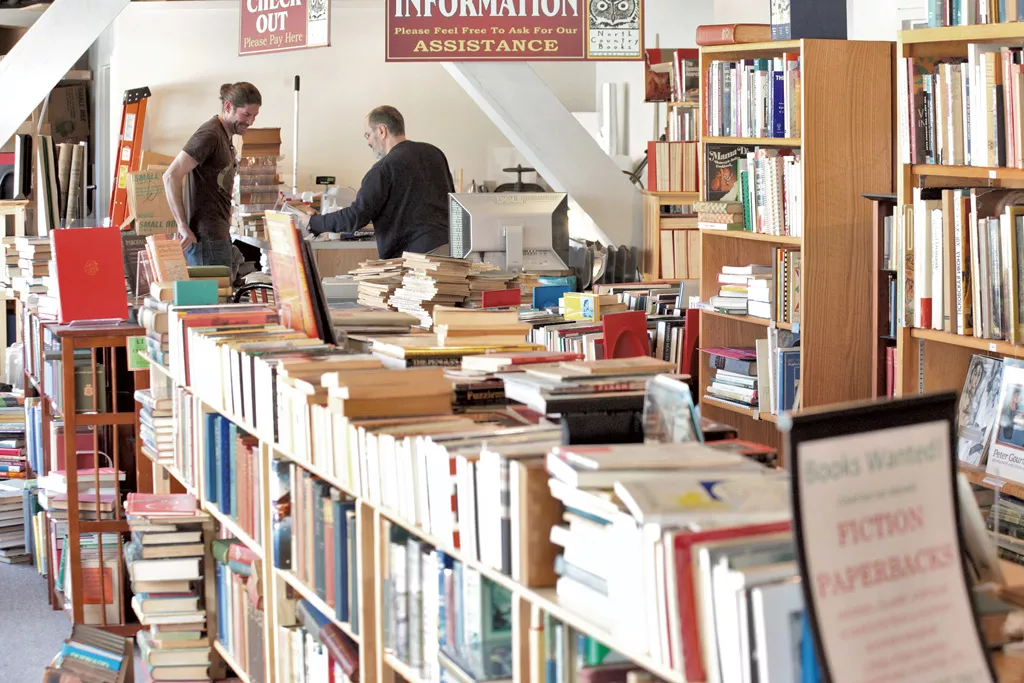 Matthew Thorsen
North Country Books
Winooski may not be the retail mecca of Chittenden County, but local bibliophiles now have another good reason to shop the Onion City. North Country Books, a longtime purveyor of used and antiquarian books, has reopened a physical store for those who prefer to thumb through books before buying them. Unlike the store's previous incarnations in downtown Burlington, the new Winooski space is sunlit, airy and — much to the delight of owner Mark Ciufo — above ground.
The nearly 1,500-square-foot store, which opened in early March with 7,000 to 8,000 titles, is located on Cascade Way between Winooski's two parking-garage entrances, a block from the roundabout. (The store's actual address, 25 Winooski Falls Way, is a bit misleading, Ciufo admits with a sigh.) The new store marks North Country Books' return to brick-and-mortar sales after nearly seven years of doing business exclusively online.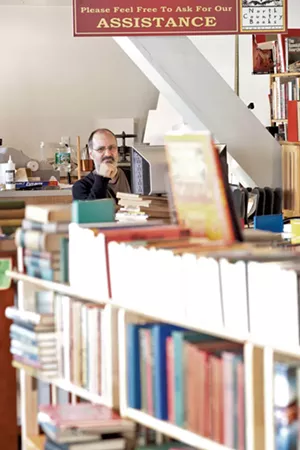 Matthew Thorsen
Mark Ciufo
"It was tough for me to sell out of my home and do the same thing day after day," explains Ciufo, a soft-spoken, 55-year-old Middlebury native. "Books are something I want to share, something I want people to see. So having a bricks-and-mortar shop is exciting. Not everybody is interested, but people who really like this place make it worthwhile."
For 14 years, Ciufo owned and operated North Country Books in subterranean locations in downtown Burlington: First on Cherry Street from 1994 to 1996, and then at the top of Church Street, in Richardson Place, from 1996 to 2008.
"When Borders opened [in 1998], my sales dropped. Really dropped," Ciufo recalls. But at about the same time, North Country Books' internet sales "really took off," he says, and more than compensated for the sales Ciufo lost to Borders and other competitors. "It was very, very encouraging to be able to continue doing what I was doing at the same location," he says.
Nonetheless, by the mid-2000s, Ciufo decided he'd had enough of working in basements. Though his 4,000-square-foot bookstore was carpeted and well lit, Ciufo knew many potential customers didn't venture down those stairs. As he puts it, "For youngsters, it was kind of creepy."
So, in June 2008, Ciufo closed the Burlington store, gave away many of his books and unloaded another 10,000 titles for a mere $100. "There are a lot of books out there that aren't necessarily salable," he explains. "Books will sell, but finding the right customers can take a while."
An inveterate collector of rare and out-of-print books, Ciufo retained about 6,000 of his most salable titles in his two-bedroom Winooski condo and another 5,000 in long-term storage. He continued to sell those online — until, earlier this year, he realized he missed interacting with customers face-to-face.
Though the new North Country Books is just a stone's throw from Winooski's Community College of Vermont campus, Ciufo predicts that college students will make up only a small percentage of his customers. As if to prove him wrong, two CCV students enter the store during our conversation and purchase books. All the while, Ciufo's Amazon parrot, Booker, watches the transactions silently from his owner's shoulder.
Like Ciufo's previous stores, this one offers an eclectic mix of titles not often found in mainstream bookstores. North Country Books has sections devoted to Marxism, organized labor, French-language books printed in Canada, and German and French titles printed in France. Ciufo even has a shelf of books by Bob Keeshan, aka Captain Kangaroo.
In addition to his impressive collection of antiquarian books, some of which date back to the 1600s, Ciufo sells historical posters, maps, greeting cards and other ephemera, especially those related to Vermont and New England history.
"My specialty is, I don't specialize. I am a generalist," he says. "However, I do have an abiding interest in anything having to do with Vermont."
Despite the new storefront, Ciufo says he'll continue to maintain his online presence.
"I absolutely have to. I had no intentions of not doing so," he says. "In fact, I had hoped that, by opening this store, I would actually spend more time on the internet listing my books. So I'm actually doing more work now [online] than I was four months ago."
Some might question the wisdom of opening a physical bookstore in the age of Amazon and digital readers such as the Kindle. But Ciufo suggests that independent bookstores like his continue to hang on, if not thrive, in the face of such competition. He points to Phoenix Books' recent decision to open a new store in Rutland as just the latest promising development in Vermont. Phoenix already has shops in Essex and Burlington.
"The book is a perfect item for reading," Ciufo muses. "We have two hands, two arms; the reading distance is about right from our eyes...
"It's a beautiful object," he continues. "People read books when they're very, very young, and they may not remember everything, but those books stay with you. And that's special. Not having that in your life is tragic."