Henry Epp is used to reading his scripts alone, perched over a soundboard in a windowless studio in Vermont Public Radio's Colchester headquarters. But on a recent Thursday afternoon, the local "All Things Considered" host had an in-person audience to please — and a new medium to master.
Standing at the edge of VPR's cavernous newsroom, the radio star stared down a television camera and teleprompter operated by three crew members from Vermont PBS, the state's other public broadcaster. As Epp delivered the latest news on a protracted state budget standoff, the soft-spoken Minneapolis native at first seemed poised and confident. Then, 22 seconds into the minute-long newscast, he stumbled.
"Earlier this week, lawmakers failed to override Scott's latest veto—" Epp said, interrupting himself mid-sentence and shrugging his shoulders in frustration. "Ah, shoot. Sorry."
After adjusting the teleprompter to make it more legible and instructing Epp to shift to the right, Vermont PBS cameraman David Littlefield said, "All right, that's someone who looks like they know what they're doing." Epp laughed. He was ready for take two.
Though they are headquartered just three blocks apart, in the Fort Ethan Allen historic district, 41-year-old VPR and 51-year-old Vermont PBS had, until recently, never worked together.
Glenn Russell
Vermont PBS president, Holly Groschner
"We each had our own systems to tend to, and TV and radio is different," explained Vermont PBS president Holly Groschner. "So it just hadn't been prioritized."
That changed earlier this year when Groschner's station teamed up first with VTDigger.org and then VPR to bring more local news to the small screen. Now every Wednesday night, VTDigger community editor Mike Dougherty delivers a minute-long, taped newscast at the top of the "PBS NewsHour" and, on Thursday nights, Epp does the same.
For now, the collaboration between Vermont's three major nonprofit media outlets is limited to a couple of minutes of programing a week. But the leaders of each organization express a desire for more.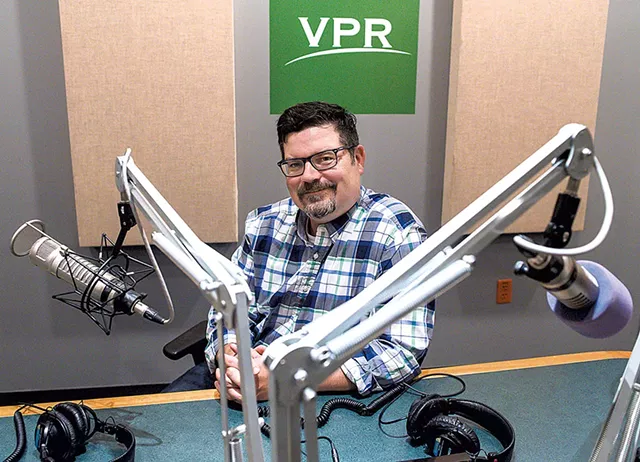 Glenn Russell
VPR president and CEO, Scott Finn
"It's really inefficient if all of us are stumbling over each other trying to do a lot of the same things," said VPR's new president and CEO, Scott Finn. "We're a small state."
The cross-platform collaboration is just the latest development in Vermont's rapidly evolving media ecosystem, which is increasingly dominated by mission-driven nonprofits. Steady and prolonged declines in retail and classified advertising have brought layoffs to daily print newspapers such as the Burlington Free Press and Rutland Herald; the Associated Press' Montpelier bureau has been cut to the bone; even WCAX-TV recently let veteran staffers go after its founding family sold the station to a national chain.
"People have no idea how much this has impacted the state," VTDigger founder and editor Anne Galloway said of the layoffs. "It's fucking depressing."
Jeb Wallace-Brodeur
VTDigger founder and editor, Anne Galloway
Tax-exempt 501c3s such as hers — plus a handful of locally owned weeklies — are trying to fill the void. And they're doing it with a business model that relies less on local commerce than on grants, individual donations and corporate philanthropy.
In recent years, Vermont's most prominent nonprofit news outlets have benefited from transformational infusions of cash. VTDigger, the smallest and scrappiest of the bunch, received a five-year, $1 million commitment from Vermont Country Store co-owner Lyman Orton, which it hopes to leverage into a $5 million expansion. VPR wrapped a $10 million capital campaign that financed the construction of a state-of-the-art studio complex. And Vermont PBS netted $50 million with the sale of one of its four Federal Communications Commission broadcasting licenses.
"I think it's a very hopeful sign that when there is a market failure there are people who will respond to that," said Dan Kennedy, a veteran media reporter and associate professor at Northeastern University School of Journalism.
But can the big three nonprofits replace the reporting firepower Vermont has lost over the past decade? Can they overcome historic rivalries to truly collaborate with one another? And even if these statewide outlets continue to thrive, who will cover community news in cities and towns too small to sustain for-profit or nonprofit enterprises?
"Newspapers used to do so much. People didn't realize it. They just took it for granted," said Finn. "Now it's up to the rest of us in society ... to step in and say, 'If these things are valuable for democracy and community, how are we going to continue them when newspapers are being forced to cut back?'"
Strengthened Signal
When Galloway founded VTDigger in 2009 — months after the Barre-Montpelier Times Argus laid her off — she was convinced the online news site should be a nonprofit.
"I didn't feel that we had a choice because I didn't see a future for commercial journalism," she said.
For half a century, public broadcasting stations had been refining the nonprofit news model, funding their operations with a combination of member donations, business underwriting, foundation grants and, in some cases, government support. In the early 2000s, as news consumers migrated to the internet, a crop of online-only outlets from San Diego to New Haven, Conn., sprouted up and adopted the model.
Kennedy, who chronicled these startups in his 2013 book, The Wired City: Reimagining Journalism and Civic Life in the Post-Newspaper Age, said he "lived in terror" that one of them would fold before the book went to press. But every one of his subjects still exists today. Freed from the printing and distribution costs that go along with publishing a newspaper, "They have proven to be really resilient," Kennedy said.
"It works," Galloway said of nonprofit journalism, "because it asks readers to buy into the idea, and it also asks businesses to do the same thing ... Ultimately, we're answerable to them."
That doesn't mean it's easy. For the first two years of VTDigger's existence, Galloway worked 80- to 90-hour weeks and didn't take a paycheck. As she burned through startup money, she learned several key lessons. She didn't have the luxury to spend weeks on an investigation; in order to grow an audience, she had to publish daily. And while foundations were willing to fund her early efforts, she knew she needed a business staff to grow sustainable sources of revenue.
"They recognized pretty quickly that in order to do good, you have to do well," media consultant Tim Griggs, a veteran of the New York Times and the nonprofit Texas Tribune, said of VTDigger. "It doesn't matter how much passion you have for doing good journalism if you don't exist."
According to VTDigger's filings with the Internal Revenue Service, its revenue grew tenfold over five years — from $296,000 in 2011 to $2.17 million in 2016. In that time, according to Galloway, its foundation funding went from 75 percent of its budget to less than 10 percent. VTDigger's three biggest sources of revenue now are corporate sponsorships, major gifts and member donations.
To Brendan Kinney, vice president of development and marketing at VPR, imitation is the sincerest form of flattery. "We've been operating under this business model for 40 years," he said. "Commercial operations, as well as other nonprofit news operations, are discovering, Oh my gosh, what if we just ask people to pay for it?"
Kinney noted that even Seven Days, a locally owned for-profit newspaper, began soliciting contributions this year through its Super Reader program — though such donations are not tax deductible because the paper is not a 501c3. "I believe the business model has a lot of upside," Kinney said.
If VTDigger has made it work, VPR has made a killing. From 2012 to 2017, the radio station's revenue grew from $9.1 million to $12.4 million, according to IRS filings. In its latest report, the station claimed $30.2 million worth of assets, including an $11.3 million endowment.
"We're coming off an incredibly successful period of time," Kinney said. "We really feel like we're in a position of strength."
Vermont PBS is the only one of the three media nonprofits that hasn't seen natural growth. From 2011 through 2016, its revenue declined slightly every year but one, according to IRS filings, from $6.8 million to $5.5 million. Contributions and grants dropped by nearly $2 million in that period, from 80 percent of the station's revenue to 64 percent. But due to changes in the telecommunications industry, the station is in a stronger financial position now than any media organization in the state.
In 2017, Vermont PBS took part in a national auction of FCC spectrum licenses, during which wireless providers bought the rights to certain frequencies from dozens of television stations. The Vermont organization netted $50 million from the sale of one such license.
"We see that as money for change, not just operating capital," Groschner said. So far, her board has approved an additional $1 million a year in technological, content and personnel investments. In the long term, Groschner said, she hopes to use the money to "put more Vermont in Vermont PBS."
Cash Cows
Finn, who moved to the state in May to lead VPR, is making himself at home. The Iowa native and former West Virginia Public Broadcasting chief has taken to hiking the Green Mountains — and tweeting photos from their summits.
"I come from West Virginia, and I've already lost a few pounds here because of the peer pressure," he said as he showed off his standing desk in the station's open-concept work space. "It's just a healthier way of living."
Later in his tour of VPR's recently expanded headquarters, Finn pointed out a perk that doesn't help in the waistline department: the multi-tap kombucha dispenser near the reception desk. "It's kinda nice," he admitted. "I gotta be careful, though, because it's got a lot of sugar in it. Is it mildly alcoholic, too?"
Last July, VPR reeled in the final pledges of its three-year, $10 million VPR Next Capital Campaign. While $2 million was earmarked for a news and programming "innovation fund," the rest financed a near-doubling of its now-27,000-square-foot headquarters.
For years, reporters and producers had been crammed into a converted hayloft above a former veterinary hospital. Now, they can roam the opulent new campus, from its palatial newsroom to its soundproof work spaces and recording studios to its sun-soaked cafeteria and patio.
"It's a great retention tool for staff, and it's also a great recruitment tool," Kinney explained.
But is it too nice for a regional public radio station? "Of course I don't think so," Kinney said before paraphrasing a former board member: "VPR needs a proper home — not only for staff, who deserve a good work space, but as we invite more people into our home, we need to have the space to welcome them and engage with them."
That's the purpose of the station's Stetson Studio One, a 120-seat performance venue used for VPR's "News and Brews" gatherings and "Live From the Fort" concerts. "We didn't build this for VPR," Finn said as he entered the room. "We built this for the community."
Inside, four Vermont PBS and VPR employees were working together on the next phase of their collaboration: joint debates during this fall's gubernatorial election. The two organizations also plan to team up on a public opinion poll, according to Groschner.
"Are you guys scoping out the lighting in here?" Finn asked Vermont PBS production manager Brian Stevenson.
"Pretty much," he replied. "Just trying to get a feel for the space."
Though both public broadcasters are flush with cash, neither has appreciably expanded its news offerings in recent years.
From 2001 through 2013, according to VPR senior vice president and chief content officer John Van Hoesen, the station transformed its newsroom from a three-person staff to one with 17 reporters, hosts and support staff. In the five years since, it has added just two full time positions, Van Hoesen said.
And while Vermont PBS could afford to pay every reporter in the state, Groschner scoffed at the idea of using its newfound funding to build a state news operation.
"We thought about it long enough to say it was a bad idea," she said. "In our market, we already have expert and robust news services from two very credible nonprofit sources ... And so to defer resources to replicate that service would be a disservice to the community."
So where is all that money from the license sale going? According to Groschner, current initiatives include digitizing Vermont PBS' archives, buying more regional content and developing a new children's show, "Mister Chris and Friends."
Other ambitions sound less concrete: "We're still taking the initiative to evaluate whether [to create] educational opportunities through virtual reality programing and/or finding more ways to interact with the community through digital platforms," Groschner said.
First things first: The station is spending $75,000 on a market study. "Because we just presume we know who a public media viewer is," Groschner explained. "And we need to know how we can serve the whole state, not just the classic public media viewer."
Competitors or Collaborators?
For all the talk of collaboration in Vermont's nonprofit news sector, two of its players — VPR and Vermont PBS — are just getting to know each other, and two — VPR and VTDigger — sound like squabbling siblings.
"They've spurned us for the past six years," Galloway said of VPR. "And I just keep talking to them about possibilities, and they keep saying no, so whatever."
The way Galloway sees it, the public radio behemoth is both contemptuous of and threatened by her swiftly expanding startup. She blames the "news egos" at VPR, whom she believes "haven't seen the value of Digger."
"We're a little grittier than they are," Galloway said. "Perhaps we've been the annoying kid sister or something."
Board members from both organizations have, over the years, urged the two to team up, but talks have always broken down at the management level.
"I've been disappointed that VPR hasn't seemed to want to collaborate because it seems to be such a natural thing to do," said VTDigger board chair Curtis Koren. "So far it seems as if they don't want to do that because they see us as in competition with them. But I think things will change."
Finn declined to directly address Galloway's allegations, noting several times that he was the new guy, and said that he would seek a relationship with the online news site.
"Whatever happened in the past is water under the bridge, and we're ready to work with anyone else — for-profit or nonprofit media — if it makes sense to serve Vermonters better," he said. "Our guide star has to be figuring out ways to ... fill in some of the gaps being left by the decline of newspapers."
Unlike his predecessor, Robin Turnau, who hailed from the fundraising world, Finn got his start as an investigative reporter.
"I was in one of the last two-newspaper towns in America," he said, referring to West Virginia's Charleston Daily Mail and Charleston Gazette. "In some ways, [the competition] made you better. In some ways, it made you worse: Sometimes you'd run with things before it's ready or you'd react to their story instead of thinking, Is that really something I need to add to?"
Finn said he hopes to find the right balance between competition and collaboration. "It would not be a healthy thing to have just one strong media organization in the state doing all the stories," he said. "But at the end of the day, I'm not too worried about journalists losing their nerve or their competitive edge."
Galloway isn't just waiting for VPR to come around. She has formed content-sharing partnerships with 15 newspapers and become a de facto wire service for dailies and weeklies looking to supplement — or even replace — the AP, whose Montpelier bureau has lost four of six staffers in the past decade.
Five years ago, Galloway could afford just three reporters, who covered health care, energy and a few other issues. Now her newsroom employs 16 reporters and editors, including the state's only dedicated Washington, D.C., correspondent, Elizabeth Hewitt.
VTDigger has experienced some growing pains over the years, including high employee turnover, often losing its reporters not long after they've learned the ropes. Galloway said she's tried to address the problem by improving pay and benefits — and making clear to potential hires that their first duty is to produce daily, not long-form, journalism.
"I've accepted the fact that we're a little bit of a training ground," she said.
Galloway has also tried to reduce her own workload to avoid burning out. But she still works 60 to 70 hours a week, she said, and wakes up at 4 a.m. most days to publish VTDigger's daily newsletter.
"We worry about Anne," said Koren, VTDigger's board chair. "She realizes she has to set a good example."
Even if Galloway is scaling back her hours, she's not scaling back her ambitions. "I want to get to the point where we have at least 25 people in the newsroom — maybe 30," she said, including at least one reporter in every county. She noted that even those numbers pale in comparison to the Burlington Free Press and Rutland Herald at their respective peaks.
"We're not doing this for the heck of it," she said. "We're doing it because there's a real need."
One example: VTDigger's breaking coverage in 2016 of the alleged EB-5 Ponzi scheme in the Northeast Kingdom.
"If we'd had the staff — if I hadn't been doing a million things — I think that the fraud at Jay Peak could have been fully exposed in 2012," Galloway said. "If you have a press that's really watchdogging it, these kinds of [scandals] don't have the opportunity to blossom."
News Deserts
Northeastern's Kennedy is bullish on nonprofit media, but he's worried about the "news deserts" that are being left behind.
"What troubles me is not instability on the part of the ones that have been actually launched and operated. It's the spottiness of the coverage," he said. "So many places go without."
That's particularly true in small, rural states such as Vermont, where only a few media markets can sustain a donor-driven journalism enterprise. One that can is tony Charlotte, home to the Charlotte News, a semiweekly print newspaper funded by a 501c3 and 501c4 and distributed free of charge to every household in town.
Another nonprofit news outlet in the state has actually been around for some time. Founded 25 years ago, the Bridge in Montpelier has limped through several ownership configurations, all including cofounder Nat Frothingham. A few years ago, as he prepared to retire, the publisher recruited a board and sought nonprofit status. Frothingham eventually gave the paper to Friends of the Bridge, a 501c3. He formally stepped down in May.
"The Bridge has always had pretty good support, but not enough," said board chair Donny Osman. "What we think we can go for now is grant money."
Osman is confident that there's a future for the Bridge. "There are a lot of people in Montpelier and environs who appreciate independent, local journalism, covering hometown issues that maybe nobody else is doing," he said.
Jeff Potter has found the same in Brattleboro, where, for the past decade, he has run the Commons, a nonprofit print weekly.
Founded as a volunteer alternative to the Brattleboro Reformer, then owned by the corporate MediaNews Group, the Commons now has three full time reporters and editors, as well as a stable of freelance writers. In 2016, according to its latest tax filing, it had $501,000 in revenue — up from $316,000 five years earlier.
Like most nonprofit news outlets, the Commons relies on some traditional funding sources, namely print advertising from local businesses. "I think the difference between nonprofit and for-profit news enterprises is pretty small," noted Griggs, the media consultant. "I mean, it's a tax status, not a business model."
While the Commons has found editorial success and won a number of journalism awards, Potter said he often feels like he's "doggy paddling" to stay afloat. Every now and again, the margins are so tight that he finds himself making urgent appeals for donations via email and social media.
"In a small newsroom, it's no secret when we're having trouble," he said. "We've had a couple of difficult weeks here and there, but by and large we've managed to keep it from going into total crisis meltdown."
The problem, according to Potter and his colleague, news editor and acting operations manager Randolph Holhut, is that the Commons is big enough to require more business and administrative staff but too small to afford it.
"The common denominator with VPR and with Vermont PBS and Digger is, they have a dedicated fundraising development staff that work every day at raising money, that plan for the long term, that can organize campaigns and get donors large and small," Holhut said.
"There's money in Brattleboro," he added, but also a lot of competition from other nonprofits. "It's here. We haven't had the capacity to do the most fundamental thing a nonprofit does, which is to ask for money."
The Commons faces another conundrum. Founded as an alternative to a dying print daily, it did best when the Reformer was failing: Community support surged after a round of layoffs at the Reformer in 2015.
"We were really looking at contrasting [ourselves] against an economic model of journalism that was really, truly broken," Potter said. "I think people saw and appreciated us for the model and the vision that we had."
Then something unusual happened: In 2016, a group of local investors bought the Reformer and its sister papers from their corporate owner and started to rejuvenate them. For-profit journalism, it seemed, wasn't dead yet.