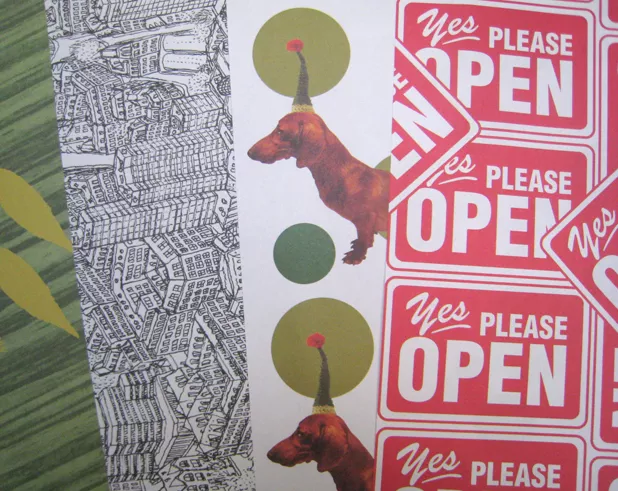 Most people don't give the wrapping paper on their holiday gifts more than a glance before ripping it open. This year, though, some might.
Local nonprofit Vermont CARES, which provides services to Vermonters with HIV and AIDS, is selling a new product called Wrapped With CARES that puts an arty spin on the holiday staple. The rolls come in four patterns, two created by designers at Kelliher Samets Volk, one by an Ohio artist, and one by a junior at Burlington High School.
It's the last design, by young artist Xavier Donnelly, that's likely to invite especially close perusal. His detailed black-and-white cityscape crawls over the paper like a feverishly intricate New Yorker cartoon — a small masterpiece of virtual urban design.
KSV's Derek Bratek contributed a playful red-and-white graphic variation on the classic retailer's Yes, We're Open sign. (Yes, Please Open, it commands.) His colleague Carmen Stafford designed retro-looking paper with a cool green leaf motif. The only design specific to the holidays is Dale Lamson's whimsical bit of pop art starring a dachshund in a Santa hat.
Lorna-Kay Peal of Vermont CARES says the notion of creating a designer gift wrap came originally from Lamson, whom she met while working in Cincinnati. One year, the graphic artist "designed a Christmas wrap and put it in a tube and sent his clients eight or nine sheets of it," she recalls. "I thought that would be a great idea." Peal thought of it again as Vermont CARES geared up for another holiday season of raising funds by wrapping gifts at the Burlington Square Mall. Folding and taping for an entire month can be "a drain on the staff," she says; selling paper is a less labor-intensive complement to that strategy.
KSV co-owner Linda Kelleher volunteered the services of her agency and enlisted two of her designers, while Peal got Lamson and Donnelly on board. She first met the talented high schooler while running Art Hop a few years back, she says: "He's going to architecture school; this design is part of his portfolio for college. He was thrilled to be asked to be part of the project."
Wrapped With CARES packages hold eight sheets, two of each design. Peal says the paper is "all hand done, not on a computer. We wanted to keep the costs down but have a really quality paper. We like the idea that only one of the designs is a holiday." The nonprofit hopes to sell paper all year, and, if it catches on, to roll out new designs.
"Everybody's asking for donations for organizations," Peal points out. "This is a donation, but you're getting something." For charitable Vermonters, that's a wrap.