In November, the National Organic Standards Board will vote on whether to continue allowing hydroponic produce — grown sans soil and nourished with liquid nutrients — to be certified organic.
Many organic farmers don't dig the idea of dirt-free organics, and this Sunday, October 30, the Northeast Organic Farming Association will rally farmers and others at Cedar Circle Farm & Education Center in East Thetford. The hope is to send a strong pro-soil message to the NOSB, according to a NOFA-VT press release. Sen. Patrick Leahy will be there to say "boo," as will notable Maine farmer Eliot Coleman.
Many farmers consider robust, fertile soil to be the foundation of healthy farms and ecosystems, advocates say. If less-expensive, certified-organic hydroponic foods continue to gain market share, they could undermine the industry's focus. They could also undercut demand for soil-based organic foods, given that current labeling laws don't require hydroponics to be labeled as such. For farmers committed to soil-based cultivation, that's kinda scary.
— S.P.
The Skinny Pancake isn't shy about supporting local agriculture — its company mantra is "Love Local." Now the Burlington-based crêperie — which opened its fifth restaurant in Hanover, N.H., in May — has teamed up with Vermont PBS and Von Dier Video Productions to produce a docuseries exploring the challenges and innovations driving Vermont's food system.
Titled "The Local Motive," the series will "tell the story of how [farm-fresh foods] find their way to our plates," said Vermont PBS president and CEO Holly Groschner in a press release earlier this week. The series will air on consecutive Thursdays starting January 19.
— H.P.E.
---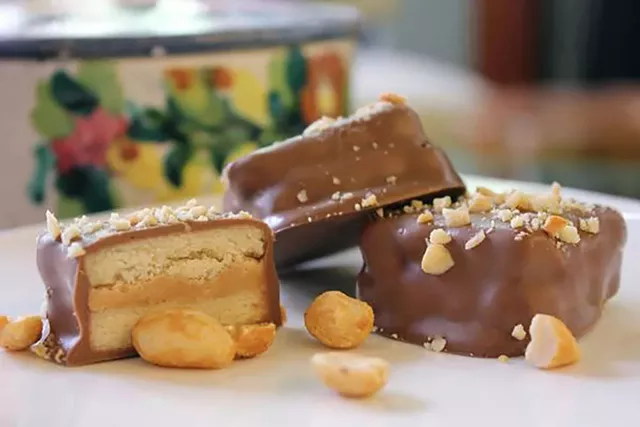 Courtesy Of Douglas Sweets
This November, local shortbread company Douglas Sweets will join a raft of other food and drink businesses in Shelburne's Vermont Artisan Village. Baker-owner Debra Townsend has been crafting personal takes on her mother's shortbread recipe since 2012. Along with Hannah douglas, her daughter-cum-business partner, she aims to open the 22 Sage Court bakery on November 18 — just in time for the holiday season. There's no in-house seating, but customers can sip coffee, espresso drinks and local tea while browsing the offerings. Think shortbreads flecked with fennel and anise, dipped in Belgian chocolate, or rolled in espresso ganache.
— J.C.