Matthew Thorsen
Eugenie Doyle of Last Resort Farm showing the Korean translation of her book Sleep Tight Farm to Ruth Beecher's class
Circled up last Friday morning in their Robinson Elementary School classroom in Starksboro, Ruth Beecher's third and fourth graders considered why it might be important to learn about farming in their community.
"Because people are cutting down trees, and we need to keep nature," suggested Thompson Davis.
"Farmers use nature to help them farm," added Carter Antos-Ketcham.
The students were about to finish letters they were writing to farmer Eugenie Doyle of Last Resort Farm in Monkton through the Northeast Organic Farming Association of Vermont Farmer Correspondence Program. In return, every couple of months, the farmer shares stories and photos of activities on the organic vegetable, berry and hay operation she and her husband started in 1986.
NOFA-VT's decade-old farmer pen pal project is part of the nonprofit's Farm to Community Mentor Program, which has been around almost twice as long. While most Vermont schoolchildren take seasonal field trips to local sugarhouses, apple orchards or pumpkin patches, the Farmer Correspondence Program aims to go deeper, fostering meaningful, long-term relationships between kids and farmers.
Over the years, said NOFA-VT food systems education director Abbie Nelson, the organization's mentor structure has served "as an umbrella for projects that help farmers connect to their communities ... The goal is to build a genuine understanding of agriculture in Vermont, of the role farming and farmers play in the landscape and the economy."
This year, the correspondence program budget and staffing of the mentor program will see small reductions and restructuring — a reflection of the shifting needs of organic farmers, educators and community members, Nelson said. Still, Vermont teachers and farmers in both rural and urban communities continue to adapt the correspondence program to their needs, using it to foster direct, personal connections in their communities. Many noted that, for youngsters growing up surrounded by the constant buzz of technology, the pen pal approach is refreshingly low-tech.
Designed to take place mostly during winter and spring when farmers have more time to write, the program culminates with an optional farm field trip at the end of the school year. Some farmers also visit the classroom occasionally, as Doyle did last Friday.
Teachers can apply to NOFA-VT for funding to cover transportation to the farm — an application that will be streamlined this year — and farmers receive some compensation for their time. Nelson said the program has averaged about 80 classroom-farmer pairs over the past 10 years and has funded up to 20 field trips a year, serving mainly grade-school students.
Scout Proft, a longtime NOFA-VT member and farmer at Someday Farm in East Dorset since 1983, was a driver of the original mentor and correspondence programs. She was motivated by customers who articulated an "incredible desire to connect their children with farmers," she recalled.
Proft piloted the correspondence program, developing guidelines to help farmers craft their communications and field trip activities to meet student needs. "It's a wonderful learning opportunity for farmers, too," she said.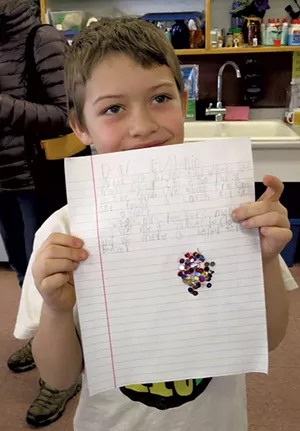 Matthew Thorsen
Tracy Whalon
These days, such programs aren't the only ways in which kids are likely to learn about where their food comes from. Since NOFA-VT launched the mentor program, "We've seen an evolution of agriculture education and ag literacy," Nelson said. She pointed to a wealth of newer regional organizations such as Food Connects in Brattleboro, Northshire Grows in southwestern Vermont and Green Mountain Farm-to-School in the Northeast Kingdom. In addition, statewide programs such as Open Farm Week, Vermont Breakfast on the Farm and Agriculture Literacy Week have increased public awareness and understanding of local agriculture.
"This is all stuff that wasn't happening 18 years ago," Nelson said. "Letters are not the only connection anymore."
As the correspondence program's share of NOFA-VT's budget shrinks, demands on farmers and teachers have grown. Both must navigate increasing paperwork requirements. Teachers are coping with tighter budgets and changing curriculum mandates, while, for farmers trying to meet year-round demand for local food, winter is not as quiet as it once was.
Teacher Aziza Malik brought the correspondence program to fourth and fifth graders at Champlain Elementary School six years ago. She's made it relevant to her curriculum by integrating the program in the fall "land and water" unit, convinced that her urban students benefit from connecting with the Intervale Community Farm in Burlington.
"It is so important for kids to know where their food comes from," Malik said. "Even though it's not in the curriculum, this helps us wedge it in there."
In Starksboro, Beecher's classes have been writing to and visiting Doyle at Last Resort for seven years. The farmers' son, Silas, 30, joined his parents a few years ago and is now "the boss," Doyle wrote to students in January. "Silas is a good boss, especially when he agrees with what I want to do!"
Students respond with tales of their own lives and questions about the farm. "We have been tracking for outdoor ed," a trio of students wrote in their joint letter to Doyle. "Do you do any tracking around your farm?"
Doyle has an easy rapport with her young pen pals, thanks in part to her experience as an environmental educator, 4-H leader and children's book author. In fact, the program inspired her 2016 picture book Sleep Tight Farm: A Farm Prepares for Winter, published by Chronicle Books. "I have always had an interest in things that kids can learn about farms and learn about life through farming," she said.
Last Resort hosts a variety of school field trips, but Doyle believes the experience is richer for Beecher's students. "They are the best-prepared kids. They feel like they already know me, and they love to act like little experts," she said.
In turn, Doyle feels enriched by the program: "I've been able to continue to feel connected to a local school, to the kids in the area," she said. The farmer also appreciates that the program "was designed not to cost us, to be very easy for us ... It means a lot that we are compensated for our time."
Beecher, a 27-year teaching veteran, said the correspondence program delivers for her students in multiple ways. "Place-based education has always been near and dear to my heart," she said, "as well as making connections with food and nutrition and knowing where our food comes from."
She uses the program to meet curriculum goals in writing, science and even history. The students were excited this year to connect their studies of the Abenaki First Nation with artifacts discovered during an excavation on Last Resort. Although some might view written correspondence as itself a historical practice, Beecher said, "We all have stories to tell and share, and letter-writing is a great way to tell stories."
Matthew Thorsen
Gretchen Toy writing a letter to Last Resort Farm
At Hardwick Elementary School, second- and third-grade teacher Sara Behrsing has worked for three years with farmer Bill Half of Harvest Hill Farm in Walden. "School budgets are getting slashed, and busing is very expensive," said Behrsing; for her, she noted, the NOFA-VT field trip funding makes a difference. Half, who also works with two other schools, hosts the student field trips twice a year: to plant potatoes in late spring and to harvest them in the fall.
Behrsing acknowledged that it's not always easy to find time in her busy classroom schedule for activities such as letter-writing and hands-on field trips, "but it's what the kids need. It's so good for them to know their words on a page have meaning to somebody," she said. Despite the school's rural location, Behrsing pointed out, "A lot of kids don't get out of Hardwick. Just because you live in Hardwick doesn't mean you see farmers."
For his part, Half loves interacting with local kids. Sometimes, when he's at the farmers market, he said, his pen pals recognize him. He recalled one student who originally "didn't want any part of it" and only reluctantly got her hands in the dirt. She ended up working on his farm crew. "You never know the impact you're having," Half said. "It's an opportunity that will stay with some of them."
Proft of East Dorset recalls a gratifying experience at the NOFA-VT Winter Conference several years ago. Two young women tapped her on the shoulder to tell her she had written to them as fourth graders; both were now farming.
"Eighteen years ago, kids thought all farmers wore overalls and a straw hat and worked in a red barn," Proft said, reflecting on Vermont's progress in agricultural literacy and awareness. "Now, if you ask, 'What does a farmer look like?' the answer is 'They look like everybody,'" she said. "That's the change we're seeing, and I attribute it in large part to farmers getting out into the community, putting a face to the farmer, a story to the farmer."
Some Vermont kids have their own first-person farm stories, of course, as showcased in the new short documentary "Vermont Farm Kids: Rooted in the Land." Produced by NOFA-VT's farm-to-community mentor Maria Buteux Reade and filmed by James Chandler, it will screen at 2:15 p.m. during a Sunday, February 18, workshop at NOFA-VT's Winter Conference this weekend in Burlington.
But the correspondence program's work isn't finished, Proft suggested; the personal links cultivated through simple pen pal letters are as relevant and valuable as ever. "We all want these connections within our community," she said. "These are the programs that are making it happen."