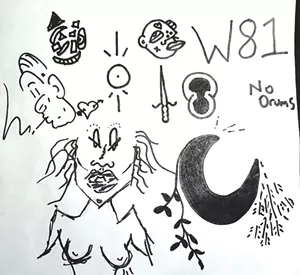 (Self-released, digital)
Seven Days rarely receives an album submission quite like Nodrums' W81 and W82. The two collections of music, 16 and 18 tracks long, respectively, are essentially creator Brayden Baird's home-recording scrapbook. The tracks are a mix of demos, sketches, outtakes and even a few pieces that sound truly complete. The twin albums comprise everything he's been tinkering with since the mid-2018 release of Future Folks, the debut album from his band, the Thursday Torys.
To formally present such a crude assemblage of material for review is a risky endeavor. Though Baird's songs average a run time of just two minutes, 34 total is a shitload to sift through. And because these songs are demos, they're often glaringly raw and incomplete. You can even hear Baird discussing the tracks with a few collaborators as they were being recorded.
Still, W81 and W82 are a mostly enjoyable diversion. Throughout, Baird creates a softly lit, millennial-pink nether zone from which his sedate creations bubble and gurgle. He dabbles with many styles: gentle-tempered folk, hazy soundscapes, '70s soft rock, twee-pop. He's also into smoky chill-wave and the '80s pop touchstones that inspired the early 2010s micro-genre. It's all very safe and inviting. The albums whisper, "Come in, get cozy, hit the bong, have a PB&J and a mug of hot chocolate, and I'll tell you about what's going on in my head."
With so much material, it's difficult to know where to begin. But that hardly matters, since the songs don't need to be listened to in any particular order. "Cortelliu," a W81 cowrite with Dane Bundschuh, is a twinkling slice of chill-AF pop. Baird's vaporous vocals flow over a candy-floss concoction of guitar and synths, with clockwork percussion and a four-on-the-floor rhythm.
"It Had to Be Loveless," another Bunschuh cowrite from W81, is a vibrating mass of sound held together by the constant thrum of guitar. Buckets of reverb crank up the drama on this beat-less song.
"Pull Through," one of side A's strongest cuts, recalls a bit of late 1960s psych-pop. It shifts from campus drum circle vibes to an abstract voyage of sound.
W82, while lacking a bit in terms of breakaway singles, shows a bit more experimentation. Opener "Konoyo Noharu" introduces bigger sounds than those heard on the more restrained W81. The track booms with bass vigor and includes some outrageous pitch correction on Baird's vocals.
The artist reaches a near-Toto level of pristine pop on "Nahnahnah," while "Kiln 140bpm" delves deep into the electronic underground.
W82 has more excess content, as well. "Carribean Lofi" is essentially an exercise in panning, and "My Girl," a slinky, abstract rock piece, ends far too abruptly. However, side B concludes with a delicious cover of the Archies' "Sugar Sugar" with Libby Camp on lead vocals.
Baird's soft-sung murmurings make his seemingly never-ending trove of songs a lovely distraction. Let's hope for a more streamlined vision on future efforts.
W81 and W82 are available at xxnodrumsxx.bandcamp.com.