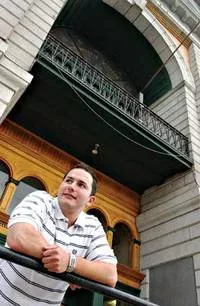 Matthew Thorsen
Matt Lash
Barre City has been through it all over the years. Once home to more than 100 granite manufacturing plants, the Granite Center of the World is now down to a just couple of dozen. Outsiders sometimes refer to Montpelier's blue-collar twin as the Furlough & Social Program Center of the World. But these days, Barre is on a roll, claims Matt Lash, the 25-year-old executive director of the Barre Partnership. Even last week's flood failed to dampen his spirits.
"Barre, good or bad, is a very resilient community. Many people have been here for many, many years," Lash says. "They have tremendous hope, and they want Barre to succeed."
Lash believes his organization is at the forefront of a movement for change. "We're a voice for the downtown," he claims. "I truly believe the Barre Partnership is priming the pump for a resurgence."
Barre is one of 22 "designated downtowns" in Vermont, which entitles it to specific grant monies for such things as new sidewalks and improvements for building façades. The designation also entitles Barre businesses to tax credits for upgrades such as sprinkler systems and elevators.
But it does nothing to promote downtown merchants. That's where the Barre Partnership, an outgrowth of the now-defunct Barre Merchants Bureau, comes in. Merchant membership dues fund the group's operating expenses. The partnership also receives a $20,000 annual stipend from the City of Barre, although it is not an official function of city government. Through sponsorships and fundraising, it organizes, finances and publicizes events such as Barre's summer concert series, held each Wednesday in City Hall Park.
Come hell or high water, Lash issues a weekly email press release from the office he shares with the box-office manager at the Barre Opera House — whose renovation, in the mid-'90s, may have been the city's first sign of resurgence. He's right next door to the building that for 50-odd years housed his grandfather's store, Lash Furniture. Young Matt left his hometown — for a while. Then, after completing a degree in journalism from St. Michael's College, followed by a brief work stint in New York City, "It was intriguing to come back and help a downtown community that my family had had a connection to for many years."
A new business — Granite City Brewery — now occupies the former Lash Furniture building. Like many of the new enterprises in town, it's run by twentysomething entrepreneurs who are catering to a younger demographic.
"If you look at the different sectors, the food-and-entertainment industry is definitely the industry," enthuses Lash. "We're expecting several new restaurants to be opening up over the coming months."
One of them is the recently launched Local Agricultural Community Exchange, the brainchild of Ariel Zevon, daughter of the late rocker Warren. (See story p.03B) Early last month the city was reveling in Jackson Browne mania when the songwriter, who is Ariel's godfather, played two benefit concerts for the local-oriented food enterprise.
"L.A.C.E. has been . . . bringing a boatload of positive publicity to the community," Lash notes. "The Jackson Browne visit was just historic — I'd never seen anything like that. This brings a totally different mix and dynamic to the downtown.
"We've got to get the people who live here to become reacquainted with their downtown as well as recruit people from the larger central Vermont area," Lash continues. "The partnership is really trying to get the word out about the great things that are going on in this community."
In addition to the weekly email missives, the Barre Partnership has also unveiled a newly revamped website —Barrepartnership.org — and even launched a MySpace page as part of its ongoing communications blitz.
"MySpace has been a revolutionary networking tool for us," declares Lash. "With just a click of a mouse I can send a bulletin to these people in seconds."
The MySpace page appears to be working; the Partnership has some 650 "friends" so far. And Lash notes that he's seen an increase in the 25-to-40 crowd at the summer concert series.
"You need fresh faces to complement the folks who have been here for many years," he says, noting Barre has been an ethnic melting pot and a "center of artisanship" for centuries. "Our modern-day reincarnation comes in the form of Studio Place Arts, the Vermont History Center, the Rock of Ages Visitor's Center. It is so motivating for me to see all this stuff that's going on and to hear people saying positive things."