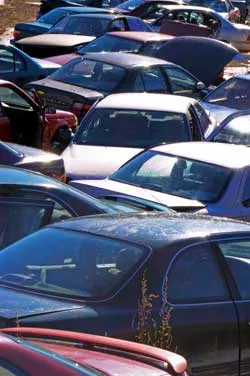 Matthew Thorsen
Rathe's Salvage in Colchester
Armand Rathe, longtime owner of Rathe's Salvage, doesn't have a computer, or much of a filing system, in his Colchester office. But if your '95 beater needs a replacement alternator, chances are he knows exactly where to look.
Rathe's — pronounced "Ratty's" — sits on 20 acres abutting Interstate I-89. To find the scrap yard, head north from Exit 16 and follow a trail of dented dumpsters and busted cars toward a landfill the size of a hockey arena. Park in the shadow of the garbage pile, just beyond a turquoise office trailer that borders a graveyard of 1100 junked Subarus, Dodges and UVM school buses.
Inside Rathe's unplumbed headquarters, yellow hard hats and soiled listing books line the shelves, and a cardboard sign — "ASK ABOUT THE $15 MINIMUM CHARGE" — graces a vintage vending machine selling 85-cent Dr. Pepper. On a recent Thursday afternoon, two Rathe's employees sit behind the counter listening to a radio broadcast of the Daytona 500.
"You can catch anyone at Daytona," observes a pony-tailed guy in grease-stained overalls.
"Daytona?" says the denim-clad office manager. "One minute you're up front, next minute you're in back."
In walks Armand Rathe. His father, Louis, and uncle, Lawrence, founded this yard in 1957. Rathe, who turns 50 this month, is wearing a starched black jumpsuit and an incongruously debonair pair of Versace glasses.
"Parts," he announces, dumping a ream of order forms on the counter. Once his employees snap to attention, he heads outside and hops behind the wheel of a huge, silver 2007 Toyota Tundra pickup.
Driving a reporter around his salvage yard, Rathe reveals that he makes most of his money crushing cars for scrap metal and reselling salvaged parts to frugal car owners. (He also tows cars for municipalities.) But when global scrap prices crashed in late October, scrap sales plummeted from 65 to 25 percent of his business. Today the Rathe's "crusher" — a mechanical mouth that flattens three cars in a single chomp via 100 tons of pressure — lies dormant, chunks of steel hanging limply from its jaws.
"Those were good times the last three years," Rathe recalls, idling by the crusher while filling his lower lip with chewing tobacco. "Now that everything's crashed, we're back to where we were five years ago: We're selling parts."
According to the half-dozen automotive experts and salvage yard owners interviewed for this story, Rathe's transition from scrap to parts illustrates an industry trend. It makes sense, considering walk-in customers can typically buy wheels, tail lights, starters and alternators for a quarter to half the price of what they'd pay for comparable items at an auto dealership or retail parts store.
But even if drivers are turning to DIY repair as a strategy for riding out the recession, will their bucks be enough to keep Vermont's 200-plus salvage yards in business?
Kevin McGinnis hopes so. His Rutland salvage yard, Rosen and Berger Inc., opened in 1938 and houses roughly the same number of cars as Rathe's. Six months ago, 80 percent of McGinnis' sales were in scrap; now parts make up 95 percent of that same bottom line. McGinnis is optimistic about the recession, noting that his shop has fielded a flurry of parts requests in the last 60 days. But he also wonders, "If people lose their jobs, how are they going to buy parts without money?"
Tim Shepard, owner of D. Richard Automotive in Colchester, notes that some of his customers are starting to pay for parts with credit cards instead of cash.
Mark Brown, founder of Brown's Auto Salvage in Bomoseen, offers a more optimistic prognosis for the industry. It's not that his business is booming: 2008 was Brown's worst sales year since he opened in 1976. That said, he thinks used-parts dealers can get by if they proactively adapt to changing consumer preferences. Brown's user-friendly parts database, for example, attracts bargain-seeking clients from all over the nation. And to accommodate a recent surge of inquiries from local tinkerers, he is now opening his lot on Saturday mornings.
"I don't see that the soft economy is positive for any business," says Brown, who in 2002 received the Vermont Governor's Award for Environmental Excellence in Pollution Prevention. "But it's easy to become complacent, and new challenges can serve as a catalyst to rethink your business model and make the necessary adjustments."
Making necessary adjustments isn't as easy as it sounds. Shepard of D. Richard Automotive notes that it's expensive to comply with Vermont's environmental regulations, and his neighbor Armand Rathe claims regulation by the Agency of Natural Resources is making it increasingly difficult for small salvage yards to stay competitive. Whereas Rathe used to fill out forms and send them back to the Agency of Transportation, he now pays lawyers to navigate ANR protocol.
Despite regulatory fees and a sluggish economy, Rathe says he is making efforts to maintain a successful operation. That means keeping up insurance payments so people are allowed to browse his yard, and drafting plans to replace his current office trailer with one that has a septic system and a computer. "I want to be a little more efficient and a little more professional," he explains. "Whether a computer accomplishes that remains to be seen." One customer service that isn't likely to change: Rathe will pick up your junker "for nuthin" if it has parts he can sell.
Rathe floors the gas, and his pickup climbs the landfill that currently holds 84,000 tons of Burlington trash. The city monitors the land, which used to be a hog farm in the early '60s. A light drizzle falls on the truck's windshield, which reveals a panoramic view of mud, slush, tires, jalopies, storm clouds and a muted sunset. If it weren't for the functional cars whizzing by on adjacent I-89, you could almost swap this scene for a still from a low-budget drama about the Apocalypse.
Rathe cracks his driver's side window, spits, and packs a fresh wad of chew. Then he leans back in the leather seat and watches his employees — who look like figurines from this height — hop in their jeeps and drive into the twilight. It's quitting time.
"Through good and bad times, we've had something pick up when something else drops off," Rathe says. "But we're in unprecedented times, and I'm just watching to see what happens."