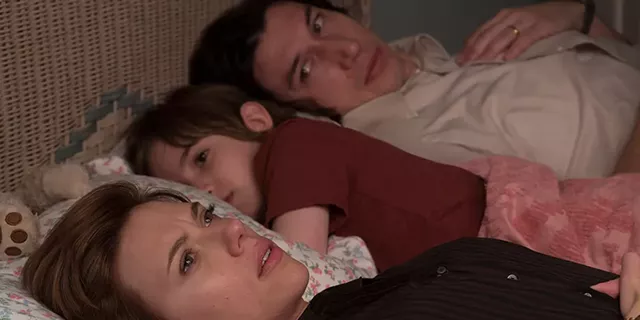 SELF-CONSCIOUS UNCOUPLING Baumbach's latest is probably being overpraised for its observations concerning the divorce process.
When was the last time a couple directed dueling Best Picture contenders? James Cameron and Kathryn Bigelow went head-to-head at the Oscars in 2010 with Avatar and The Hurt Locker, but they'd already divorced. This year, Noah Baumbach and Greta Gerwig are all but certain to find themselves in competition with each other, having released Marriage Story and Little Women, two of the year's best-reviewed movies. That's an awful lot of talent for one Hollywood household. And, potentially, an awful lot of strain on a relationship.
If I were Gerwig, I'd be vigilant. Baumbach, after all, has built a career on portraits of aspiring artists hobbled by bruised egos, unfulfilled ambition and failed relationships. His breakout film, The Squid and the Whale (2005), autopsied the bond between his parents, both of whom were writers. Relationships have likewise frayed and dreams gone unrealized in films as disparate as his Margot at the Wedding (2007), While We're Young (2014) and The Meyerowitz Stories (2017). With his latest, Baumbach autopsies his bond with ex-wife Jennifer Jason Leigh, with whom he had a son and from whom he split in 2013.
Marriage Story (on Netflix starting Friday) explores the divorce-industrial complex from the perspectives of a stage director named Charlie (Adam Driver) and an actress named Nicole (Scarlett Johansson). The couple has a young son and emotional connections to both coasts. As the movie opens, Charlie is preparing the latest production of his up-and-coming off-Broadway company, while Nicole flirts with the notion of returning home to LA and resuming the career she put on hold to serve as her husband's muse. The pair has agreed to keep things amicable. Agreeing on where the boy should live proves more challenging.
Enter the lawyers. Despite her promises to proceed in a civil, enlightened fashion, Nicole is easily persuaded by an acquaintance to sic a legal attack dog on Charlie. Laura Dern delivers the movie's most memorable performance as Nora Fanshaw, a divorce attorney with a gift for convincing clients to go for the jugular by making them believe they're not so much clients as BFFs.
Charlie, meanwhile, is so busy winning MacArthur fellowships that he's clueless about getting representation. He vacillates between an easygoing mensch played by Alan Alda and Ray Liotta's killer shark. Along for the ride are peripheral players such as a couples counselor, a child protection worker and a gaggle of family members, including Julie Hagerty as Nicole's developmentally arrested mother.
It's all eminently watchable, though decidedly nothing new. Think Kramer vs. Kramer meets Husbands and Wives with smartphones. As mentioned, dysfunction among privileged, white, creatively striving types has been Baumbach's bread and butter for nearly two decades. To freshen his formula this time around, he sprinkles a twinkly strain of fairy dust on everything, hoping to enchant us with the suggestion that, deep down, Charlie and Nicole still love each other even as each attempts to rip out the other's heart. It's an approach that can periodically cloy.
Here's a little litmus test: Watching the film, bear in mind the great Randy Newman composed the score. After the credits roll, try to remember a single bar. The music has little of substance to infuse and resonate through. Marriage Story can't hold a candle to, say, Toy Story where that's concerned. And that should be concerning. I wouldn't say Baumbach's latest has all that much of a friend in me.