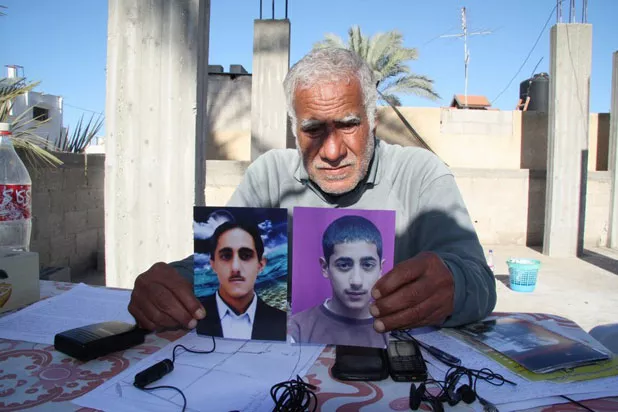 Muhammed Shurrab holds photos of his murdered sons
A Vermont attorney who visited the Gaza Strip in February to investigate allegations of Israeli war crimes, including two Middlebury College-connected shooting deaths, rejected Israel's recent exoneration of its conduct, saying the investigation was "lacking in credibility."
In February, James Marc Leas of South Burlington traveled to Gaza as part of an eight-member legal delegation from the National Lawyers Guild (NLG) to investigate why Israel's invasion had such a devastating impact on the civilian population.
On November 4, Israel invaded the Palestinian-controlled territory, which it claimed was necessary to halt Hamas rocket attacks on nearby Israeli towns and settlements. During the 22-day offensive, dubbed "Operation Cast Lead," more than 1400 Palestinians were killed, including at least 288 children. More than 5300 were wounded. Two-thirds of the Palestinian casualties were noncombatants. Thirteen Israelis, including three civilians, died; another 518 Israelis were wounded.
Among the Palestinian civilians gunned down were two brothers of Amer Shurrab, a 2008 graduate of Middlebury College. Senator Patrick Leahy condemned the killings and called on the Israeli government to investigate.
According to a January 28 statement issued by Sen. Leahy, Shurrab's father, Muhammed, and two brothers, Kassab, 28, and Ibrahim, 18, were driving home from their family farm on January 16 during a three-hour humanitarian ceasefire. The reprieve was to allow civilians to restock food, water and other provisions.
There was no indication that Shurrab's family was traveling on a road considered unsafe to civilians. Nevertheless, members of the Israeli Defense Forces opened fire on the family's vehicle in an unprovoked attack, wounding all three occupants.
Shurrab's older brother, Kassab, leapt from the car in a panic and was shot 18 times. Shurrab's father and other brother, Ibrahim, were also injured, but were prevented by Israeli soldiers from accessing medical attention, even though there was a hospital less than a mile away.
"Muhammed tried everything he could to save his son, Ibrahim, who was bleeding to death before his eyes," Leahy said in his statement. The father called the Palestinian Red Crescent Society and several news agencies, including the BBC, on his cellphone to plea for help, but Israeli IDF soldiers didn't allow an ambulance onto the scene for 22 hours. By the time one arrived, Ibrahim was dead.
"This case cries out for an immediate, thorough, credible and transparent investigation by the Israeli government," said Leahy, who's known as an ardent supporter of Israel in the U.S. Senate. "Any individuals determined to have violated the laws of war should be prosecuted and appropriately punished."
Shortly after the shootings, Leas' NLG delegation traveled to Gaza from Egypt to interview eyewitnesses. Leas, who was profiled in the March 18 issue of Seven Days, says that while other human rights groups have visited Gaza and interviewed survivors, his was the only legal team that's tried to document specific violations of international law. Leas and his team interviewed dozens of Palestinian civilians, including Shurrab's father.
The group's 37-page report, released April 2, cites extensive evidence that Israeli soldiers committed "significant violations" of international law. They include the deliberate targeting of civilians and civilian infrastructure, the intentional denial of medical care to the wounded, willful attacks on civilian medical workers and the misuse of weapons, including some manufactured and supplied by the United States.
IDF soldiers who served in the Gaza conflict have since come forward to corroborate some of those allegations, and have claimed that Israel's own investigations of such incidents rarely, if ever, result in disciplinary action or reforms.
"What these soldiers acknowledged, and what we saw on the ground, was that this was a widespread policy," Leas said. "These were rules of engagement that favored shooting, bombing and killing civilians."
Israel's consul general to New England, Nadav Tamir, declined to comment further on the NLG report or the Shurrab family shooting. (Leahy's office has yet to receive an official response from the Israeli government.) However, the consulate issued written remarks about some of the ethical challenges of fighting an unconventional war.
"The battlefield is an environment which is prone to mistakes. For the IDF, any collateral damage to civilians is problematic and is investigated in order to learn from our mistakes and improve our combat doctrine for the future," the statement reads. "For the Hamas, collateral damage to both Israeli and Palestinian civilians is a means to accomplish their goal."
The NLG delegation plans to visit Washington, D.C. — where Amer Shurrab now lives — in May to meet with members of Congress and representatives of the State Department. The United Nations Human Rights Council is launching its own investigation of the Gaza invasion, headed by Justice Richard Goldstone, a Jewish lawyer from South Africa. Its mission will be to investigate alleged war crimes committed by both sides in the conflict.