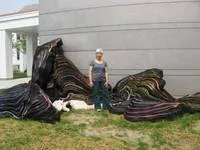 Middlebury has a thing about discarded tires. Last year, the town was the center of opposition to International Paper's abortive experiment in burning tire chips to fuel its plant across Lake Champlain. And now Middlebury College has installed a 6000-pound sculpture composed mainly of tire strips.
While Deborah Fisher's "Solid State Change" draws no direct connection to IP's tire fire, the Brooklyn-based sculptor does aim to provoke thought about the environmental impact of this ubiquitous detritus. Her black mini-mounds are seamed with strands of plastic insulation in primary colors. An invisible steel armature, a swirling concrete form at its base and 24,000 screws combine to keep the clumpy piece in place. It abuts a stainless-steel exterior wall at the rear of the newly renovated Hillcrest Environmental Center on the college campus.
"It's a handsome sculpture well-suited to the mission of the building," says Emmie Donadio, chief curator of the college's art museum. "Solid State Change" was commissioned through a college initiative that sets aside 1 percent of the cost of campus construction projects to pay for public artworks.
Fisher visited Middlebury a year ago to assay the site and to confer with architect Steve Smith, whose Burlington firm Smith Alvarez Sienkiewycz redesigned Hillcrest, a former dorm. The 35-year-old sculptor sought to imbue her piece with multiple meanings, many of which may elude casual viewers.
"Solid State Change" appears to be emerging from the earth — an allusion, Fisher explains, to the metamorphic rock on which Middlebury rests and that the piece is intended to resemble. This type of rock shifts shapes even as it retains its essence, notes Fisher, an amateur geologist whose art is expressive of her "links to the land." In keeping with her metaphor, the tires that make up the piece have been altered in form but not in substance. And because the outdoor installation is permanent, Fisher chose materials that do not decompose. "Solid State Change" also riffs on impressions she gleaned during her visit to the college. Middlebury was presented to her, Fisher recalls, as "a place of hope and change."
Many of its students take part in environmental movements, she continues, and appear committed to revolutionizing consumer society while still enjoying its conveniences. And that led her to wonder: "How does one hope with their eyes open? How does one expect impossible things to happen without resorting to magical thinking or magical actions?"
The sculpture offers a possible response, Fisher suggests, by conjuring a kind of spatial magic that's not based on illusion. Is all this too much to expect from a few piles of tires? Decide for yourself by viewing "Solid State Change" on Hillcrest Road off Route 125.