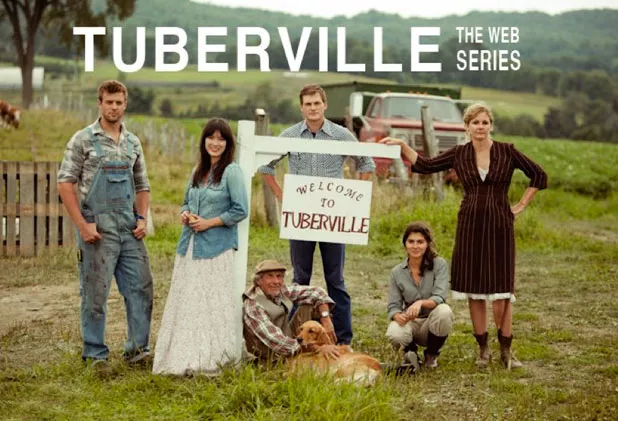 In what may be a first for potatoes, the humble tuber takes a starring role in a Vermont-made web video series whose first episode debuted last week.
"Tuberville: The Series" focuses on the titular mythical Vermont village, an idyllic place where potatoes are grown, not for profit, but for the local food bank. At first, this concept confounds Russ Murphy, the grandson of Tuberville's founder, who arrives from "the city" to stake his claim to the farm after his grandfather passes away.
While Tuberville and Murphy are fictional, the series is based on a local nonprofit that actually does grow potatoes to fight hunger. In 2005, Peter Perkins and his son, Ralph, began growing 'taters on a Colchester farm and giving them to the Chittenden Emergency Food Shelf. Their first year, they harvested 1470 pounds of tubers; since then, the enterprise has grown to three Vermont plots — in Colchester, Milton and at Chappelle's Vermont Potatoes in Williamstown — that collectively produced 34,000 pounds last year for a raft of food shelves and charities.
About two years ago, the founders began mulling over some kind of tool to "increase awareness of Tuberville's mission," says Ralph Perkins, who also serves as founder and executive producer of the web series. Part of that conversation, he says, was how to "bridge the gap between geographic and online communities." A web series can generate an ongoing conversation, he points out.
The Perkinses partnered with the Maine-based, social-justice-oriented production company Goodfocus and pieced together a cast and crew from around the country. Eventually, eight six- to eight-minute episodes will depict the story of Tuberville over the course of a year. The first two episodes were filmed on the Chappelle farm last August, and the next two will be filmed in early March.
"In almost every community, there is a segment of the population that is dealing with issues of hunger on a daily basis," says Ralph Perkins. "Part of what we're trying to look at long term is how to create resources to be able to support other people who want to replicate this."
As for the strange road that led from potato farming to film production, Ralph Perkins just goes with the flow. "Some days Tuberville goes off in its own direction, and I try to follow," he says.