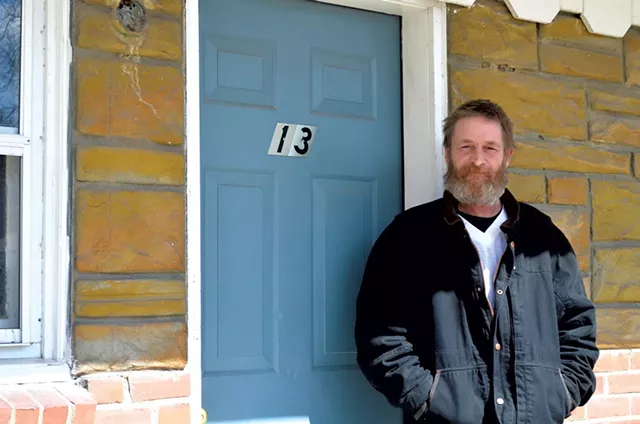 Alicia Freese
John Graves at Beacon Place
In winter, Vermont goes to great effort — and expense — to keep its homeless population out of the cold. But on any given night in Chittenden County, as many as 100 individuals are on a "do not house" list. The state maintains a running tally of people barred from its emergency housing program.
The blacklist isn't new, but it's grown longer this year. Violent behavior has always been a disqualifier. But people who work with the homeless say that some of their most at-risk clients are on the list for minor transgressions, such as booking a bed and then not showing up to claim it.
"At the most vulnerable time of the year, there's a significant number of people being left out, literally and figuratively," said Erin Ahearn of Safe Harbor Health Center, a program that provides health care services to homeless people. "Thank goodness we had a somewhat mild winter. Had it not been, this would have been a huge issue."
The Committee on Temporary Shelter operates three shelters for homeless people in the Burlington area — the 36-bed Waystation and two family shelters that collectively accommodate 15 families. Women Helping Battered Women has its own 15-bed shelter for victims of domestic violence, and Anew Place hosts homeless people on North Street.
COTS also runs a 43-bed seasonal "warming" shelter from November through March, which, unlike its other accommodations, is open to people who've been drinking or using drugs. It's been fully occupied since the day it opened and has served more than 200 people this winter.
When all of those supervised beds are occupied, the Vermont Department for Children and Families pays to put up homeless people in motels. In the Burlington region, DCF first calls Harbor Place in Shelburne, a motel managed by Champlain Housing Trust; when there's no vacancy, people are sent to more expensive commercial motels.
The motel voucher system is a stopgap measure that cost the state $4.6 million in 2013. That same year, DCF attempted to rein in costs by tightening eligibility requirements for its motel "guests." Under the revised rules, only certain kinds of homeless people can qualify for an emergency stay: disabled ones, individuals who are more than 65 years old, parents with a child under the age of six and women in the third trimester of pregnancy.
DCF also recognizes vulnerability as a result of circumstance. Anyone who's lost housing as a result of a catastrophic event that they didn't cause — a natural disaster, domestic violence, eviction — may have access to slightly cushier accommodations.
Getting an emergency bed is a multi-step process. Eligible adults have to report to the local Economic Services Division office, which in Burlington is on Pearl Street, across from the post office. If approved, the homeless person is either assigned a shelter bed or finds out later in the day the name of the motel where he or she will be sleeping for up to 28 days. Either way, the individual has to get there without assistance.
Later, ESD employees communicate with the staff at the shelter or motel to make sure their clients arrive. Anyone who "books" a spot but doesn't claim it gets penalized with 30 days on the do-not-house list. The same goes for someone who shows up, then decides to leave.
DCF deputy commissioner Sean Brown explained the rationale for this policy. When someone doesn't claim a bed, the state still has to pay up to $80 for it. "We just don't have unlimited resources," Brown said. Sanctioning people is a way to establish discipline in a program that has been gamed and abused.
COTS executive director Rita Markley agrees that no-shows should be "not without some consequence." But she noted that the punitive system can have a perverse effect: "Sadly, those who are most vulnerable are the ones who end up getting sanctioned because they don't have the wherewithal to follow the rules."
Jessica Radbord, an attorney with Vermont Legal Aid, rattled off reasons "vulnerable" homeless people might not follow through on claiming a bed: a victim of domestic violence gets word that her abuser's friend is staying at the same shelter; someone with a mental illness can't handle a communal shelter setting.
Sometimes, just the logistical requirements — phoning ESD or finding transportation to the motel — are too much for the person to handle.
Those who find themselves on the list do have the option of appealing to an independent board within the Agency of Human Services. If the situation is time-sensitive, he or she can request an emergency hearing to avoid a several-day wait. But assembling a case in a matter of hours comes with its own challenges: "Often you're appealing a denial based on something that happened at a shelter two weeks ago, so it's really hard to get your witnesses together," explained Radbord.
Radbord has represented clients who've successfully gotten their sanctions overturned. But she said she's concerned that people aren't always informed of this option: "A lot of folks just give up and walk away."
Brown insisted, "Anyone who is denied emergency housing for any reason is advised of their rights." He also noted that the warming shelter does accept people on the do-not-house list — if there's room.
Trouble is, Burlington's has been full every night of the winter, and COTS recently reduced the number of beds from 50 to 43 to cut down on the number of altercations. Eight people have been permanently banned for problem behavior this winter, according to Markley.
Others, like 53-year-old John Graves, have been asked to leave for shorter periods of time. On the first occasion he was kicked out for bringing in a bottle of beer, Graves said, he was banned for a day. The second time resulted in a weeklong suspension. That transgression is likely what landed him on the do-not-house list, which meant motels were off-limits, too. He had no choice but to sleep outside — in early January.
Graves said he got a sleeping bag from a member of the Howard Center's Street Outreach Team and found some cardboard — poor man's insulation — and returned to the streets. Graves managed, with assistance from friends. "The downtown homeless community is pretty tight here," he noted.
He lucked out in another way, too. "At the time we were still dealing with 30s and 40s," Graves said, referring to January's uncharacteristically mild temps. "The year before, I would have been in trouble."
When the temperature dips below 20 degrees, DCF relaxes its motel eligibility requirements — but not for those on the do-not-house list.
Advocates began questioning that unforgiving stance in the days before this year's Presidents' Day weekend. Meteorologists were predicting wind chills of minus 30, and the state Department of Public Safety issued a warning on February 10 urging Vermonters to take precautions.
By then, case managers at Safe Harbor had helped Graves get an apartment at Beacon Place on Shelburne Road. Formerly the Ho-Hum Motel, it's now a Champlain Housing Trust complex with units designated for homeless people.
Plenty of others, however, remained on the do-not-house list, and, as usual, the warming shelter was full.
Concerned that the homeless would be sleeping outside or squatting in unheated buildings, advocates began urging DCF officials to grant a temporary reprieve to people on the list. DCF instead offered to help COTS, Safe Harbor and other nonprofits to set up a temporary shelter for the weekend. Leaders of those organizations protested that it would be too difficult to organize on such short notice. On the Friday before the holiday weekend, the department capitulated, allowing people on the list to get emergency housing for that weekend only.
Advocates are urging the department to make it a permanent policy to house people on the list when the temperature dips below 20 degrees, and during other potentially dangerous weather conditions. Brown said his staff is discussing this request.
Others would like to go even further.
"I would love to see there be no sanction list at all," said Radbord, who previously ran a domestic violence shelter in New York, where the right to shelter is enshrined in the state constitution.
At the very least, Vermont advocates want more information about the list. Specifically, they want to know why so many individuals are on it this year.
According to Brown, there were 107 people blacklisted in Chittenden County as of March 11. He acknowledged that in general, the list has been longer this winter than it was last year but said he couldn't say by how much because it "ebbs and flows." Brown attributed the increase to people who've been offered a bed at the warming shelter, only to refuse it, fail to show up or act out — all sanctionable offenses.
Brown made it clear that his department is willing to make exceptions for people when circumstances warrant it — for victims of domestic violence trying to avoid their abuser, for instance. "We certainly review situations as they come to our attention," he said.
But that's difficult to do, Ahearn pointed out, because those who might have relevant information about these people — case managers at Safe Harbor and the Champlain Valley Office of Economic Opportunity, for example — don't have access to the list. Brown said that confidentiality concerns prevent him from sharing it.
"Instead of bringing individuals that need our assistance into our system so we can work to connect them with the support they need," lamented Chris Brzovic of CVOEO, "we're just kind of pushing them out."