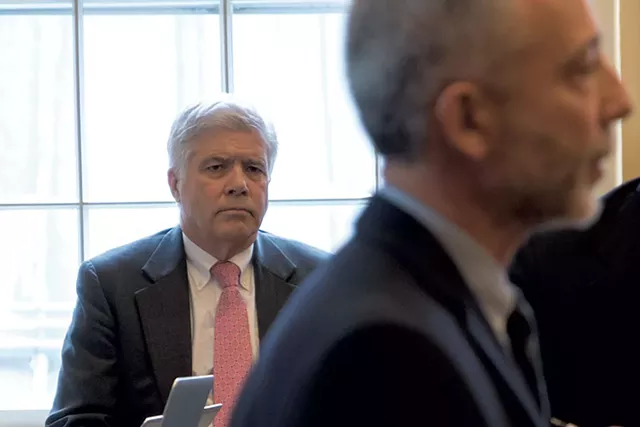 Colin Flanders
Agency of Human Services Secretary Mike Smith (left) watching Brattleboro Retreat CEO Louis Josephson testify in Montpelier
On January 5, Agency of Human Services Secretary Mike Smith issued a press release saying the Brattleboro Retreat's CEO had threatened to close the psychiatric hospital unless it received a $2 million infusion in state aid. Instead of coughing up the money, Smith publicly chastised the hospital's leader for asking the state for a life preserver.
The closely watched drama played out in a state where, if the hospital were to suddenly close, the already overburdened mental health system would plunge into a full-blown crisis.
But the Retreat quickly backed off: Within days, it was no longer threatening a shutdown. The hospital's board began meeting regularly with state officials to resolve its financial trouble.
The scare did highlight a prominent question that will underscore discussions about how to best fix Vermont's overall mental health system in the years to come: Where, if at all, does the Retreat fit into the equation?
Long-term, Vermont wants to create a more integrated health care system. A new state report expected to be released this week will broadly detail how to further that goal over the next decade, encouraging more inpatient mental health beds to be located in general hospitals around Vermont. That suggests Brattleboro's stand-alone psychiatric hospital would have a diminished role.
Some believe the Retreat should close entirely.
"[The Retreat] represents part of the old history of mental health that's isolated, stigmatized and not part of the health care system," said Rep. Anne Donahue (R-Northfield).
Donahue, a longtime legislator, is in her fourth year as vice chair of the House Committee on Health Care and, for two decades, has edited Counterpoint, a triannual newspaper produced by the Vermont Psychiatric Survivors organization that focuses on mental health issues. She's had a front-row seat for the Retreat's evolution into the state's biggest provider of inpatient mental health services, and she's convinced that the state would be better off gradually closing it down for good.
"It's trying to maintain relevance in a world that it isn't really suited for," Donahue said.
A former patient agrees that the hospital's approach has become antiquated. Jodi Girouard, a writer from South Burlington, recently spent eight days at the Retreat after she was told she would have to wait a week for a bed closer to home. She described the hospital as a "holding cell" that did little to alleviate her suffering.
"I don't think the model that they have right now is a working model," Girouard said. "They're like a generation or two behind."
The state contracts with the private, nonprofit Retreat, one of seven so-called "designated hospitals," to provide mental health services. The campus houses more than half of the state's inpatient mental health beds and Vermont's only unit for children and adolescents. The Retreat has nearly doubled in size since 2011, increasing its bed count from 62 to 119 — a number that will further grow with the expected completion this year of a new 12-bed unit for patients requiring high-level services.
Hospital leaders describe the growth as a consequence of the facility stepping up to meet the state's needs. For instance, the Retreat took in 14 patients from the Vermont State Hospital in Waterbury after floodwaters from Tropical Storm Irene in 2011 forced it to close.
But skeptics like Donahue view the expansions through a different lens.
"The Retreat very strategically saw a way to make itself sustainable, and eventually essential, to the state," she said — suggesting its administration maneuvered to make it too big to fail.
The hospital's relationship with the state has changed significantly over nearly two centuries. Founded in 1834, the Retreat was initially the only psychiatric hospital in Vermont and served some of the state's sickest mental health patients for decades. But the Retreat went on to carve out a niche during the 20th century by catering to wealthy patients, according to Ken Libertoff, who became director of the advocacy group Vermont Association for Mental Health in 1981.
He recalled seeing ads for the hospital in upscale magazines around that time touting the benefits of a stay in "beautiful Vermont." Despite its location, the Retreat in those days served few Vermonters, said Libertoff, who retired in 2011.
The hospital benefited from "generous" reimbursements from private insurance, with patients often spending up to 30 days in Brattleboro, finding in the sprawling campus a therapeutic respite that lived up to its name, said Louis Josephson, the Retreat's CEO and president.
"The whole field was different," recalled Josephson, who has worked in mental health for 30 years.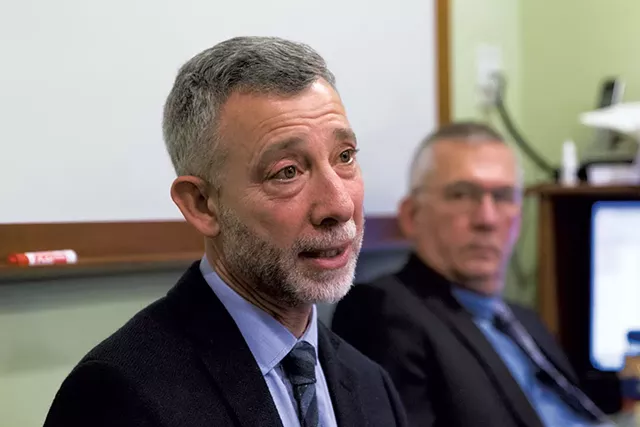 Colin Flanders
Louis Josephson, CEO and president of the Brattleboro Retreat
But insurance companies grew resistant to paying for long-term mental health hospitalization, and waves of coverage reductions rolled in around the 1990s. The Retreat struggled to attract as many private clients.
"The Retreat was looking to survive," Libertoff said.
An obvious choice was to seek contracts with the state and take more Medicaid patients, Libertoff said.
Today, the hospital gets more than half of its overall revenue from Medicaid, which only serves qualifying clients, leaving it largely dependent on the state-set reimbursement rates. "We have completely flipped, as we've fallen into becoming an arm of the state's mental health system," Josephson said. The average length of stay hovers around one week.
The Retreat's problems have been a long time coming. Last week, the Green Mountain Care Board reported that, over a four-year period starting in fiscal year 2015, the hospital lost a combined $4.7 million while burning through its reserves to stay afloat.
Josephson has blamed the hospital's woes partly on a recent dip in patients — the result of workforce shortages that have limited how many units the hospital can staff and a slower-than-usual holiday season. But he claimed the real culprit is the state's stingy Medicaid reimbursements.
Smith has argued that the Retreat has received several sizable rate increases in recent years. He criticized the hospital's leadership for failing to address its problems.
His agency is now trying to determine why admissions are down at the Retreat when the rest of the state's numbers remain high. He's also working with the hospital's board to ensure its fiscal stability moving forward, saying his short-term goal is to give the state at least two years of breathing room to plan ahead. The state must then "self-evaluate" where its mental health system is heading, the secretary told Seven Days.
Decision makers will soon have a road map for that work, thanks to the 10-year "vision" plan the Department of Mental Health expects to release this week, which will encourage developing a more decentralized system.
"Psychiatric care, when it's at a hospital level, needs to be part of a medical hospital," said Donahue, the state rep. "When it reaches that point, you need to be in a place where all the different components of medical care are there for you."
Girouard, the South Burlington patient, echoed Donahue's comments. She said she's been hospitalized for her mental illness more than 40 times and has had better experiences in facilities that treat it "like any other illness."
There has been some recent movement toward this goal. The University of Vermont Medical Center announced that it would use surplus funds to construct 25 additional inpatient beds to augment the 15 on its campus in Berlin.
But whether more community hospitals will follow suit remains an open question.
"Mental health is not a big fiscal winner compared to other entities," Libertoff said. "Clientele is challenging and difficult, and obviously you need specialized staff that are not easily available." That's why, Josephson said, he's skeptical that some of the state's smaller community hospitals are willing and ready to build new psychiatric units.
"Hospitals are really glad we're there and glad we're 50 percent of the beds, because it would be a huge burden on them financially and programmatically to stand up a bunch of psychiatric units all over the state," the CEO said.
Department of Mental Health Commissioner Sarah Squirrell said changing an entire system is "a business of small steps." But while the goals outlined in the 10-year vision would "ideally" mean less reliance on inpatient beds at the Retreat, the hospital "absolutely" fits into the state's long-term plan.
"It's just a matter of how," she said.
State officials are also focused on the present needs of the system. Psychiatric patients increasingly get stuck in emergency rooms of Vermont community hospitals, unable to access a mental health bed because there aren't enough available.
A 2018 study by the UVM Health Network identified a need for 35 more beds, and with the new beds in central Vermont, the dozen under construction at the Retreat should make a big difference — as long as the state can finish the project. Legislators recently learned that it has come in over budget — at least $1.2 million beyond the original $5.5 million price tag — requiring that lawmakers consider whether to earmark more money to finish it up.
Some advocates have argued that the money for the beds would have been better spent addressing the root causes of mental health crises, such as a lack of housing and social services. Noting the emphasis on integration, even the Retreat's CEO has wondered why the state is spending millions to expand his stand-alone hospital's capacity, especially given the financial challenges. "I would argue we should be shrinking our footprint," Josephson said.
He made that statement just two weeks after threatening to close the hospital if it didn't get an injection of state cash. After calling the Retreat's bluff, Smith is now touting the hospital's expansion project as vital.
"If you get onto the ground and talk to those people who are there day in and day out, working with people that have mental health issues, they will tell you we need [these] beds," Smith said.
Josephson said the Retreat will adapt as necessary. In fact, he understands Donahue's desire to eventually close the hospital. If the state manages to build a system of care so robust that it makes the Retreat obsolete, he said, he would shut it down himself.
"There's no law in heaven that says we have to be around another 185 years — or five years," Josephson said. "It's just [a question of]: Are we of use to Vermont?"