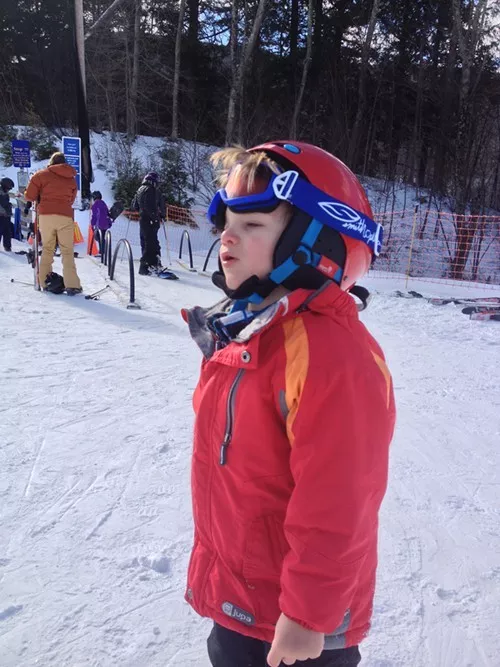 Theo on the slopes — sans gloves, of course.
"Are your kids skiing?" It's a question I've heard a lot. And for a long time, I felt almost shameful answering no.
When my husband, Jeff, and I moved to Vermont almost nine years ago, we dove into winter sports with a vengeance. We spent most of our winter weekends snowboarding or snowshoeing. If it's going to be cold and snowy, we thought, we might as well embrace it.
But becoming pregnant and having babies put a wrench in things. Jeff chaperoned a handful of middle-school field trips to Jay Peak, but spent more time changing diapers than shredding the gnar. I stopped snowboarding altogether.
This winter, we decided, things would be different. Mira is 5 and a half; Theo just turned 3. 2013 would be the year the kids learned to ski! We rented Mira skis for the season at Burlington's Skirack. We bought her a helmet. And goggles. And long underwear. And ski socks. Loading her new gear into the trunk of our car, I felt like a hardcore Vermonter.
The following Sunday, Mira and Jeff went to Bolton Valley. Jeff rented skis and they took a private lesson for two. They came home jazzed up. Mira had successfully navigated the rope tow and gone down the bunny hill. Jeff had captured the success on his iPhone. Pictures were sent to grandparents and posted on Facebook. Many people "liked" them.
"We're going to do this every weekend!" Jeff triumphantly announced.
Our next free weekend, we opted to go to Smuggler's Notch because it was raining at Bolton. Upon arrival, our spirits were buoyed by fat flakes of falling snow and copious amounts already on the ground.
And then we entered the rental building.
Nothing tests a family's resolve quite like renting skis. It probably only took an hour, but it felt like an eternity. After dropping more than 100 bucks and getting fitted for bindings, the kids ran around the waiting area, feeding coins into the vending machines like semi-trained monkeys while we clenched our jaws.
When we finally got our equipment, I grabbed the duffel and kids, and Jeff loaded up with four pairs of skis. We pack-muled it over to the sweaty, crowded lesson building, only to be told there were no private lessons until 3 p.m. It was barely 11.
Our only option was to go rogue and take the kids to the bunny slope on our own. We lasted about 45 minutes. There were some blissful moments, to be sure — like when both kids successfully made it down the bunny hill with us crouched behind them, all pink cheeks and smiles.
But Mira also fell backwards on the "magic carpet" leading up the slope and screamed in terror, skis splayed up to the heavens, until a staff person intervened and propped her back up. Theo tried to steal Jeff's and my poles, and it didn't take long for him to abandon his mittens, helmet and goggles in a frosty heap.
Back at the rental building, as we took off our ski boots, I finally said out loud what I'd been thinking for the past several hours: "That kind of sucked."
It took Jeff a couple of minutes to admit it. "You're right," he said. "It did suck."
Spending winter weekends on the slopes might be the right choice for some families, but it isn't for us — at least, not yet. The next time someone asks if my kids are skiing, I'll answer no. And in my head, I'll be adding, "Thank goodness for that."


This post was written by Kids VT contributor Alison Novak, who lives in Shelburne with her husband and two kids.