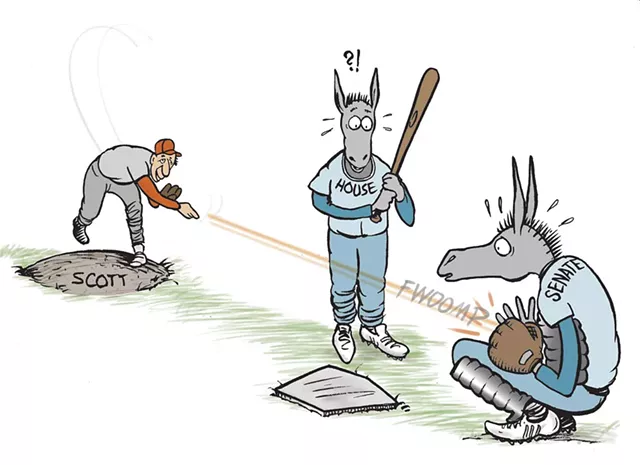 Standing by a Civil War battle painting in the Statehouse last week, Vermont's Republican governor and top Democratic lawmakers officially ended a 56-day dispute that took the state to the brink of a government shutdown.
Gov. Phil Scott, House Speaker Mitzi Johnson (D-South Hero) and Senate President Pro Tempore Tim Ashe (D/P-Chittenden) delivered all the requisite lines about compromise and reaching across the aisle as they announced the deal at a press conference.
Speaking first, Scott declared, "We have distinguished ourselves from D.C."
Despite that public display of unity, a number of Democratic lawmakers still harbor hard feelings toward the first-term governor. Some even suggest that Scott, contrary to his claim, brought Washington, D.C.-style dysfunction into the Statehouse by using the budget as a bargaining chip.
The Berlin Republican began the 2017 session with a reservoir of goodwill among lawmakers from the opposite party, who knew him as a conflict-adverse consensus builder during his 16 years as a senator and then as lieutenant governor.
"Because of the way he handled things as lieutenant governor, people assumed he would be a kind of softball governor, playing a very easy game with Democrats in charge of the House and Senate," said Sen. Phil Baruth (D/P-Chittenden). "I think his team signaled that they're playing hardball."
Next year, Scott will return to a less-trusting Democratic majority — which could complicate advancing his legislative agenda.
"I think there's going to be a more guarded, wary approach moving forward," Ashe predicted.
Baruth put it more bluntly: "Once you realize that you're playing hardball, not softball, there's a different set of rules."
The session began with an act of bipartisanship: Scott's administration worked closely with lawmakers to quickly pass a law to prevent authorities in Vermont from being drawn into President Donald Trump's immigration crackdown.
But it didn't take long for relations between the executive and legislative branches to deteriorate. While Scott remained courteous as ever in person, a number of legislators say his governing style became less considerate.
Lawmakers were affronted when it leaked that Scott and his chief of staff, Jason Gibbs, had discouraged administration officials from chumming around with legislators after hours. At the time, Gibbs made the case that too much fraternizing was "counterproductive" to governing, but some saw the directive as an unfriendly signal.
It "made a big difference, and I don't think it was in a good way," said Johnson. Policy making in Vermont hinges on relationships, she argued, and previous administrations of both parties worked hard to forge ties in both formal and informal settings.
Inside the Statehouse, legislative committees became increasingly frustrated as administration officials avoided — and, at times, outright refused to answer — questions about policy proposals.
A leaked memo revealed that the administration had instructed agency and department heads not to answer lawmakers' questions about the impacts of potential budget cuts. "It sounds like they were told not to cooperate with us, and I don't understand how anyone could construe that as good government," said Senate Majority Leader Becca Balint (D-Windham).
Sen. Dick Sears (D-Bennington), who chairs the Senate Judiciary Committee, paused when asked whether his impression of Scott changed this session: "That's a loaded question." His eventual response? "Yes, I would say dramatically."
Sears praised Scott's participation in the Trump-inspired immigration bill but said he was "blindsided" when Scott vetoed the marijuana bill, having barely participated in the legislative discussion.
"When it came to pot and this budget mess, I'm hoping that this isn't going to be the new normal," the Bennington senator said.
The "budget mess" emerged during the final weeks of the session when Scott called on lawmakers to create a statewide teachers' health insurance contract, which he said would allow the state to reap millions in savings. When Democratic leaders proved unreceptive, he threatened to veto the budget, which had passed with near-unanimous support. That particularly galled legislators, who had spent months drafting a spending bill that conformed to Scott's earlier demand: No new taxes or fees. Throughout much of the standoff, Scott rebuffed Johnson and Ashe's attempts at compromise, while chiding lawmakers in public.
"What we heard in private meetings were the same sound bites that you got as a member of the press," noted Johnson.
Scott even activated a campaign email account to rally supporters around the cause. One message included a Caledonian Record editorial with the headline, "Teachers, Democrats Throw Taxpayers Under the Bus."
"I don't know if intransigence is the right word, but obviously the intensity of [Scott's] position" was a surprise, said Sen. Jane Kitchel (D-Caledonia).
The final hours of the session are normally a celebratory time. Not so this year, when a defiant Scott told a downbeat legislature that he would veto its budget and property tax bill, forcing members to come back in June for a veto session.
The governor made good on that promise.
"I think there are a lot of bruised feelings on the Senate side in my caucus," said Balint last Thursday. "You can have your policy differences, but in order to work together you have to have shared trust, and the trust broke down." The Scott administration, she alleged, repeatedly "moved the goalposts" during the teachers' health insurance negotiations, making it difficult to know where the governor actually stood.
Balint suspects that Scott's staff was setting the tone. "I think he's been given advice from the get-go that PR and optics are more important in the political arena than actual policy," she said.
While most political observers suggest Scott came out ahead in the eyes of the public — proving himself to be a strong leader — his hard-line approach may have lasting implications inside the Statehouse.
After the veto session, Johnson also criticized the governor for having been absent at key times. She claimed that he participated personally in only 30 minutes of approximately 30 hours of closed-door negotiations between the end of the regular session on May 19 and the start of the veto session on June 21. Gibbs and Secretary of Administration Susanne Young did much of the talking.
"You can take it one of two ways," Johnson said. "You can either say he's empowered his staff an awful lot or you can say he's not the one who's actually governing."
Scott, who said he was present at negotiations during the final two days, explained that he sat out most of the talks due to a "complicated" schedule that had been set weeks in advance.
"I wouldn't say that this was a more contentious session than any other," he said during an interview last Friday. Democrats, he suggested, were simply adjusting to having a Republican at the helm. His predecessor, Democratic governor Peter Shumlin, served six years. "Because of the new dynamics and the divided government, I believe we're all getting accustomed to ... our different styles," Scott said.
Overall, he described his relationship with the legislature's leaders as "cordial and open."
The governor also downplayed criticism of his PR tactics: "My approach, I think, was to try and nudge [legislators] in the right direction so that they would take action ... and what they wanted was for me to explain more publicly about what we were discussing privately."
Scott's allies in the legislature acknowledged the tension between the two branches but said it's natural.
"I don't think he's been partisan at all," said Sen. Joe Benning (R-Caledonia). He suggested that the frustration with Scott is simply a product of his new role: As lieutenant governor, his job was to moderate Senate debates; as governor, he must push an agenda. "A lot of the hard feelings that were generated between him and the Democratic majority has, I think, been them adjusting to the change," Benning said.
That adjustment, according to Ashe, is complete. "The old relationship, where people were considering him part of the Senate clan ... we've moved on from that," he said.
According to the pro tem, "Members of the Senate were very slow to offer public critiques of some of the proposals coming from the administration [and] were pretty generous throughout, giving the administration an opportunity to get familiar in their roles."
Ashe indicated that such a reluctance to be critical could change.
Johnson expects less tolerance for late-session proposals. "If there are ideas out there, they need to be put on a table in a timely way," she said.
The tensions between Scott and legislators won't last, predicted Rep. Kurt Wright (R-Burlington).
"There may be some ruffled feathers that may linger when we return next session," he said. "I think [Scott's] personality will, over time, smooth that out." Wright also sees an advantage to Scott's tougher-than-expected approach: Lawmakers may be less inclined to cooperate now, but, he said, "They know they are not dealing with a weakling here."
Disclosure: Tim Ashe is the domestic partner of Seven Days publisher and coeditor Paula Routly. Find our conflict-of-interest policy here: sevendaysvt.com/disclosure.

Correction, June 28, 2017: An earlier version of this story incorrectly described how Scott and his chief of staff discouraged administration members from socializing with lawmakers. They did so verbally.

Correction, June 29, 2017: An earlier version of this story misstated Scott's hometown.