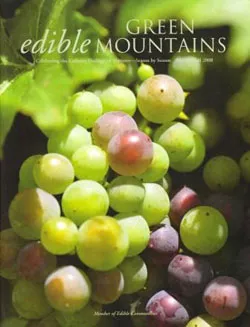 This is the week that publisher Deborah Schapiro would have released the spring 2010 issue of her farm-to-table magazine Edible Green Mountains. But don't look for it on the racks. Schapiro has decided to sell her rights to the magazine — part of the Edible Communities "family" — to pursue new ventures, both in and outside the local culinary community. "It's for sale, if anybody is interested in purchasing it," she says.
"There are a lot of opportunities that have come to me as a result of the magazine," Schapiro explains. "Some of them are very compelling, but they required me to make a choice."
In addition to getting "back to [her] roots in business consulting," for which she needs freedom to travel, Schapiro will be teaching a food-writing class at Healthy Living in South Burlington. Other projects are in the works, too.
Schapiro says she's convinced Edible Green Mountains is viable, but believes the timing of the magazine's launch during the economic downturn made it hard to meet her business goals. "I want to emphasize that it wasn't an easy decision, because it met so many of my other objectives," she says. "You can't put a number on the pleasure and gratification you get from being in the position to support other people and the great work that they're doing."
Opting to "publish the magazine using entirely local resources was more expensive on the balance sheet," Schapiro notes, but adds that it was an important part of her mission. "I feel good about the fact that, for three years, pretty much every dollar stayed here."
The most recent issue of Edible Green Mountains included features on Claire's Restaurant & Bar in Hardwick, ice fishing, and eating pie for breakfast. Schapiro says she hopes to find an energetic buyer who can take what she's built and run with it.