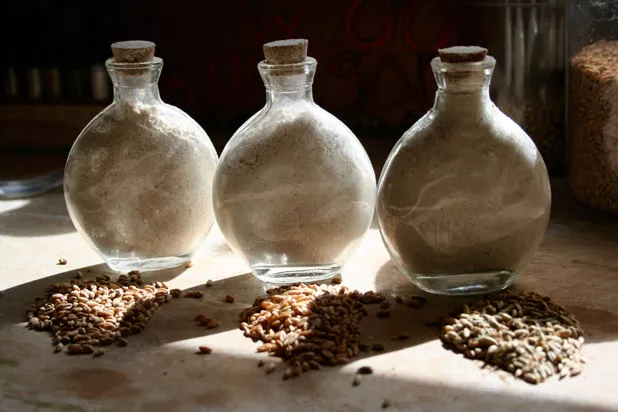 It's hard to believe historians describe Vermont in the years before westward expansion as "New England's bread basket." In those days before supermarkets and Wonder Bread, our state boasted commercial wheat growers, and many Green Mountain landowners maintained small plots for home use. (It wasn't as common as tending a patch of tomatoes or keeping the root cellar stocked, but it wasn't unusual.) When their grain was ready, families brought it to the nearest mill to be ground into flour.
But Vermont's wild, wet weather is hard on wheat, which is vulnerable to a variety of funguses. As the drier midwestern territory was settled and the Great Plains were converted from buffalo pastures into "amber waves of grain," North Country farmers turned to dairy and other forms of agriculture.
All that could change. With wheat prices fluctuating wildly on the commodities market — they doubled earlier this year, then crashed last week — and the localvore movement issuing a clarion call for breads made from local grains, Vermont's wheat fields are making a comeback. "There is definitely a . . . much greater demand than there was five years ago," posits grain expert Heather Darby, a farmer and assistant professor at the University of Vermont Extension. "There are more farmers interested in growing grains. Some are starting to grow them, and others are in the information-seeking stage."
All the same, the number of actual growers is still minuscule: "probably 10 to 15," Darby guesses.
Vermont's dodgy weather isn't the only obstacle to local wheat production. First of all, the necessary equipment — such as combines, drying facilities and storage facilities — is expensive. Second, the state no longer has an infrastructure of commercial-scale mills, which are necessary to convert large quantities of wheat berries into value-added flour. "There are some mills around — one in New York and some in Canada — but the scale people are growing on doesn't merit the costs associated with transporting the grain there," Darby explains.
Even with the proper equipment and facilities, wheat is a fickle friend: "Cows almost always give milk if you feed them, but grain doesn't always produce the quality you need, even if you love it and care for it every day," Darby says. When it comes to flour quality, bread bakers seek hefty portions of a protein called gluten, which gives dough its elasticity and bread its chewy texture. (Tender, flaky products are made with lower-gluten pastry flour.) When wheat isn't glutinous enough, it's sold as animal feed.
Even back in the mid-1800s, Darby says, people were questioning Vermont farmers' ability to stock the bread basket: "I have a lot of old newspaper articles . . . that ask, 'Can Vermont grow all of its own wheat?'" She cites a statistic from that era: "One out of five years, a farmer gets a decent crop. Back then, I don't think they had all the same knowledge and tools we have today to improve their chances."
Ben Gleason of Gleason Grains in Bridport, who has been growing wheat in Vermont since 1981, defies the odds. On 100 acres of land — part rented and part his own — he plants a rotating patch of 35 acres: Vermont's biggest, dedicated commercial wheat farm. During a couple of bad seasons, he lost nearly a third of each crop to a fungus called Fusarium, but Gleason says that hasn't happened for years. His grain is of such high quality it only rarely ends up as animal feed. "Last year I harvested 45 tons of wheat," he relates. "I sold all of it for human consumption." Including 7000 pounds of berries that ended up in Wolaver's organic wit bier.
Gleason deals solely in whole-wheat flour — he refuses to sell white flour because he considers it unhealthy. He acknowledges this scruple puts him at a disadvantage in the marketplace, but says he's content to run a small shop, though others may not be. Because the area lacks larger mills, he grinds his own grain.
"When somebody puts in a milling operation where they're able to use local wheat and turn it into white flour as well as whole-wheat flour and animal feeds and so forth, that could be a pretty good-sized operation, and it would probably take over the whole market," Gleason guesses. "But I do all this myself. There's only so much that one person can do, and I've pretty much reached my limit." In fact, at 64, Gleason thinks it may be time for him to slow down a tad. "The older I get, the harder I work," he says, chuckling, "But I'm in good shape, so I probably think I could do it for quite awhile."
Jack Lazor of Butterworks Farm in Westfield is Vermont's other elder statesman of grain. The self-described "back-to-the-lander" says he bought his farm in 1976 and began growing grains a year later; he started with 6 acres of wheat, flint corn and barley, hoping to provide enough food for his family and livestock. Now, he guesses, approximately 150 to 170 acres of his 325-acre parcel are devoted to grains and legumes of different varieties, including corn, soybeans, peas, barley and some wheat.
But working with Heather Darby on growing trials may be Lazor's most crucial project. The duo is testing various types of wheat seeds to see which grow best in Vermont's tricky climate. Right now, they're trying out 19 heirloom varieties, including three — Defiance, Champlain and Surprise — that were developed in the 19th century by famed botanist and wheat breeder Cyrus Pringle of Charlotte. Their hope is to create a crossbreed that's hearty enough to thrive in the cold, resists common diseases, and produces delicious flour with the right gluten content for baking. It's a tall order. While the trials of existing varieties will show results within a couple of years, experiments in breeding probably won't come to fruition for "five to 10 years," Darby says.
Until then, Lazor aims to help ease other people into the biz: He's one founder of a group called Northern Grain Growers Association, with plans to "go to some foundations for some help. We've come to the conclusion that we need a mentoring program for people, and maybe some preliminary infrastructure," he explains. "It's about helping other people get started growing grains, even on a very small scale, and providing education and outreach. All of the old-timers who helped me are gone. I'm becoming an old-timer, I guess."
With Lazor, Gleason and Darby on the case, bakeries eager to buy their flour from nearby growers, and farmers eager to meet local demand, Vermonters can expect to see more rippling wheat fields in the future. But Darby offers words of caution: "There's a lot of learning that needs to go on, and it's not easy to make a living off of grain in Vermont." She believes farmers should incorporate acres of wheat, but not attempt to make it the basis of their livelihood.
And before local flour becomes widely available, producers will need to prove it makes a fine loaf of bread or biscuit or scone. "What hasn't been done in the past is testing for baking quality," Darby says. "We need to produce a quality of wheat where the end product is consistent." If it's not, and "your cookies look funny or your bread is flat, people are only going to buy it a few times before they decide that they don't want this stuff, even if it's local."