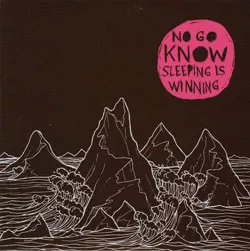 (Self-released, CD)
Nothing irritates a music critic more than an album that is virtually unclassifiable. Though most rock journalists would never admit this, we really love it when music falls into easily identifiable categories. We especially love it when said music sounds a lot like someone else's stuff — it makes our work infinitely simpler and allows us to spend more time inventing silly genre labels such as "alternative" and "indie." Or, say, "post-rock." More on that one in a minute.
With their latest EP, entitled — in delicious slacker-couture fashion — Sleeping Is Winning, Portland, Oregon-by-way-of-Burlington trio No Go Know has crafted a rock critic's worst nightmare: a bafflingly diverse little collection of tunes that defies categorization and challenges the listener to keep up. It's a workout, but, as they say: no pain, no gain.
In truth, there's nothing remotely painful about No Go Know's second release. To the contrary, each of the five tunes offered here is remarkable for its individual peculiarities, particularly in relation to the others. If that sounds confusing, it is. But in the end, it's also rewarding.
The EP opens with the sprawling "We Are All Things on Fire," a nearly seven-minute shoegaze epic likely responsible for the "post-rock" designation by their hometown critics. To be sure, there are definite shades of Tortoise and Mogwai liberally sprinkled throughout. But to stop at that oft-maligned descriptor would do the band a grave disservice.
The following tune, "Sunday Morning" switches gears with Tiptronic smoothness, delivering gritty, reverb-soaked, Southern-flavored rock more in line with My Morning Jacket than Do Make Say Think.
The third cut, "The Garden," is a bouncy, mid-tempo ballad with the disc's most intriguing vocal melody. The driving, distorted guitar and trumpet bridge midway through is a nice, and surprising, touch.
"Seven Hungry Miles" starts strong with a punchy guitar line reminiscent of The Black Keys' punky garage blues courtesy of Scott Taylor. (He and bassist Mike McIntire were founding members of local noise collective User Shorty Patent Co.) Unfortunately, the band stumbles as the song's second half devolves into a meandering, instrumental, post-rock jam. The change is abrupt and jarring. But it's just about the only slip-up on the disc.
Closing with "My Prize," the band bookends the EP with another tune clocking in at close to seven minutes. Moody and ethereal, it could pass as an American Analog Set outtake. Where the preceding song's proggy jam outro fails, the instrumental tornado occupying the final four minutes of this cut is inventive and engaging. It's a fitting end to a fine effort. Just don't ask me what to call it.