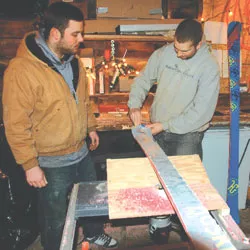 Ryan Folin, left; Harrison Goldberg, right
For some students at the University of Vermont, proximity to snow-covered peaks can be more of a draw than academics. And maybe more than a few of them have fantasized about starting their own ski company during their undergraduate years. The conversation — over a couple beers in some guy's living room — might go something like this:
Bro 1: "Dude, we should totally, like, start our own ski company and, like … make our own skis!"
Bro 2: "Duuude. How sick would that be? Let's, like, totally do it, man!"
UVM seniors and engineering majors Harrison Goldberg, Conner Gaeta and Ryan Folin may have had a similar exchange at some point. But what distinguishes them from other dudes is that they put down their PBRs and, like, totally did it!
Their custom-ski enterprise, HG Skis, is beginning to make a name for itself at UVM and in the larger Burlington community. Goldberg, a Massachusetts native, has been anticipating this since high school, when he made his first pair of skis. From then on, he's been telling his buddies about his plans to start his own company. With help from Gaeta and Folin — from Connecticut and Minnesota, respectively — Goldberg turned the talk into action.
"Burlington has a pretty tight-knit ski community, so we all know about each other," says Will Eginton, a junior and Ski and Snowboard Club officer at UVM. "I [heard] about Harrison making his own skis before I even knew who he was." Eginton started riding and testing skis for the company last winter. "It's a really cool project," he says. "I'm really pumped on it. Harrison is doing a really great job."
For Goldberg, finding like-minded skiers and others willing to help hasn't been hard.
"We sort of came together over time," he says of his two business partners. "We were definitely friends first, but this has brought us a lot closer together."
Goldberg met Gaeta during freshman year when they lived on the same floor, and Folin joined in a little later when he heard of the pair's plans to make skis. Like a lot of UVM students, all three guys have been skiing since they could walk, so this potential way to make a living was appealing.
Gaeta's original role as a rider of ski prototypes has expanded to managing the company's publicity and public relations. Folin works mostly on the technical aspect of making the equipment and is currently streamlining the production process. As for Goldberg, "This is, like, my baby," he says. "I kind of do everything."
HG Skis has already put out a powder ski designed specifically for the East Coast. Because most skis are made out west, they tend to be designed with that coast's conditions in mind. In other words, they're made for skiing on wide-open runs with deep powder. But that kind of skiing is tough to find in these parts. So HG Skis has designed a wide, much softer ski that is better suited for smaller turns and for optimum maneuverability in tight spaces with less snow cover.
The company will sell five pairs of its powder skis this winter for $800 each. In January, HG will take preorders for a park ski that will be available later next year. The partners also hope to begin working on a mountain ski designed for all terrains, ages and skill levels. Aesthetically, the skis are still evolving. Goldberg says getting the look just right is an ongoing project.
"When you get on a lift line, everyone is looking at your skis," he says. "For me, I love that feeling. I love watching people try to figure out what I'm riding, and that's the feeling I want everyone who rides my skis to have."
Keeping production in Vermont is important to HG Skis' image. The partners know they have a solid product, but they believe being based in Burlington will give them an extra edge in the East Coast market.
"People are all about buying from smaller ski companies, and we are the only ones doing it on the East Coast," explains Gaeta. "Everything here is made in Vermont, and people get really excited about that." They get the wood for their skis locally and source all other materials from companies in Ohio, Washington and Florida.
Folin agrees the company needs to stay put. "It's definitely a big piece of what we're doing," he says. "There are also a lot of positives of staying close to the UVM student body."
One of those positives is maintaining a relationship with the Ski and Snowboard Club. In addition to being members, Goldberg, Gaeta and Folin have created a partnership between the club and HG Skis. "If Ski and Snowboard has an on-campus event at UVM, you can pretty much guarantee we will be there," says Folin. The guys pass out stickers and give fellow students the rundown on their new company.
Not surprisingly, the company is focused on getting the word out to more college-age skiers; its target demographic and the UVM student one are virtually the same. This is especially true for HG's park ski, which will be geared toward young skiers who are more interested in the jumps, rails and ramps than they are in long runs down the mountain.
Currently, HG's production takes place in a small garage in downtown Burlington. But the team has bigger aspirations. These include moving out of the garage, eventually starting outerwear and accessories lines, and, of course, leaving other day jobs behind. But first, there is the matter of graduating college.
The guys say that still being in school has its advantages and disadvantages. On the plus side, they have access to the resources and networking opportunities of the UVM community. On the downside, they still have to go to class and study.
"It goes both ways," says Gaeta. "It definitely helps, because the environment here is perfect for us. Everyone knows about us and is pumped about it."
"On the other side," continues Folin, "we're all engineers, and [the classes] are all hard. It's about finding the balance between how much work can we do on our skis and how bad our grades are going to be."
This is particularly relevant to Goldberg, who found himself on academic probation freshman year because he was spending too much time on his skis.
Making skis for 40 hours a week, being a full-time student and holding down a part-time job would no doubt be a little overwhelming for any college kid. Folin estimates it takes approximately 40 to 50 hours to produce one pair of custom skis. Currently, 20 pairs are in production in their shop. "Time is one problem we can't solve," concedes Goldberg.
Even so, the trio's enthusiasm for the future of HG Skis remains high.
"I'm imagining that we're going to graduate, we're going to have to work some job, and at night we're going to be making these skis and hustling hard," predicts Goldberg. "I'm hoping that, within two to five years, we're going to be able to make enough money off this company to just work on skis full time and be ski bums."