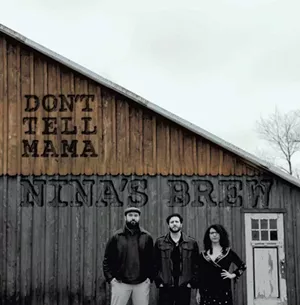 Nina's Brew, Don't Tell Mama
(Self-released, CD, digital download)
Context is important. For example, if you were to catch Queen City band Nina's Brew between a set of speed metal and, say, a psychedelic 10-piece at Nectar's, you could perhaps be forgiven for overlooking the folksy, acoustic-driven trio. Nice harmonies, you might think to yourself. A dude is banging on a box for percussion and it's working, that's cool. It's all very Burlington, you'd conclude just before ducking out after a few songs.
That's the beauty of striking when the mood is right. Don't Tell Mama, the debut EP from Nina's Brew, is a pleasant, intriguing listen that deserves to be experienced in its own space.
Front woman Giovanina Bucci's warm, intimate voice and assured songwriting leaps out from the first. The title track is a mournful, country-tinged number that finds the narrator, who has long since run away from home, encountering her sister. "Oh, Jenny, if you only knew / I've been broken since I left you," Bucci sings as bandmates Isaac French and Mike Brewster build emotional suspense with a shuffling beat, gentle piano and percussive guitar work.
Percussionist French thankfully has more than a box to beat. His talents shine on the EP, as do Brewster's on guitar. Additionally, the vocal harmonies the duo craft behind Bucci are sophisticated, clear and gorgeous.
Aside from a penchant for three-word song titles, Bucci has an eclectic nature as a songwriter, which her band ably mirrors. Nina's Brew move effortlessly between genres, from the country pop of "Walk You Home" to the bluesy, roots-rock jam "Loosen the Rope."
The difference between putting out a song that sounds like a thousand other songs and making a unique, memorable tune is often found in the arrangements. Nina's Brew don't reinvent the wheel in this regard, but they do mind the details. And those details — piano splashes and tasteful guitar runs, little pushes and beat changes — comprise the tiny, rich colors beneath the band's broader musical strokes.
That focus on the little things shouldn't be overlooked. It is a clear declaration of intent from a band that only just formed in 2017. Nina's Brew have a talented singer-songwriter and a style of music that's particularly well liked in this part of the country, and they play with professionalism. Don't Tell Mama is a good EP on its own, but it also serves as a primer for what we can expect from this band in the future.
Don't Tell Mama is available at ninasbrew.com. Nina's Brew play Friday, June 1, at Elf's Farm Winery in Plattsburgh.