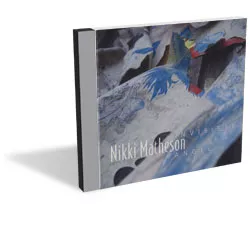 (CD, self-produced)
The local folkie community has buzzed for years about a rarely heard but magically marvelous singer in central Vermont who is equally comfortable singing in English or French, and who used to tour with European folk-rock royalty. That would be Nikki Matheson. Invisible Angel, her new CD of diverse and beautiful music, showcases the many talents of the Moretown musician. The title could be an apt description of the artist herself — at least the invisible part. Some of the music recorded on this disc has been waiting for decades to be heard. Matheson herself has been quietly waiting, along with friends and fans. Because, as John Lennon so succinctly put it, "Life happens while you're busy making other plans."
The 13 tracks on Invisible Angel present a kaleidoscope of musical colors. They include French chanson, the Matheson-penned waltz-time title track, a luscious duet with Richard Shindell on the Jerry Garcia/Robert Hunter love song "To Lay Me Down," a jazzy version of Maria Muldaur's "Do I Care" that recalls a smoky New York City bar circa 1947, a wild and breezy interpretation of Ola Belle Reed's old-timey classic "High on a Mountain," and so much more.
In addition to having a drop-dead lovely voice, Matheson supplies sinuous piano and clarinet lines throughout the recording. She also employs all sorts of talented local musicians, including mandolin king Will Patton and piper Tim Cummings, as well as some of her former French musical partners on tracks resurrected from the "vaults."
Ace soundman and studio musician Colin McCaffrey coproduced and engineered with characteristic style and his signature sparkling sound. Along with Matheson, he ably created a unified whole from many types of music. The sheer variety of styles here can, in fact, be a bit daunting at first. Getting to know Nikki Matheson's music calls for some dedicated, repeated listening. It will be worth your while, just as Invisible Angel was worth the wait.