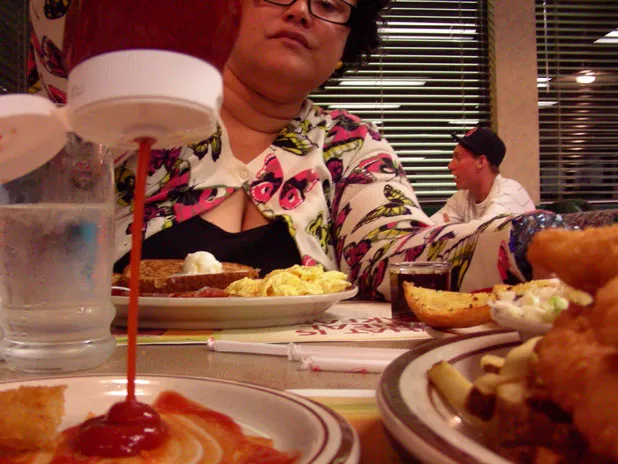 By day, Burlington has plenty of dining options - but what about after 11 p.m.? Most local eateries close at 9 or 10, giving rise to a complaint as likely to be voiced by genteel theater- goers as by indefatigable clubbers and students pulling all-nighters: Where's the grub?
Fans of late-night eats already know Nectar's, Mr. Mike's and Junior's Downtown serve into the wee hours. But what about options beyond Main Street - and beyond pizza and pub fare? Here are snapshots of three after-hours scenes that are a bit off the beaten track, ranging from gourmet fare to something a bit more . . . greasy.
******
Dark Green
If not for the Kermit-colored lights flanking the doorway, one would never know from outside that the Green Room is open. At 11:23 p.m. on a Wednesday, darkness envelops customers at the entrance. Candles are the only light in this hipster haven. Remixes of Bob Marley by Busta Rhymes and other forward-thinking MCs blare from the speakers.
Tomorrow the place will be buzzing with college kids, young professionals and local luminaries - all starting their weekends early. Tonight, a few people watch the Olympics at the bar in the otherwise quiet room. The manager leads us to a pair of green leather couches facing low, round tables. He explains that, after 10, the kitchen limits its menu to salads, quesadillas and dessert. The chef, Dave Pratt, is tired but must remain at his post until last call - usually around 2 a.m.
The Greens and Herb Salad arrives swiftly. Both manager and waitress accompany it, bearing freshly ground pepper and salt. The mesclun mix is fresh and spiked with parsley and dill. Cherry tomatoes and red onions add color. The garlicky croutons are house-made, and dried cranberries and chunks of creamy blue cheese bring flair to the already tangy dressing. A side of soft-centered grilled bread gets zest from a dip of olive oil with artistic dots of red-wine vinegar.
Moments later, the Duck Confit Quesadilla joins the party. The gigantic circle of tortilla is topped with guacamole, red cabbage and delicate blue corn chips and ringed by mouth-burning habañero mayo. The plentiful duck inside is moist and earthy. Sweetened with mango salsa and held together by local smoked gouda, the dish looked pretty busy on paper, but its tastes and textures come together just right. Can't complain about a "limited menu" when its few offerings are this diverse.
The selection of appealing desserts is ample, too. A trio of fruit sorbets and a blueberry parfait must go untasted tonight. The Heath Bar sundae is an architectural wonder: a globe of ice cream mixed and sprinkled with bits of the candy bar and covered in a sticky sauce that appears to be a reduction of the same toffee treat. Butterscotch crème brûlée comes in twin ramekins, one covered with heavy, freshly whipped cream and blueberries, the other left with the burnt sugar exposed. The custard is soft and pleasant, more like pudding, but the butterscotch flavor is subtle to nonexistent. The best of the desserts is a chocolate mousse, also topped with peak-condition blueberries and the weighty cream. It's deep and elegant, without the strong coffee flavor often found in lesser specimens.
At too many restaurants, night-owl fare comes off like the leftovers a hostess serves guests who are late to the dinner party, with plates tossed together by kitchen or wait- staff as needed. At the Green Room, a proud member of the Vermont Fresh Network, the head chef makes each dish to order - and it shows. The choices may be limited, but the tastes are worth a trip.
******
Getting the Skinny
It's 11 p.m. on a Friday, and music and the pungent smell of the lake are in the air as a band plays an eclectic mix of folk-tinged originals and unlikely covers. Youthful waitresses zoom through the huddled masses of hipsters, kids and parents, delivering Vermont beers. The crowd overflows the restaurant's waterfront-facing deck.
The Skinny Pancake gifts the weary with crêpes, salads and frites until midnight. Ease of parking is a huge plus, but a brightly lit space in which to share unique treats is what draws a diverse crowd from downtown proper.
Apparently, patrons aren't the only ones who have had a long day: It isn't until we try to order at the counter that anyone offers to seat us. The onion soup and a few other dishes sold out long ago, we're told. Despite the glut of music lovers outside, only three or four other antique-looking tables in the teeny loft-style room are occupied. Those tables are made of reclaimed wood, and the heavy silverware has quirky loops at the ends of its handles.
Though The Skinny Pancake is the brainchild of three Middlebury grads, its flavor is more Gallic than Champlain Valley. Hence a cone of fries comes with a choice of not just ketchup but also honey mustard or basil-inflected herb mayo, which tastes like a peak-season herb garden mashed with eggs and oil. At $4, there's plenty to share as a group, and an extra dollar will swap russet potatoes for sweet. They're well seasoned, but the taters could be crispier.
The crêpes may seem pricey at $7 or $9, but these aren't the sugar-filled buckwheat babies one would find on the Champs Elysées. The meal-sized rolls take up ample plate space, with all 23 varieties available in vegan or gluten-free batters as well.
Among the many breakfast-for-dinner choices, three are riffs on the popular Green Mountain combo of cheese and fruit. The Breakfast Crêpe is a unique take on the usual a.m. sandwich. Made with Shadow Cross Farm eggs, Cabot cheddar and Duclos & Thompson bacon, it's a worthy rival to Kountry Kart Deli's popular Rise and Shiner. Its only flaw? Many bites lack egg, while others explode with cheese.
Selections from the over-ambitious Crêpe Creations section of the menu may be ill-advised at any hour. The Chicken and Wild Mushroom Crêpe Cake sounds like a winner, but with crêpes baked between layers of herb-studded mornay sauce, the whole thing melts into a pasty mess.
Dessert crêpes make excellent use of Nutella. The Heart Breaker is king, bathing strawberries and bananas in rich chocolat. For the cocoa-shy, there are also honey, lemon and apple combinations. Groups game for a splurge can pool $15 for a pot of chocolate fondue. (Savory cheese varieties are also on offer.) Just don't order it too hungry: The apples, bananas and strawberries run out almost as quickly as the high-quality chocolate.
Most locations that serve until the wee hours are decidedly unromantic. The Skinny Pancake is a clean, bright place to eat late, without the din of a DJ dominating the conversation. It may not keep you as slim as its signature dish, but for an all-nighter, this is about as figure-friendly as it gets.
******
Nothing Good Happens After Midnight?
Everyone knows what to expect when they roll into Denny's in the small hours - big, colorful menus and new arterial plaque. But this summer, the national chain is revamping itself with a new campaign called Denny's Allnighter. With a website emblazoned with photos of pop tart Katy Perry and "featured band" the Plain White T's, the company is clearly gunning for a hipper, younger crowd. "Nothing Good Happens After Midnight. Except Denny's," the site proclaims in a distressed font. It also trumpets that the joint has been "Feeding bands and music fans since 1953." (Those fans are invited to vote online for a band selected monthly to receive free Denny's food on tour.)
What does all this mean for the franchise around the corner? A call to the South Burlington Denny's manager confirms that her restaurant recently added a late-night menu with after-10 specials and new music choices.
We pop in on a Thursday night at 10:45. The waitress brings the menu, which appears to be a reduced version of the usual Denny's options. When pressed for the specials, she seems confused and not a little defensive.
As the stereo plays "Into Your Arms" by the Lemonheads and Sheryl Crow's "Soak Up the Sun" - practically classic-rock fare at this point - we check out the crowd under the oppressive fluorescent lights. A girl in her late teens looks promisingly "hip" in a coonskin cap, yellow jellies and punk T-shirt. Guards from the nearby correctional center have dropped in, still in uniform. Behind us, a man of indeterminate nationality and accent pleadingly tells a heavily perfumed woman, "I owe them some money. They tell me it gotta be paid by tomorrow." Not far away, a waitress says to her table, "Well, that's why they call it 'Mr. Brownstone.'" As in, er, heroin?
With entertainment like this, food is something of an afterthought. The Country Fried Steak & Eggs is really a hamburger, crisply battered with a peppery coating and bathed in a layer of thick white schpek. The eggs on the side are cold in places and sit in a puddle of clear liquid - hopefully water. The creatively named 2 Eggs & More Breakfast includes hash browns, two moist, well-seasoned sausages, some bewilderingly smoky bacon and a bowl of thick-ground, unsalted and watery grits. The order worthy of repeating is the Slamburger - a juicy, delightfully greasy burger topped with cheesy hash-brown casserole and an egg, and smothered in cheese sauce, like a breakfast version of Burger King's BK Stacker.
The many dessert options include an out-of-the-box cheesecake and the Oreo Blender Blaster, a milkshake that comes in a large cup with more on the side. It wins points for size and for its ultra-creamy texture. Not so the banana split, which arrives in the form of ice cream soup.
Maybe Burlington's version of the Allnighter is not yet fully instituted, or isn't quite as advertised. Perhaps it's impossible for middle-aged marketers to engineer a happening joint by means of playlists and nationally standardized menus. But where there is a Denny's, there will always be Moons Over My Hammy, great entertainment and the most permissive of nocturnal atmospheres.