Burlington isn't quite the city that never sleeps, but it suffers no shortage of nocturnal activities. Want to catch some live music, a game or simply chill out with a perfectly mixed martini? Head to one of our favorite nighttime haunts, listed here.
Music Venues
The Monkey House
Winooski is the Williamsburg to Burlington's Manhattan. It's increasingly up-and-coming, especially in terms of food and nightlife. The hippest joint in the Onion City, the Monkey House features cozy couches, pool tables, and the most consistently excellent lineup of local, regional and national indie music this side — or that, really — of the Winooski River. It's also often 18+, especially during the week.
Higher Ground
Higher Ground boasts a constant stream of big-name acts on the palatial Ballroom stage. The adjacent Showcase Lounge features rising talent.
Nectar's/Club Metronome
Iconic hot spot Nectar's — aka the House That Phish Built — has live music seven nights a week. Upstairs at Club Metronome, DJs reign most nights, including at the ever-popular retro weekend dance parties. 18+ on weekdays.
Radio Bean
8 N. Winooski Ave., Burlington, radiobean.com
If venues such as Nectar's and Higher Ground are the lifeblood of the local music scene, this cozy hipster haunt is its beating heart. The tiny Bean is Burlington's musical melting pot.
Red Square
Bands play almost nightly at this hip club and its adjacent alley. DJs take over after midnight most nights. Check out the Blue Room for bumping EDM on weekends.
Signal Kitchen
Hidden in a Main Street alley with no sign marking its door, this recording-studio-cum-live-music-speakeasy hosts heavy-hitting musical acts both imported and domestic.
The Skinny Pancake
Folk music and crêpes — what's not to love? Get some of each most Thursday through Saturday nights. And don't miss Josh Panda's acoustic soul residency on Wednesdays.
College Bars
Three Needs Brewery & Taproom
185 Pearl St., Burlington, 497-0119
We almost feel bad for including the Needs here. Really, it's a cut (or two) above most college bars. But as the block-long line of students outside the bar most weekends indicates, it's hugely popular with the academic set. And with good reason. It's got great beer, lively pool tables, a unique vibe and an enormous outdoor patio. Swing by at 4 p.m. on weekdays for $1 drafts during Duff Hour.
Akes' Place
134 Church St., Burlington, 864-8111
This classic college-town watering hole — with pool, darts and sports — was your older brother's favorite bar when he was in school here. It might become yours, too.
CK's Sports Bar
12 Malletts Bay Ave., Winooski, cksportsbar.com
Frequented by St. Mike's students, this traditional tavern boasts a long, wooden bar; a large, outdoor deck; nightly drink specials; and flat screens as far as the eye can see double.
Finnigan's Pub
An upscale beer list, live music and DJs make this longtime BTV staple a solid weekend destination. Philadelphia Eagles fans flock here Sundays during football season.
McKee's Pub & Grill
Grab a beer and sit outside to watch drivers royally misunderstand Winooski's traffic circle at this St. Mike's haunt. The weekly drink specials are crucial.
Rasputin's
DJs play this popular college hangout three nights a week. Pool and TVs entertain anyone who doesn't feel like dancing. It's 21+ on the weekend.
Ruben James
Sports bar by day, sweaty dance club by night. Try the food — e.g., 40-cent wings every day of the week. You'll be surprised. In a good way.
Dive Bars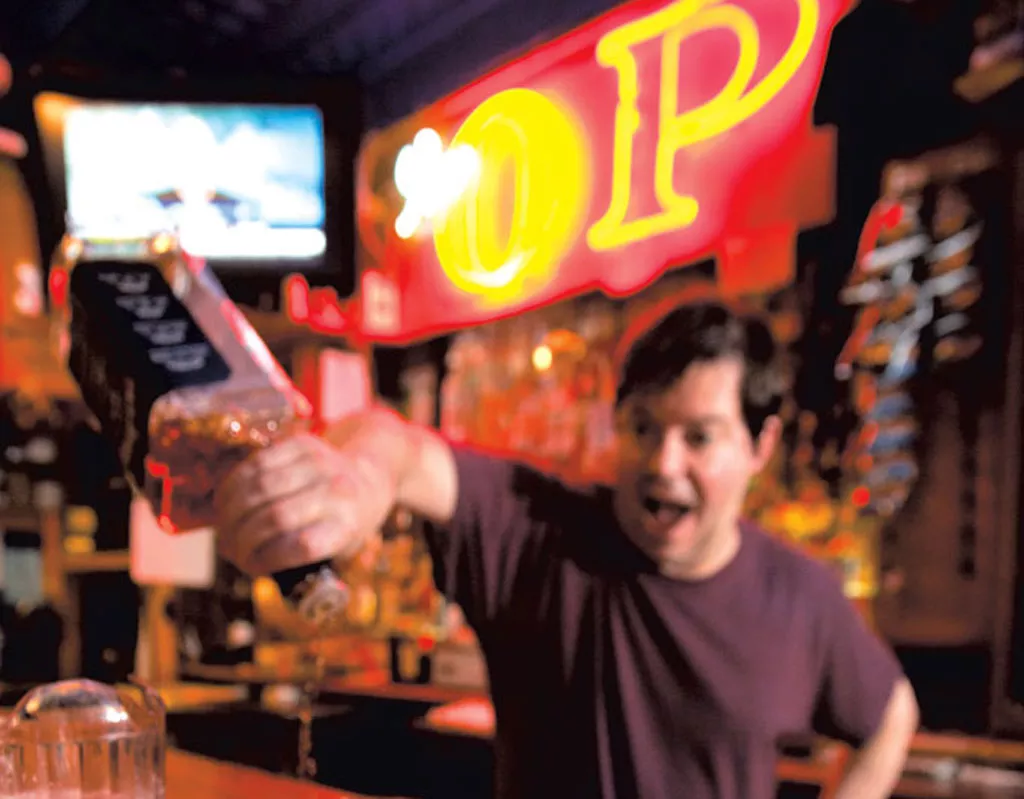 The Other Place
4 N. Winooski Ave., 863-5803
The OP is the crown cubic zirconium of Burlington dives. It features drink specials every day of the week — we're partial to PBR pitchers on Tuesdays — and one of the more competitive pool tables in town. The music is random and usually loud. Don't complain. Just enjoy it, ideally at a seat by the open garage-door window facing the street.
Esox
194 Main St., Burlington, 862-7314
Townies, punks and hipsters coexist peacefully around Burlington's most awkwardly placed pool table. Home of the PB Army.
Franny O's
733 Queen City Park Rd., South Burlington, facebook.com/frannyos
Pool tables, dartboards and TV screens abound at this lively locals' hangout. But it's far enough from campus that you'll need a designated driver or cab fare handy. Live music and karaoke on weekends.
JP's Pub
139 Main St., Burlington, 658-6389
If it's karaoke you seek, look no further. This classic dive serves up wannabe rock stardom at least three nights a week.
Ken's Pizza and Pub
71 Church St., Burlington, 862-3335
This little hole-in-the-wall pub is a gem hidden in plain sight of the Church Street Marketplace. It's the perfect spot for a quiet drink — and a slice from the adjoining pizzeria.
Olde Northender Pub
23 North St., Burlington, 864-9888
Owner Bob Beauvais describes this true neighborhood watering hole as "the best damn make-you-feel-at-home-bar."
T. Rugg's Tavern
149 Elmwood Ave., Burlington, 658-0456
This Old North End staple has the distinction of being the only bar in town with a view of a cemetery. So that's something.