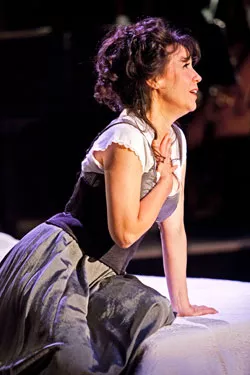 Not all musicals would benefit from a staging in an open barn where flitting moths compete with the actors for attention. But after seeing the current Skinner Barn production in Waitsfield, one might be hard pressed to imagine a better setting for Stephen Sondheim's A Little Night Music.
Based on Ingmar Bergman's film Smiles of a Summer Night, via a book by Hugh Wheeler, the 1973 play takes place during a Scandinavian summer, when dusks stretch almost till dawn. This season when "The Sun Won't Set" — as a quintet observes at the start of Act II — is no time for the wintry drama of Ibsen or Strindberg, or of Bergman's heavier works. It's an occasion for love, for comic mischief, and for bittersweet recollections such as those of the aged courtesan Madame Armfeldt (Brigid Chick). As the drama opens, she tells her granddaughter (Noni Boynton) that the summer night smiles three times on human beings: on the young and naive, on the foolish grown folks, and on those whose lives are drawing to a close.
By the end of the play, the audience, too, will have smiled on the three stages of life and their accompanying moods — light, dark and several shades in between. The Skinner Barn Theatre Company's tight production does justice to Sondheim's musical and lyrical complexities in an unfussy format. The set design is spare, giving the barn's post-and-beam interior pride of place; two skilled musicians (music director Jono Mainelli on piano and Morgan Ryser on cello) accompany the singers. The result is a night of enough operetta-style antics to fit the summery setting, mixed with enough of Sondheim's trademark rueful insights to send audiences home feeling replete.
The time is the dawn of the 20th century. The anchor of the antics is middle-aged lawyer Fredrik Egerman (Peter Boynton), who can't figure out how to coax his loving wife of 11 months (Laura Wolfsen), a barely legal chatterbox, into his bed. Meanwhile, Egerman's son from his previous marriage, the grim-faced seminarian Henrik (Matt Trollinger), stalks around denouncing immorality while privately coveting carnal relations with his teenage stepmother.
The plot thickens when Egerman takes his wife to a play headlined by the celebrated Desiree Armfeldt (Corliss Preston), who happens to be his former mistress. After the show, Egerman seeks briefly to forget his marital frustrations in the arms of the worldly actress. But Desiree has a jealous lover, Count Carl-Magnus (James Sasser), who knows his way around firearms. And the count, in turn, has a neglected wife (Taryn Noelle), who finds herself in an excellent position to bring all this trouble to a head.
The cast is an able mixture of local faces and big-city visitors; Peter Boynton, a transplant from the Broadway stage and the company's artistic director, straddles both worlds. A commanding dramatic and vocal presence, he pairs well with off-Broadway vet Preston, who conveys Desiree's world-weariness with gentle humor. Her "Send in the Clowns," a showstopper designed by Sondheim to be acted as much as sung, is as poignant as it should be.
Wolfsen plays the young bride, Anne, as a hyper, flibbertigibbet teen with whom few husbands who valued their peace of mind would last more than a few days. She calms down for a lovely "Soon," however, promising pleasures to come in counterpoint with Egerman's impatient "Now," and the repression-addled Henrik's "Later." Trollinger initially seems dour and one-note as Henrik, but as he unfurls his strong tenor, his character gains dimension.
While the young, bourgeois Anne and Henrik are titillated and terrified by the prospect of sex, the Egermans' maid, Petra, simply enjoys her rolls in the hay with various swains. Emma Walker embodies the earthy side of love with insolent aplomb. She doesn't always achieve clear enunciation in the tricky patter sections of "The Miller's Son," but it's still a standout, particularly when she climbs a cross beam and sings several feet up in the air.
Noni Boynton works a wide-eyed Leslie Caron look as Desiree's growing-up-fast daughter, Fredrika. ("I'm not legitimate," she notes cheerfully.) As her grandmother, an antiromantic who lives on the considerable recompense of having seduced powerful men, Chick puts the farce in perspective with perfectly delivered caustic asides. She enthralls us with recollections of her conquests in "Liaisons," where Sondheim memorably rhymes "position" with "a tiny Titian" and "touchy" with "duchy."
As is so often the case in musicals, though, the characters who are the most fun to watch are the least redeemable. James Sasser brings a powerful, operatic baritone to the role of the vain bully Count Carl-Magnus, along with a priceless comic fatuity. As his smarter but no more principled mate, Countess Charlotte, Noelle sinks her teeth into Sondheim's anti-hymn to marriage, "Every Day a Little Death." With her icy composure and acid wit, she brings a welcome jolt of Dangerous Liaisons-style nastiness to this summer roundelay.
Noelle also choreographed the show with director Nick Corley. They've made cunning use of the limited space, particularly in ensemble numbers where additional singers step in as a sort of Greek chorus, offering wry perspectives on the main action. The pianist and cellist unobtrusively occupy the back of the stage area, as if they were simply providing "a little night music" at a classy house party.
The show's costumes didn't arrive in time for opening night, and cast members were forced to improvise with prom dresses and the like. This week they will no doubt sport a more consistent turn-of-the-century look. But does it really matter? Like A Midsummer Night's Dream, A Little Night Music captures the spirit of a season when anything goes. It takes major craft to make a musical run this much like a dream.