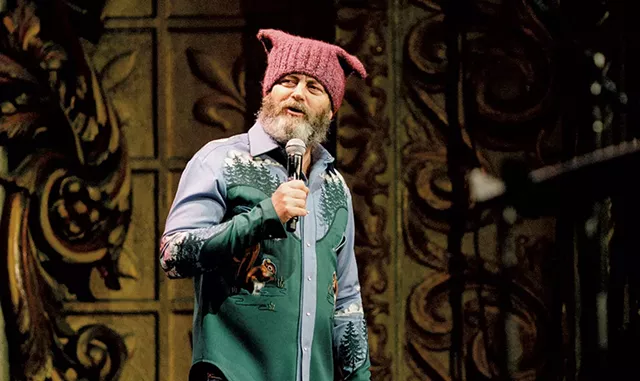 Courtesy Of Michael Gomez
Nick Offerman
Nick Offerman had no idea that his role as Ron Swanson on NBC's "Parks and Recreation" would make him a pop-cultural icon. Perhaps it was the character's regal "high and tight" haircut — one of only three acceptable male hairstyles, according to Swanson — signature push-broom mustache, perpetual scowl or radical libertarian politics that cemented him as a touchstone of 2010s television. Google "Ron Swanson meme" to see endless pages of hilarity.
Offerman is something of a polymath. He's a master woodworker, a trait shared by his former on-screen persona. In 2018, the actor and his "Parks and Recreation" costar Amy Poehler launched "Making It," a gently competitive reality show focused on crafting. Season 2 airs on NBC this holiday season.
He's also an author, having published three semiautobiographical tomes: Paddle Your Own Canoe: One Man's Fundamentals for Delicious Living; Gumption: Relighting the Torch of Freedom With America's Gutsiest Troublemakers; and Good Clean Fun: Misadventures in Sawdust at Offerman Woodshop. The titles hint at themes that propel his one-man music and comedy shows, such as his current production, All Rise, which hits Burlington's Flynn MainStage in back-to-back sets on Saturday, October 26.
Seven Days caught up with Offerman by phone.
SEVEN DAYS: In the promotional material for All Rise, you explain that it's about "aiming higher in life than the channels of consumerism would have us imagine." What does that mean?
NICK OFFERMAN: I had the great advantage of growing up in an agricultural family in the middle of Illinois, so I learned how rich one's life can be by focusing on family and community and hard work. Later in my life, as I became more prosperous, I was faced with the option of, "Oh, now I can step up and buy much finer goods than I could in my youth." And so I tried that and found it incredibly less satisfying than baling hay with eight neighbors and enjoying a bunch of fried-egg sandwiches that Aunt Dee had brought to the field.
SD: So that's the theme of the show?
NO: That's part of it. The heart is examining what it is about human beings that seems to keep us chasing an ephemeral brass ring dangled by billboards and commercials when, in fact, there are trees all around us and gardens available where we can grow our very own tomatoes. It takes a look at the national situation that has us shaking our fists at one another, taking a step back from that and saying, "I believe we get to vote on the situations, so you might wanna look in the mirror for the cause of the problem." I'm happy to announce that many people stay through the entire show.
SD: What is the "light dance" portion of the show?
NO: The entrées of the show are humorous essays rendered by my slow-talking voice with a panoply of songs performed on the guitar. Those entrées are sprinkled somewhat liberally with amusing dance moves.
SD: I'm a total newb when it comes to woodworking and such. What's an easy project to get me started?
NO: Generally, if you want to become a traditional woodworker, I always advise people to hold off using electricity as long as possible. You can learn the fundamentals with hand tools — block plane, handsaw, chisel — which can take you a long way. There are happy and relatively prosperous woodworkers who use very little electricity at all.
Usually, you start off with a board of wood just the size of a paperback book. You learn to sharpen the blades of your hand tools. That's the key to all woodworking. If you know how to properly sharpen your steel, suddenly it's much closer to shaping butter than it is to carving marble. Once you've learned to make a board flat with its edges square and surface smooth, then you can take five or six boards and make them into a box.
SD: We have a little problem straight out of "Parks and Recreation" in downtown Burlington: a pit. A stalled development project has left a giant crater in the middle of the city. Any thoughts on how we should use it?
NO: Well, I found Burlington to be sort of an impossibly attractive location. The first time I visited and cruised down to the water, I said, "Oh, my word. This is Lake Champlain. I see what all the fuss is about," while hallucinating on the dizzyingly effective coffee that is available in that town. With that sort of reverie in mind, I would say a community center, perhaps where one could learn crafts like woodworking and blacksmithing — you name it.
SD: Did you happen to see a recent viral video, starring you, called "Full House of Mustaches"?
NO: That did come across my field of vision.
SD: What was your reaction?
NO: Just astonishment. Anytime something crops up wherein someone is making people laugh with the face God gave me, I have a good chuckle. But that one was particularly fascinating.
Through no fault of my own, to have fallen into this niche of meme creation — that's something that didn't exist when I was going to theater school. So I couldn't have prepared for it by any stretch. So to watch it occur through no efforts on my part is pretty funny and wonderful.
On one hand, it feels lucky to be a muse to people's entertainment. I also find that it's a clear display of how terrifying that Deepfake technology is. So, with that in mind, I'm deeply grateful that it's a source of mirth and not something more prurient. Like, I'm glad they kept my shirt on.
SD: I get what you mean about becoming a meme. I once saw your face stenciled on a San Francisco sidewalk with no context.
NO: It's an interesting thing. It wasn't that long ago that if you wanted to make a T-shirt or a coffee cup with someone's image, you had to get a hold of them and get permission. The internet has sort of obliterated that sense of ownership of one's image.
SD: What can you say about your role in the upcoming series "Devs"?
NO: Well, I'm terribly excited about it. As a theater actor who became known mainly for this one comedy role on "Parks and Recreation," it's thrilling to participate in a gorgeous sci-fi thriller from Alex Garland. Once "Parks and Recreation" was over, I said to my agents, "I'm hoping I can find some kind of minor Bryan Cranston turf," referring to how he went from many seasons of "Malcolm in the Middle" as a beloved, hilarious sitcom dad. And suddenly he's Walter White, destroying the world with his dramatic chops on "Breaking Bad." Now, I'm no Cranston. I'm perhaps more of a Buddy Hackett or Ernest Borgnine. I hope that's not too self-flattering.
To work with this incredible cast and Alex and his crew — he's a beautiful artist. He's got the brain of a novelist, and he shoots scenes of Kubrickian beauty. Everything is so velvety and gorgeous.
Based on his last couple of films, Ex Machina and Annihilation, I'm pretty confident this is going to be a really solid, exciting and innovative eight hours of television. But I've long since learned to inure myself emotionally until we see what the audience has to say. But it's a ripping good time and I'm incredibly grateful that I caught his gaze.
This interview has been edited and condensed for clarity and length.