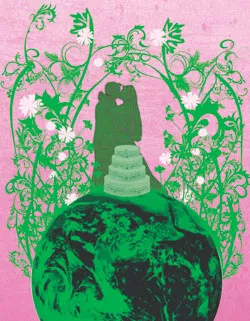 Behold the endangered Conventional Wedding: See its giant footprint tromp across the globe in search of goods and services for its "perfect special day." Now it's in New Zealand, picking up the lamb entrée. Then it's over to Hawaii for the flowers. Then New York City for the 13-piece band, Paris for the bridal gown, and California for the videographer. Poor thing, it's tired from all that traveling. It's feeling guilty about its environmental impact, and its dwindling checkbook balance.
Now see evolution in action. From Conventional Wedding's genes has emerged a lighter, more nimble creature — Green Wedding — that's all about being local and in-season. And its numbers are increasing in the Green Mountain State.
Krista Washburn, editor-in-chief of Vermont Vows, has been tracking the Green Wedding for a couple of years. She started the biannual glossy publication about five years ago because she felt that other wedding magazines weren't doing Vermont justice. Washburn says she was watching out-of-state couples get married in Vermont, "importing wedding professionals with them." Vermont Vows, which accepts advertising solely from the state's own wedding industry, was a direct response to that troubling phenomenon. "The goal with what we do," Washburn says, "is to keep the money local, keep the money in-state."
And it's a lot of money. Vermont is the third most popular wedding destination in the United States, according to Washburn, who is also the vice president of the Vermont Association of Wedding Professionals. VAWP is a nonprofit organization that works in tandem with the Vermont Department of Tourism and Marketing. Together, they've analyzed the trickle-down effect of Vermont weddings — the guests who purchase gas and maple syrup, stay in hotels, etc. The conclusion: Nuptials generate more income for the state than does the ski industry. And, in the tight-knit Green Mountains community, it's getting easier for couples to buy green.
Supplying a wedding with local products and services is nothing new, of course. But with an increased awareness of threats such as global warming comes a cultural movement toward respecting Mother Earth. And when it comes to weddings, Washburn reports, eco-consciousness is all the rage. "All the stars are going green, everyone's going green," she says. "But who cares how this trend started? We want this to happen."
If you're going to go green, you might as well start with the stuff that grows on green stems. South Hero doesn't spring to mind as a floral enclave, but it's the home of Gwen and Minner Hobbs, the mother-daughter owners of Flowers In Season. They grow 7000 seedlings per year on their 3-acre plot. The flowers are not certified organic, but Gwen says they don't use any chemical assistance for the yearly bloom. "We just grow 'em," she offers. About half of the couples who enlist the Hobbs' services want to make sure all the flowers are local. Gwen adds that, in floral decorations, "There's a trend toward natural elements," such as birch bark pulled from firewood.
Flowers In Season doesn't rely exclusively on its own flowers for the 25 or so weddings it supplies every year, but the Hobbs aren't afraid to get more creative with their sourcing than just calling the wholesaler. Sometimes they'll cut flowers from the Burlington graveyard — with permission. "We're willing to go out and find things that just grow wild," Gwen explains. What do winter brides do for flowers, then? "I don't know — we don't talk to those people," she quips.
Local food for wedding receptions is a little more feasible in the winter, though still not the easiest proposition. Liane Mendez, 34, a chef-owner of Let's Pretend Catering in South Burlington, says that during the cold months, "We work with root vegetables and things that can be cellared."
During the summer, however, it's game on. "When people contact us," Mendez relates, "they're very interested in the local foods, the fresh flavors, the non-processed items." Let's Pretend is part of the Fresh Network, and most of the produce the caterers use comes from Half Pint Farm in the Intervale. The meat hails from Misty Knoll Farms in New Haven and Wood Creek Farm near Vergennes.
"We're really trying to educate people on the importance of fresh food," Mendez stresses. Part of that tutelage involves recognizing that local food can be more expensive than farflung fare. "There's a skill involved with growing all these crops, and the short growing season, so it does cost a little bit more," Mendez explains. On average, going the local route with Let's Pretend costs $3 to $5 more per person, she says.
For more casual weddings, the caterer offers biodegradable bamboo plates, which are becoming more popular as the "green wave" washes over the waste sector. The bamboo looks like thin wood, and the plates break down in six months in the landfill. Sometimes Let's Pretend can compost food waste, as well, depending on where the event is held. Shelburne Farms, for one, makes it "very easy to make a green event," Mendez notes, "because they have bins for compost and recyclables all set up."
The options for assembling an environmentally conscious wedding are legion. But coordinating all the components can be a challenge, especially for out-of-staters without local experience. That's what spurred Glover-based entrepreneurs Amalia Harris, 30, and Laura Thompson, 25, to launch a consulting business called Green Vermont Weddings. Both women planned their own weddings in the Northeast Kingdom, using biodegradable plates and cutlery, food grown in their own gardens, and cut wildflowers. Back then, about five years ago, there was no name for that style of wedding; it was just an extension of their values. "These are all personal ethics that we hold as a family and as a community," Harris explains.
But Harris and Thompson knew so many wedding-industry purveyors in the Northeast Kingdom that, eventually, they decided to create a "hub" for less-connected couples who seek to marry in Vermont. They hope to make a splash — not just for their sake, but for the local business landscape. "We strive to formulate a sustainable economy for our community in general," Harris declares, "and hopefully, the green trend will continue. Hopefully, it's not just the new color this season."
Elizabeth Reaves, 28, and Michael Zsoldos, 36, of Woodstock, didn't need much help planning their green wedding. The Fairfield County natives knew from the start they were going to do it simply and elegantly. "One of the problems that Michael and I had with getting married," Reaves relates, "is that it seemed extravagant. We wanted to feel that our wedding was not wasteful."
Zsoldos, a jazz musician, grew up in St. Albans, while Reaves, the development director at the Killington Mountain School, was raised in Fairfax on land that has been in her family for four generations. The close proximity of their families and friends made community a strong thread in the couple's relationship, and they wanted it to run through their wedding, too. "We wanted it to be true to the things that we love about Vermont, and that's the foods from the local farmer, knowing the restaurant owner who was our caterer, and making our wedding as much of a community event as possible," Reaves says.
While she was planning the wedding, Reaves learned about other couples who were buying unusual favors: CO2 offsets for their guests' travel. She examined her own invitation list and saw that the guests were coming from as far away as California and South Dakota; on average, they would travel more than 500 miles. But the offsets would cost about $20 per person — and, besides the expense, Reaves thought such a gift seemed too detached from the spirit of her special day. "So instead," she says, "we went out and picked strawberries and made jam."
The rest of the celebratory food likewise originated within a tight radius. Reaves and her mother picked vegetables from the Hudak Farm to give to the caterer, Chow! Bella — both are in St. Albans. The meat came from a local supplier, and the bread was delivered fresh that afternoon from Gerard Rubaud's Westford bakery.
Reaves ticks off the other environmentally sensitive aspects of her wedding: flowers from the gardens of both mothers-in-law, recycled-paper invitations, composted food waste. But she'd rather comment on why so many people want to tie green knots these days. "I think environmentalism, in a sense, is a soul-searching; it's like a religion," she suggests. "It's replacing something that people lost."
Can the biodegradable bridesmaid's dress be far behind?