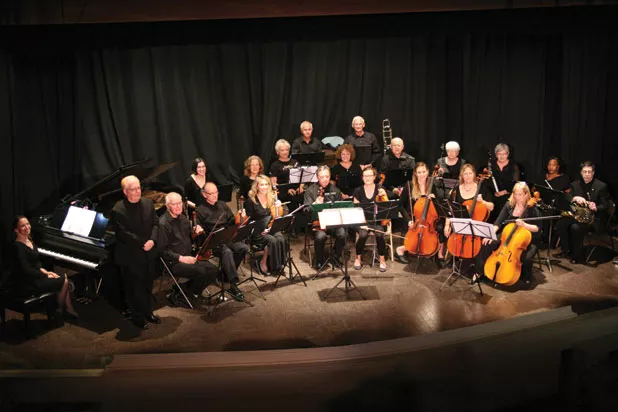 Many Vermonters contemplate retiring in warmer climes. But, after 60 years in humid Georgia, Ken Michelli was happy to move in the summer of 2010 to Newport, a Northeast Kingdom town just 10 miles shy of windswept, rural Québec. For one thing, he says, now he and his wife can comfortably step outside for more than six months of the year.
The tiny town (population 4530) also needed something Michelli could offer: music. It lacked a community orchestra, so the euphonium player and former elementary school band teacher and piano tuner pursued his dream of founding one. In February 2011, Michelli began building an orchestra from a quartet he'd started at the First Universalist Parish in Derby Line, attracting other players by word of mouth.
The Newport Area Community Orchestra now numbers about 30 musicians. This Saturday, its third season launches with a concert upstairs in the town's public library, featuring selections and excerpts from Mozart, Mussorgsky, Brahms and Witt. The evening is sure to be an intimate affair: The musicians will number 23, and the high-ceilinged assembly room fits an audience of 50 to 75.
About eight community orchestras exist around the state, allowing folks with nonmusical day jobs to practice and perform together on their instruments while providing area residents with free, live classical music.
Michelli, however, faces challenges that, say, the Northeast Kingdom Community Orchestra in Lyndonville or the Vermont Philharmonic in Montpelier does not — or not to the same degree. A sparse population means not just smaller audiences and less money but a smaller pool of musicians. That means juggling instrument parts and transcribing scores to fit the kinds of musicians available.
"It's not a typical group. You just have to make do," admits Michelli by phone in his deep southern drawl. String players are sorely lacking, for example, so he steps in to play cello when needed, as well as bassoon.
Newport pharmacist Marc Semprebon and his wife, Roslyn, of Beebe Plain both play French horn in the group, but they've also played viola and cello parts transcribed for their instruments. "Our other horn player plays the bassoon," Marc Semprebon says, "and we've had flute players playing oboe parts." Recently, he adds, the group gained an oboist: A Canadian started driving down for rehearsals from Sherbrooke.
Transcription is generally tackled by clarinetist Chris Maginniss, a retired patent attorney who lives in Morgan. For Saturday's concert, Maginniss "put two clarinets on oboe parts" for Mozart's Andante for Flute and Orchestra in C major; arranged four selections from Mussorgsky's Pictures at an Exhibition for small orchestra using a simple piano-four-hands version; and reduced Friedrich Witt's Symphony in C major — of which the group will play two movements — to piano, oboe, clarinet, flute and string parts.
"Balance is important," Maginniss comments, after insisting he's no expert on musical transcription. "You have to find out who can be heard, and how rich the harmonies can be."
The fourth work of the evening, a single movement of Brahms' Clarinet Sonata in F minor (Op. 120), also required some rearranging so that Maginniss, who will solo in it, could be heard above the ensemble.
The clarinetist took up his instrument only five years ago after a 49-year hiatus. Maginniss started playing in the NEK Community Orchestra, then learned of the Newport orchestra from Michelli when the two played together in Newport's community band, the Northeast Kingdom Wind Symphony.
Michelli says more than one of his musicians hadn't played for years before joining the orchestra. "They'd been wanting to play in something like that; I just was able to offer them the opportunity," he says.
Despite his modest matter-of-factness, Michelli clearly works hard to provide that vehicle. Semprebon notes that "there's not a lot of talking" during rehearsals. Maginniss seconds that, saying the musicians "don't get much rest time."
And the conductor is constantly adding posts to a killer website he created for the orchestra whose visual appeal outstrips that of some professional groups' sites. (Michelli ran a business repairing and selling computers before retiring.)
The hard work is shared. Semprebon volunteers to introduce each work of music at the Newport orchestra's seven or eight concerts a year. That requires extensive research, and the horn player strives to make the presentations entertaining, too. "I like to play with the audience," he admits.
Asked for a sample of what he'll say at Saturday night's concert, Semprebon offers only a teaser: "With the Witt symphony, I'll say, 'This was a piece that he composed — or did he?' It has an interesting history. A lot of music does."
The Newport Area Community Orchestra's benefits are considerable — and not just for musicians such as Maginniss and Semprebon, who now travel only a few miles to rehearsal, compared with an hour's drive to Lyndonville.
"Music always fills a need for the community," Maginniss comments. "It enriches people."
Newport Area Community Orchestra Fall Concert, Saturday, November 9, 1 p.m., at the Goodrich Memorial Library in Newport. Free.