Wayne Tarr
Brittany Domingue and her daughter, Payton, at the Newport Early Childhood Center
B
rittany and Homer Domingue are raising their two young children in Newport. To make ends meet, they both have full-time jobs. To reliably show up for work, they need something else: all-day care for their children. But child care options are scarce and expensive in the Newport area, Brittany Domingue said.
A year ago, their daughter, Payton, qualified for Head Start, the federal program that helps families prepare children for school. Domingue began dropping her off at its location in Derby, near her workplace.
Now 4, Payton could begin pre-kindergarten, but pre-K ends each day at 2 p.m. — meaning that one of her parents would have to leave work to take her to another site. Many centers, Domingue said, would charge for a full day even if Payton only stayed for a few hours.
And Domingue's employer of 14 years would frown on her daily departures. "No matter how flexible they are," Domingue said, "I can't be leaving work to cart her around."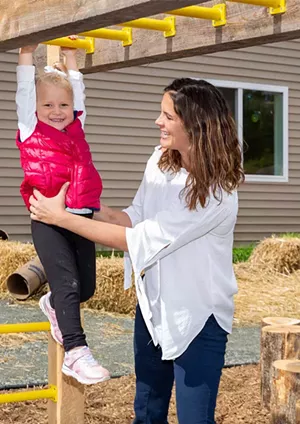 Wayne Tarr
Katie Watts helping Lexi on the jungle gym
Now she doesn't have to: In September, the Newport Early Childhood Center opened near the Domingue's home. It houses Head Start, which Payton can attend through the afternoon, and Ready, Set, Grow, a child care center that can keep her for the rest of the day. Best of all, Domingue said, the center operates from 6 a.m. to 6 p.m.
"I don't have to rush to get her there and get my son to school," she said. The center allows the Newport couple to get to work on time and not have to leave in the middle of the day.
For local business leaders and public officials, the Newport Early Childhood Center offers a solution to a major economic problem for the town and surrounding Orleans County: a lack of quality care for the kids of working parents. They also consider the center, a newly created hub for children's services, as a potential model for other public-private child care partnerships around the state.
The new child care program is a project of nonprofit Northeast Kingdom Learning Services, Inc., which offers adult education, high school completion and school-age tutorial services. Its executive director, Michelle Tarryk, pulled together funding from various sources — including contributions from local businesses and a $45,000 grant, plus expert technical assistance from
Let's Grow Kids
, a statewide movement for high-quality, affordable child care — to create the Newport Early Childhood Center and its Ready, Set, Grow child care program. Together, they'll provide 72 much-needed child care slots. And Tarryk plans to expand in 2020; the center is licensed to serve up to 98 children per day.
Aly Richards, chief executive officer of Let's Grow Kids, praises the group effort. "It's the absolute example of creativity and collaboration and the community coming together to figure out a way to get this done," she said. "We're going to see incredible ripple effects from this in Newport."
State Rep. Michael Marcotte (R-Orleans) echoes that sentiment. He represents the town and city of Newport, as well as Coventry, Irasburg and Troy, and sits on the House Committee on Commerce and Economic Development.
"Child care is one of the components of having a good workforce," he said. "For us up here in the Kingdom, what Michelle is doing can make a big difference to a lot of people's lives and help the businesses around here."
---
Good News for Newport
Wayne Tarr
Parents dropping off their children at the Newport Early Childhood Center
Newport's economy could use a boost. The EB-5 development project there that had promised to bring hundreds of jobs to the area has been abandoned. According to recent U.S. Census Bureau estimates, Newport's median household income is just $38,576 — about two-thirds the statewide median of $57,808.
The commercial building on Farrant Street where the Newport Early Childhood Center is located was once home to a Vermont Teddy Bear factory and warehouse. Now, many of the current occupants play with teddy bears rather than make them.
But the building is still vital to the economic health of the area. In addition to Ready, Set, Grow and the region's Head Start, it houses Children's Integrated Services, a state entity that addresses the developmental needs of children up to age 5. And it will soon be home to the Kingdom Children's Museum, a collection of interactive exhibits and hands-on activities. The museum will open this fall in its first permanent space after 16 years as a traveling operation.
This is great news for Newport families. Census data show that about 70 percent of Vermont children under age 6 have parents who work and likely depend on child care.
A 2018 study
published by Let's Grow Kids found that regulated child care programs only have capacity for about half of Vermont infants and toddlers likely to need care.
In Orleans County, the child care crunch is even more severe, the study found. A whopping 95 percent of area infants likely to need care lack access to a high-quality program; 71 percent of infants there don't have access to regulated programs at all.
Toddlers in Orleans County fare only slightly better: State-regulated child care programs can accommodate 59 percent of them; local programs with high-quality ratings can handle just 10 percent of the demand.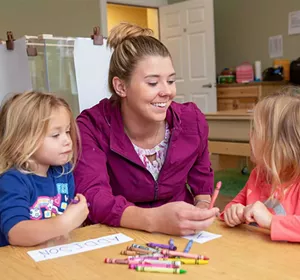 Wayne Tarr
Brianna Hawksworth spending a few minutes with her daughters, Addison and Aubree, before leaving for work
Parents aren't the only ones celebrating the dozens of additional spots now available through the Newport Early Childhood Center; local employers like RDI are happy about it, too. The Ohio-based company has 115 workers at its Newport call center who conduct email, chat and phone correspondence for clients. Alexis Carpenter, who oversees employee wellness and culture for RDI in Vermont, estimates that about 35 percent of employees at the Newport center are single parents.
About four times a week, some kind of child care emergency arises that requires a parent to leave work, she said. The employee loses the hours and income, the company loses the productivity, and other workers have to pick up the slack.
"It definitely impacts the business, revenue-wise and culture-wise," Carpenter said.
RDI is expanding and can use the Newport Early Childhood Center as a recruiting tool, Carpenter said. When the company makes a job offer, candidates often say they'll need to take care of their kids first. RDI has even considered providing its own child care on-site, she added.
"If we can eliminate this one hurdle for people, it would make a world of difference," Carpenter said.
Besides freeing up local parents to enter the workforce, Ready, Set, Grow will employ 12 to 15 workers at full capacity, not including staffing for the museum, Tarryk noted. In order to better attract and retain the skilled staff necessary to provide high-quality care, the program offers a starting wage of $15 per hour, Tarryk said, compared with a child care industry average of about $13 per hour.
The Newport Early Childhood Center also includes a teaching component to train professionals in early childhood education. Through arrangements with the Community College of Vermont and North Country Career Center, the new child care facility can offer internships to those taking a new course to qualify as a Level 1 child care provider. With that certification, they'll have the experience to walk into positions at other child care centers, start their own operations or pursue other educational careers, Tarryk said.
And the Newport Early Childhood Center sets the foundation for youngsters in its care to grow into productive, well-adjusted members of society. This early period of nurturing and brain development influences so much in a child's future: healthy relationships, perseverance, and resilience against disease and addiction, Richards said.
"We see the effects through the child's life, as a society," she said. "A thriving economy starts with child care."
---
Collaboration Is Key
Wayne Tarr
Teacher Dolly Spooner telling a story to the kids at the Newport Early Childhood Center
What makes the Newport center unique — and a possible model for innovative solutions to child care challenges across the state — is its partnerships with other child-centered community organizations. It not only makes logical sense to gather multiple child-oriented offerings under one roof, but this
"shared services"
approach allows the Early Childhood Center to spread overhead and operational costs across multiple organizations, making it more financially sustainable, Tarryk said.
Officials at North Country Hospital saw the chance to support all those community organizations at once with a $10,000 donation to the new center, said Brian Nall, the hospital's CEO. The combined effort promises a greater chance of the project's success, he said.
"This at least adds to the supply [of child care] in the market and supports organizations that are already doing good things," Nall said.
The Newport Rotary also gave $10,000 to launch the new center, which some of its members toured a couple of weeks before the first youngsters arrived. The paint had barely dried on the brightly colored murals created by local artists at the front entrance.
The visitors wandered through the classrooms for infants and toddlers. In the preschool room, for ages 3 to 5, they marveled at the workmanship of a miniature wooden toy kitchen.
Wayne Tarr
Hank and Carter in the play kitchen
Tarryk pointed out security systems and the one-way observation windows into each classroom for training and evaluation. She boasted about the center's ZONO machine, a giant stainless-steel sanitizer that kills lice, bedbugs, bacteria and viruses from toys, clothing and other items. Such invasions can shut down a child care center, leading to lost days at work for parents.
What does child care have to do with Vermont's economy? Everything.
Visit Let's Grow Kids to learn how Vermont businesses are supporting their employees' child care needs and growing the economy.
David Converse, a Rotary member and local funeral director, said the center will help Newport parents by giving them more child care options closer to home. His son and daughter-in-law both work and had trouble finding an open slot for their preschool-age son before finally enrolling him in a program near where they live in Derby.
"They were starting to get panicky, thinking they were going to have to hire a nanny," Converse said. "A center like this is terrific, because they can start at baby and go right through 5 years old here."
In the center's state-of-the-art kitchen, Tarryk described another inventive local partnership: Umbrella, a local organization supporting women affected by domestic and sexual violence, is handling the center's food service through its Cornucopia culinary training program. A Cornucopia graduate will oversee the kitchen with a staff of other program participants who will get more experience as they prepare quality food for the center's kids.
The contract costs far less than Tarryk would have paid to hire the center's own kitchen workers, she said: "It's enough of a savings that it makes a difference to our bottom line."
Those kinds of cost controls help keep tuition rates a bit lower than average at Ready, Set, Grow, Tarryk said. To make it more affordable for more parents, the center set its fees at about 75 percent of the market rate identified in the state's 2017 survey of providers.
That helps families, who are paying. Vermonters are spending up to 40 percent of their household income on child care. The Early Childhood Center's rates, along with Head Start subsidies, mean the Domingues have access to quality care they otherwise couldn't afford.
---
A Possible 'Pilot Project'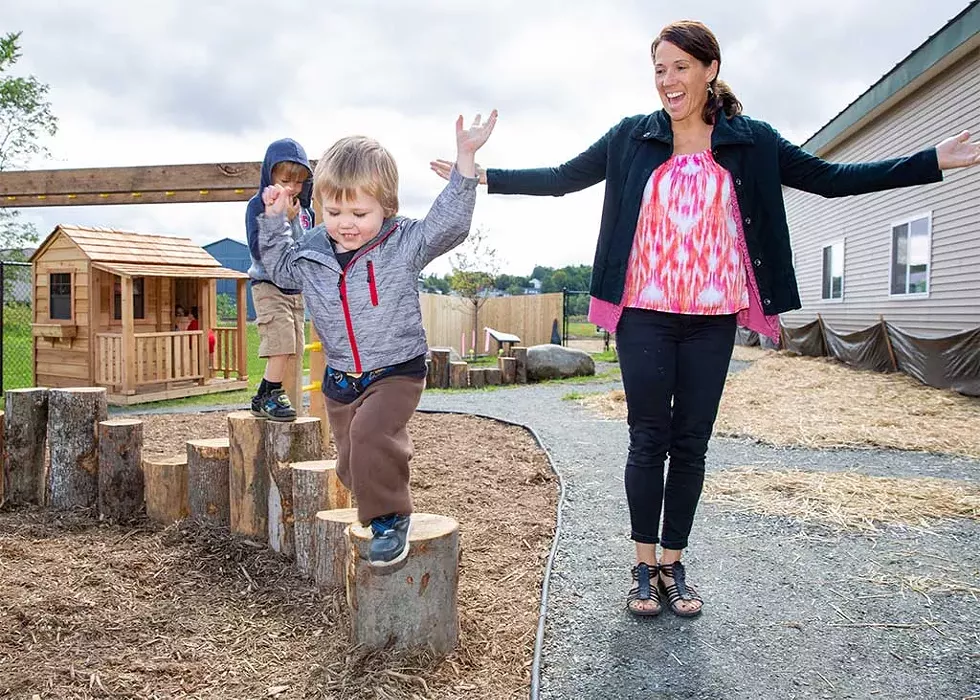 Wayne Tarr
Adonis and Moses try out the balance logs with Michelle Jenne on the Newport Early Childhood Center playground.
The Early Childhood Center still has to close a funding gap of about $85,000 to cover the remaining bill for building renovations, said Tarryk, who's talking to lenders. That money is necessary to get the before- and after-school programs going, she said.
She's also appealing to businesses to invest in the center. A playground sponsorship would cost $3,000. A $10,000 classroom sponsorship would earn the supporter's name on a plaque.
She hopes local companies will offer their employees child care subsidies to help them afford the center's tuition. RDI is considering that as a worker benefit, Carpenter said.
the larger need for a statewide policy of funding an adequate child care system
.
"We all have to come together, and that's what this Newport project exemplifies," she said.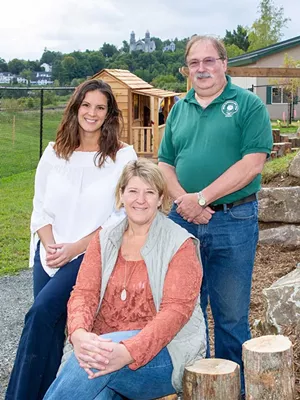 Wayne Tarr
Northeast Kingdom Community Action program director of Head Start Katie Watts, Northeast Kingdom Learning Services executive director Michelle Tarryk and Rep. Michael Marcotte (R-Orleans)
Let's Grow Kids supported the Newport center through its
Make Way for Kids
initiative, which offers grants and expert technical assistance to increase the availability of high-quality child care across the state. A recent $250,000 federal grant for the program will help it get more child care centers like this one off the ground, Richards said.
Rep. Marcotte sees the center as an inspiration, as well. "This could be a pilot project," he said. "We can see what kind of a success it is and could replicate it across the state."
Additional support from Let's Grow Kids is helping Tarryk and her organization create a network of six child care providers across three counties to share ideas and resources. The group has already paid for a shared playground safety inspector and is looking into shared insurance coverage. It also plans to gather for professional development and hopes to create a pool of substitute teachers.
"The more we can lift each other up," Tarryk said, "the more we're going to be able to lift up the entire field."
And more support for child care in general means more peace of mind for parents like the Domingues. Brittany Domingue said she's happy to know that Payton and her new friends at Ready, Set, Grow are safe and learning at the center.
"My daughter, she loves going there," said Domingue. "So I think it's got to be a relief for a lot of parents that they have that option."
Contact Ready, Set, Grow at readysetgrow@neklsvt.org or 802-995-2050. This article was commissioned and paid for by Let's Grow Kids.