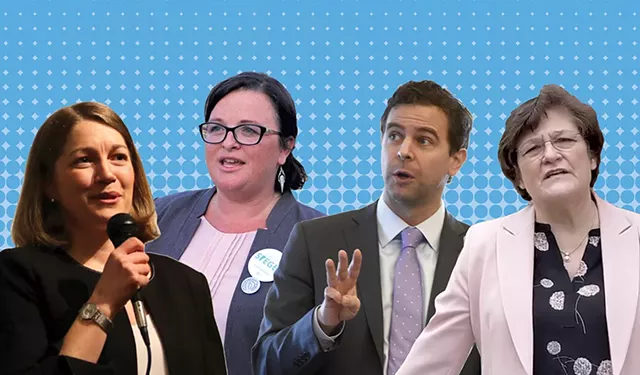 Courtesy
From left: Molly Gray, Brenda Siegel, Tim Ashe and Debbie Ingram
Molly Gray, an assistant Vermont attorney general virtually unknown to voters before declaring her candidacy for lieutenant governor six months ago, has surprised many political observers since then.
Although she is the Democratic candidate who entered the race with the least name recognition, Gray has assembled a lengthy list of heavy-hitter endorsements and outraised her competitors. Those candidates — Senate President Pro Tempore Tim Ashe (D/P-Chittenden), Sen. Debbie Ingram (D-Chittenden) and policy advocate Brenda Siegel — seem to have noticed, making Gray the target of their questions and criticism in recent weeks.
Some of Gray's supporters have even floated her as a potential candidate for higher office — all before her first-ever election on August 11. Even if Gray comes up short, observers say, a strong showing at the polls would establish her as a candidate to be reckoned with in the future.
Gray and her supporters attribute her traction to a robust campaign and the electorate's desire for change. Voters want "new energy, new thinking, new perspective," said Gray, who argues that electing the "same leaders" will only result in the "same outcomes."
But as she promises a fresh perspective, Gray remains deeply connected to a stable of political insiders, from former governors to Democratic operatives tied to U.S. Sen. Patrick Leahy (D-Vt.) and Rep. Peter Welch (D-Vt.).
"She's got a seal of approval from those people, and that's powerful," said Kevin Ellis, a former longtime Vermont lobbyist who supports Gray. "Every one of those people has a Rolodex ... They're on Twitter; they're on the phone; they're raising money for causes. And every time, they're talking politics."
Older Vermonters likely recognize Gray's family name. Her father, Bob, a cross-country skier, competed in the 1968 and 1972 Olympics. Her uncle Bill led Leahy's 1986 senatorial campaign and made an unsuccessful bid for the U.S. Senate himself two years later. Leahy later nominated Bill Gray to be a federal judge, but Gray died of cancer in 1994 before he could be confirmed. Eulogizing his nominee on the Senate floor that spring, Leahy recalled sitting on the porch of his Middlesex home with Bill Gray to talk of "our children, of our families, of life."
Molly Gray got her first taste of politics a decade later, interning at Leahy's Vermont office before working on Welch's 2006 House campaign. Though neither federal lawmaker has weighed in on the LG race, Gray has received support from a number of their current and former staffers, including Leahy's longtime campaign manager, Carolyn Dwyer. Democratic mega-donor Jane Stetson of Norwich is also a supporter.
Gray and her allies challenge suggestions that her political connections have contributed to her success. They argue that such a rationale overlooks her strengths as a candidate and her vision for the future. They note that her campaign has worked hard to engage voters and has earned support from every corner of the state.
"There hasn't been a person like her to come along in quite a while," said Luke Albee, a Washington, D.C., lobbyist, Leahy's former chief of staff and a good friend of Gray's late uncle. "She's the kind of person you want steering the ship in the coming decades. That's a legitimate feeling that Vermonters have."
But some of Gray's opponents have a less rosy view of her sudden prominence. They argue she has persuaded the media that she became a viable candidate on her own merits when in reality she has benefited from the same kinds of powerful political connections that have influenced elections for decades.
"I don't believe that political campaigns in Vermont should be about who your parents knew when you were children, [or] that you have access to the most wealthy, most powerful people in our state," said Siegel, a progressive activist who has little support from top Democrats but has been endorsed by several well-known grassroots organizations. "If we want to have true leadership, where all people are reflected and represented, then we cannot confuse access with success, because that is how privilege plays out across our world."
Ingram said the depth of Gray's connections became clear to her when she started calling former officials and Democratic donors. "Pretty much everybody I talked to who's supporting her tells me it's because of her family, and they've known her since she was a little girl," Ingram said. Asked for names, Ingram laughed and replied, "Oh, so many."
Ashe did not join the criticism of Gray, saying he has no interest in discussing other candidates. But he did address the question of whether the decision of some top Democrats to support Gray is a rebuke of his own candidacy — given that it is he, not Gray, who has served in the legislature for more than a decade.
"My entire career in public service has been focused on getting things done," he said. "I don't cultivate people. I don't network or use people for my political purposes. It's all been about getting the job done, and so I haven't gone around kissing rings. I just go about my work."
He went on to note that many of his Senate Democratic colleagues support his campaign. "They're the people who know what the job requires. They know my abilities inside and out and exactly what Vermont will be getting," he said. "Those are the people, frankly, who I'm best judged by."
Gray maintained that she is anything but the well-connected figure her opponents have made her out to be. She acknowledges that some of her endorsements are from people she has known for many years. But she said framing those relationships in political terms fails to "recognize the value of all the relationships that we build and maintain because we care, and that's who we are."
"I don't buy into this idea that it's political connections that get you elected," she said. "I think it's hard work, compassion and commitment to caring for people that is what makes public servants successful."
"My opponents might want to make this race about me," she later said. "It's not. It's about the needs of Vermonters that have gone unaddressed for too long."
Gray was raised on her parents' farm in Newbury and, after graduating from the University of Vermont, spent roughly four years in Washington, D.C. — first working for Welch, then for the International Committee of the Red Cross. She returned home to attend Vermont Law School and left the state again in 2015 to study in Switzerland. After a brief return to Vermont to pass the bar exam, she went back to Switzerland in 2017 to work for an international organization that monitors private security contractors for compliance with human rights standards. She returned to Vermont in mid-2018 and now lives in Burlington.
VTDigger.org reported last month that Gray had sought legal advice to determine whether her time abroad disqualified her from seeking office. The Vermont Constitution says, "No person shall be eligible to the office of Governor or Lieutenant-Governor until the person shall have resided in this State four years next preceding the day of election."
Gray maintains that the Switzerland job was never meant to be permanent and that she had always planned to return to Vermont. She likens her situation to members of the National Guard who serve overseas and says she firmly believes she is eligible to run.
The explanation hasn't satisfied Ingram, who pressed the issue at a recent debate and told Seven Days that she believes Gray should have waited two more years.
"You can think of yourself as a Vermonter," said Ingram, who herself lived in Bangladesh from 1995 to 2002. "[But] that has nothing to do with your citizenship. You just can't physically reside in two different places."
Gray got a legal opinion from Burlington attorney Jake Perkinson, former chair of the Vermont Democratic Party, that backs her position. But both the Secretary of State's Office and the Attorney General's Office say it is not their job to vet candidates' eligibility, so a court would have to decide.
Though Ingram said she would not contest Gray's eligibility — nor did she expect any other Democrats would — she feared that Republicans would not be so forgiving in the general election. Even if Gray were to prevail in court, Ingram said, "it's going to be a cloud hanging over the party, which I think is really unfortunate when it could be solved — I mean, it's not like she's disqualified for life. All she needs to do is wait another two years, and then there would be no question. So, I don't quite understand her rush."
Despite asserting that Vermont is her home, Gray went a decade without casting a ballot in a state election, missing every one between 2008 and 2018, state records show, including the momentous 2016 presidential race. Gray said she wasn't proud of her lackluster voter participation. She said President Donald Trump's election was a "wake-up call."
"It's something that I have learned from," she said.
Her opponents have seized on the opening. To Ingram, Gray's voting record was "one more example of how she has not been a part of our democracy."
"Most people want their elected officials and public leaders to have participated in democratic processes, which includes voting, and to have run for lower offices and to have acquired all that experience," Ingram said.
Siegel agreed. She said a key role of the lieutenant governor's office is to engage the electorate and encourage voters to exercise their civic duty. "That means that we have to have that true, steadfast belief — and record — of working towards having a stronger democracy," she said. "Part of that is voting."
Gray's limited participation in Vermont politics hasn't stopped some of the state's top Democratic figures from supporting her campaign, former governors Madeleine Kunin and Peter Shumlin among them.
Kunin taught Gray at UVM and has become one of her mentors. The Shumlin connection goes back further. The former governor told Seven Days last month that he was a close friend of Gray's uncle and has known the candidate her entire life. "The Grays are like family to me," he said. Both figures called Gray one of the most promising leaders of her generation.
Gray's political network has proven to be a rich vein for fundraising. Over the campaign's first six months, more than 870 donors have contributed $190,000, twice that of her nearest competitor. She spent $45,000 on a recent run of television advertising, becoming the first Democratic LG candidate to hit the small screen.
About $33,500 of Gray's financing arrived in contributions of $100 or less. The majority of her campaign chest came in large donations, including some from political allies Gray met during Welch's 2006 campaign. After interning for Leahy's Burlington office her junior year at UVM, Gray volunteered for the Welch campaign and was eventually brought on full time as a scheduler.
She rubbed shoulders with top political professionals. A handful of Leahy's staffers took leave to pitch in on the Welch campaign. "They were in our office. They were sleeping on our couches," recalled Selene Hofer-Shall, a longtime Democratic fundraising consultant who supports Gray.
"We were like the Hessians," said Albee, recalling how the senator's staffers often helped out like-minded Democrats. "We were a political army."
Fourteen years later, Gray remains close to two central figures connected to Welch: Dwyer, who managed his 2006 campaign, and Stetson, who was his finance chair. Stetson is a former finance chair of the Democratic National Committee.
Stetson provided one of Gray's first big-name endorsements; she and her husband, Bill, have contributed a combined $6,000 to Gray's campaign.
Win Smith, president of Sugarbush Resort, told Seven Days that Stetson first alerted him to Gray's candidacy, describing her as a "very bright, capable young woman." Based on Gray's website and a "brief conversation" with her, Smith agreed with Stetson's assessment. He sent a $1,000 check to the campaign.
Neither Dwyer nor Stetson returned calls for this story.
Other Leahy alumni have recently contributed to Gray's campaign. Former staffers Ed Pagano, Maggie Gendron and Theresa Alberghini DiPalma donated $500 each. Albee kicked in $1,000 and invited Gray to a Zoom meeting of Beltway denizens with Vermont ties. He also recommended her to some friends.
Gray's support from people she met more than a decade ago comes as little surprise to Hofer-Shall. "Molly has just built some really good relationships over the years. She's genuine," she said, noting that she was happy to help prepare Gray's first financial report when the campaign asked. Of those who have entered the "Welch circle" over the years, Hofer-Shall said, "It's a family."
Albee had a similar read. "The Leahy folks and the Welch folks are very close and have remained close," he said. "We're all looking for the next generation of leaders."
That pursuit could soon take on added importance given Vermont's aging congressional delegation: Welch is 73; Sanders, 78; Leahy, 80. As the state strives to end its dubious distinction of having never sent a woman to Congress, some Gray supporters believe that she should be in the running.
"Could she be governor or congresswoman or senator?" Ellis asked. "Absolutely. That's definitely part of my calculation."
Gray has avoided such discussions. She said her focus remains on the primary. But when asked whether she has any ambitions for higher office, she does not rule it out.
"If I get to serve Vermont for the rest of my life, that will be a life well lived," she said.
Disclosure: Tim Ashe is the domestic partner of Seven Days publisher and coeditor Paula Routly. Find our conflict-of-interest policy here: sevendaysvt.com/disclosure.