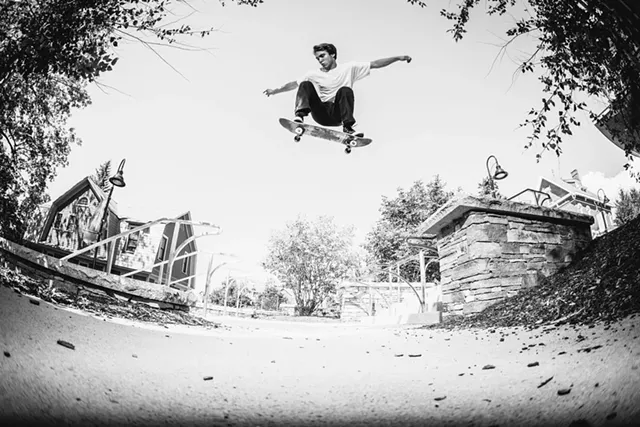 Courtesy Of Peter Cirilli
Lj Twombly ollieing at Champlain College
Evan Litsios sounds like an ethnographer when he talks about Burlington's skateboarding scene. Its culture, he asserts, is built on a foundation of shared stories and oral histories, whether related to tricks, local skate spots or the reflections of longtime skateboarders. On Thursday, December 7, a few of those stories will manifest physically in the form of a zine called Sniff This BTV, devoted to chronicling Burlington's skating community from the 1990s through today.
The debut issue of this perhaps semi-regular publication will be 68 perfect-bound pages printed in California and sold for a yet-to-be-determined sum — but likely about $10. It will feature more than 70 photographs, an essay by Calum Buchanan on crossing cultural boundaries in a foreign country through skating, an interview with area skater Kyle Burroughs, jokes by comedian Richard Bowen and more.
Though Litsios, 28, is credited as the editor, the magazine is a group effort: 23-year-old photographer Peter Cirilli is the deputy editor, and eight designers, including Cirilli, contributed to the layout. About as many photographers provided shots of area skaters.
The project is funded by personal money from Litsios and Cirilli, as well as contributions from Zero Gravity Craft Brewery and Driven Studio, a Burlington-based multimedia graphic design and video-production company at which Cirilli works.
The editors hope the formation of the zine will build on the trend toward greater community connections that Litsios and Cirilli have noticed in the Burlington skate scene. They cite the 2015 opening of the Andy A_Dog Williams Skatepark on Burlington's waterfront as a major part of that development.
"The skateboard scene used to be stratified," Litsios recalls. "[There were] these little cliques of people who skated in different spots, and you may or may not interact with all of them. But now that we have a world-class, amazing park downtown, people gravitate to it. It's acting as a kingpin for the whole community.
"I saw that, and saw people interacting that typically hadn't before, and the idea sparked to create a publication that will give a context for those conversations to happen," he continues.
Courtesy Of Peter Cirilli
Nate Dugan skating at a fundraiser for the Winooski Skate Park
The concepts of community and storytelling are driving themes for Sniff This. "Skateboarders are really good at telling stories," Litsios says. "It's how skateboard culture has reproduced over the years. I just want to contribute to that conversation."
Litsios, a copywriter for Burton Snowboards, is himself a skateboarder who grew up reading skate magazines — making Sniff This somewhat of a full-circle moment for him. In skateboarding, "a big part of the culture is observation and appreciation of what's going on," he says. "So magazines are the best platform for that to take place, because they take all these different stories and put them in one publication."
The choice to print a zine, rather than letting the content live on a website or in an Instagram account, is a conscious one. Litsios and Cirilli both say that creating a physical object is an intentional step away from the ephemeral yet highly connected world of the web.
"On Instagram, the [skate] community is 100 percent connected. On a day-to-day basis, you know what skater X did yesterday, or even an hour ago," Litsios says. "But it's fleeting; it doesn't have a sense of permanence and it gets you really obsessed with right now, what's happening today in Burlington skateboarding."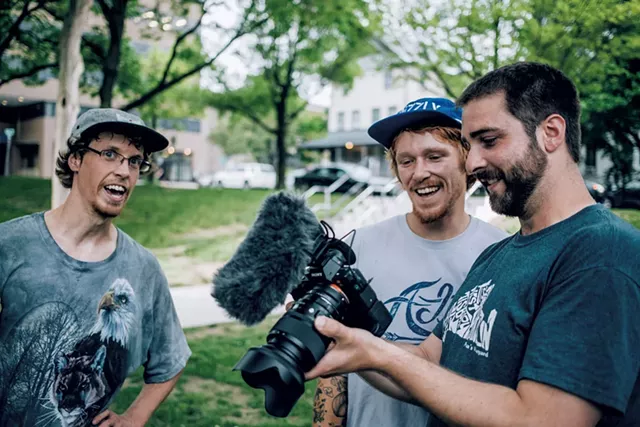 Courtesy Of Peter Cirilli
Left to right: Collin Hale, Jordan Maxham and Dan Hopkins
The ability to keep up with hyper-current events might feel good in the moment, but it has a negative overall effect on building a connected community, the editors postulate. The connections are forgotten as soon as they are made, and tall tales or comical remembrances soon pass into an ever-expanding digital void, becoming harder to find as the hashtags, content and contributors pile up.
"We're giving [these stories] a piece of print that people can hold on to and keep for a little while," Litsios says. "And, even if they throw it away in a year, the stories will have a longer lifespan."
Cirilli also notes that the zine has changed his practice as a photographer. Normally, he would post shots from a skate session shortly after it's completed. "There's not much in this area for people to shoot [photos] for," he explains, "and you could put it on Instagram, but then it's lost in two days. For me, it's especially awesome because I now have something to work for, [and] I can open it up and see [my photographs] in print, and other people can see it and be like, 'Holy crap.'"