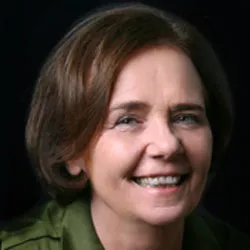 Institutional sexism wasn't an impediment at the New York Times 10 years ago, when Gail Collins was named the first female editor to work on the paper's prestigious editorial page. But it stopped Madeleine Kunin dead in her tracks in the 1950s, when the future Vermont governor, fresh from the Columbia University Graduate School of Journalism, inquired about a copy-editor job at the same newspaper.
"We don't have anything in the newsroom for you," the Times' personnel director told Kunin, "but I could see if we could get you a waitressing job in the Times cafeteria."
What a difference a half century makes.
Kunin's war-of-the-sexes stories figure prominently in Collins' 2009 chronicle of the feminist movement, When Everything Changed: The Amazing Journey of American Women from 1960 to the Present. At Rhode Island's Providence Journal, the woman who would become governor 28 years later was rebuffed by an editor who told her, "The last woman we hired got raped in the parking lot." Next, Kunin tried the Washington Post, where she came close to being hired but was ultimately notified: "We decided to give the job to a man."
This Thursday, Collins, 65, will bring some of that history to an audience too young to remember the days when prejudice stunted the lives of millions of American women. Collins' talk at the University of Vermont is sponsored by Kunin, currently a James Marsh Professor-at-Large at UVM.
Collins' book offers other harrowing examples that will enrage contemporary readers. One in particular comes close to pinpointing the moment "when everything changed" for women. It was 1964, and an airline executive was testifying at a U.S. House hearing about why "stewardesses" had to be young, attractive and single.
Congresswoman Martha Griffiths had heard enough.
"What are you running," she demanded, "an airline or a whorehouse?"
Collins acknowledges that she owes her own career in journalism to the women who fought to make her job opps possible. She joined the Times in 1995 after working as a columnist for Newsday and New York's Daily News, and has been a twice-weekly columnist for the op-ed page since 2007. In a telephone interview last week, Seven Days asked Collins about her book, her career and her upcoming talk.
Seven Days: You quote Kunin in the book as saying she finds the college women she now teaches "kind of a puzzle." Do you think young women today don't appreciate how bad it was before the feminist movement?
Gail Collins: Most kids don't have a strong sense of history in general. I remember when I was in college, and someone would ask me about World War II, and I'd think, What are you, nuts? How the hell are we supposed to know about World War II?
Young women today don't like the term "feminist." There was only about a four-minute period in American history when women liked calling themselves feminists. It's seen as a term that suggests confrontation and conflict. It also got a bad rap from women arguing they weren't feminists because that involved wearing bad shoes.
Also, young women don't like to think of a time when they weren't equal … It's always hard for a younger generation to hear from an older generation about how much they suffered.
SD: Based on the incidents and extent of discrimination you describe in your book, it seems fair to liken women's situation back then to that of black people — except for the slavery part. Do you think that's a fair comparison?
GC: It's a little different for women than for any other oppressed group, because you literally are sleeping with the enemy. It's also not as [oppositional] as it might be. There are very few women who could envision a happy life without their brothers, husbands, sons also doing well.
Keep in mind that the women's movement has always tended to piggyback on other movements, like civil rights. Americans are very susceptible to feelings of unfairness. If you can convince them that something's unfair, they'll leap right on it.
SD: You don't talk in the book about your own experiences. Were you personally discriminated against?
GC: I really wasn't. I came along about 10 seconds later, historically speaking, after things changed. I came through the door that women before me had opened. They were the ones who filed the suits, who won the victories.
SD: You really never felt sexist bias?
GC: No — if anything, I found it an advantage to be a woman. I came along at a time when people were looking for women to do X, Y and Z — everything they hadn't been allowed to do before.
SD: How did it feel to be the first woman appointed to run the editorial page of the country's most influential newspaper?
GC: I felt a huge sense of responsibility. But everyone was really happy for me and helpful, too.
It was a wonderful adventure for me to be an editor, but I always wanted to be a columnist. It's something I'm really comfortable doing.
I tell young people that [devising] a strategy for getting to the top is very important, but even more important is to figure out where your heart lies and then go there.
SD: Here comes the standard question about the future of journalism in the digital age. Do you think there will still be a New York Times five or 10 years from now?
GC: There will definitely still be a New York Times. Of course, more and more of the stuff we do will appear in different formats. And the future clearly belongs to people who know how to use those formats.
SD: Are you adept with those formats?
GC: No, I'm not. But there are some genius people here who walk me through all of it and enable me to get by.
SD: Back to your book — after all the struggles you describe, do you think the gains women won are now secure? Reproductive rights, for example — is it possible that the 1973 Supreme Court abortion decision Roe v. Wade will be overturned?
GC: No, I don't think that will happen, but what bothers me is that there are such wildly different sets of rights around the country. There's one set of rights for women in Nebraska, say, and a quite different set in New York. What seems likely is that there will continue to be a nibbling away of rights, piece by piece, state by state.
SD: What struggles remain to be won by women today?
GC: We've never really dealt with the assumption that it's always the women who take care of kids, even when everybody is working [outside the home.] There's no political traction at all in early childhood education. That's a hugely important issue that has to be addressed.