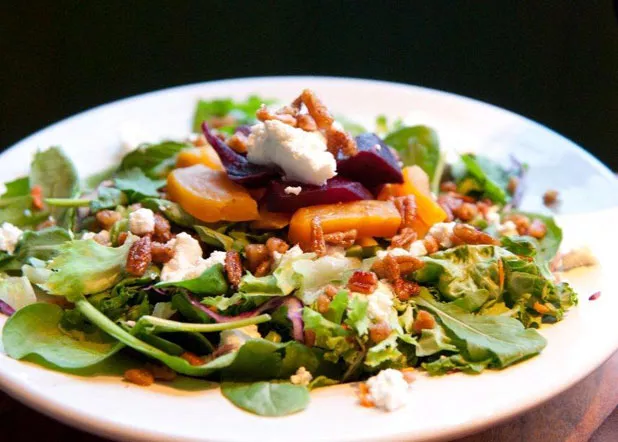 Bistro Sauce's closure and sale last fall were a surprise to many fans of the restaurant. The dining room always seemed to be crowded, and, despite several chef changes, there was certainly nothing wrong with the food. It was especially good from the hands of the final chef, Chris Hechanova, formerly of Big Chile Republic.
The demise of Sauce left a big hole in Shelburne's dining scene. The couple who bought the spot, John and Carolyn Kovac, were first-time restaurant owners. Would they be up to the task, locals wondered? It was encouraging that Jennifer Sinclair, formerly of the Clover House Restaurant, joined the Kovacs as a partner in the business.
But then came word of the restaurant's theme, the Adirondacks, and its unusual name: Barkeaters. What on earth did that mean? (It's actually a translation of the Mohican word adirondacks, referring to the native Alogonquins' wintertime subsistence on bark.)
The term "theme restaurant" can give any serious diner pause. Medieval Times is a chain of gaudy theme restaurants. And there have been thousands of theme-restaurant failures — think Hulk Hogan's Mall of America debacle, Pastamania, or the prison-themed Ed's Barrr-B-Q in Barre, which closed last year.
It's all the more impressive, then, that Barkeaters appears to be succeeding in spite of its theme — and maybe even because of it.
Every detail of the restaurant is carefully considered. From the bar, with shelving fashioned from wood canoes and bottles held by antlers, to the sugaring buckets filled with twigs and branches next to the toilets, the Adirondack aesthetic is vibrant at Barkeaters. While these touches might be too much for some diners, the place is pretty darned cute. From the plush bearskin rug at the hostess stand to the bark-decorated raised fireplace in the dark-green dining room, the warmth is simply irresistible.
The service at both my visits, one lunch and one dinner, was equally welcoming. At times, our dinner server was actually a little overeager. She asked to take our order five times before we were ready, our faces still buried in menus.
However, this same waitress also cut us an extra-large piece of pie at dessert time when it turned out our first choice was no longer available. Her enthusiasm showed as she brought out and discussed each dish in depth. The woman clearly loved the food she was serving.
And understandably so. The menu is not as fussy as that at Bistro Sauce or the Bearded Frog down the road, and it has an appealing balance of sophistication and comfort. Barkeaters is a member of the Vermont Fresh Network, which means the food, at least, is more Green Mountains than Adirondacks. Most elements of the meals are housemade, including sauces and Parmesan-crusted potato chips.
Just after we ordered dinner, a bread basket arrived with what the server said was honey butter. If there was honey, it was difficult to taste, but orange zest was a major presence. The butter paired nicely with the warm, miniature biscuits. The sweet citrus flavor was a little too much for the delightfully doughy raisin bread, however.
Every contemporary American restaurant in Vermont seems to serve a beet-and-goat-cheese salad. Creating one that stands above the rest is a feat, yet the Barkeaters variation was uniquely charming. Mesclun greens served as a palette for chunks of sweet, yielding beets, which in turn paired marvelously with complex local chèvre. Walnuts roasted in maple and thick, almost-creamy-tasting balsamic vinaigrette added layers of rich nuttiness and acid, respectively. The $6 side salad was more than enough for two trenchermen.
Though expensive for an appetizer at $12, the portion of five lamb lollipops was also admirable. Even better, the meat itself was wonderfully tender and well seasoned. I prefer lamb cooked closer to medium rare than the medium well with which we were presented, but its juiciness made this a nonissue.
Each chop was topped with a blob of chèvre and surprisingly sweet arugula pesto. The chops sat in a light pool of balsamic reduction, which, combined with the pesto, made for a slightly saccharine combination in some bites. With a preponderance of balsamic sauces, fruits and sweet potatoes on the menu, it seems that chef Barbara Cote's palate veers toward the sweet. Not necessarily a bad thing.
It wasn't a problem in the espresso pork. Our server brought a steak knife with the dish but noted we might not need it. This wasn't entirely true. While the loin was meltingly tender, it came in chunks so thick and meaty, a fork just wouldn't cut it — literally.
Portions can't be faulted at Barkeaters. The $16 entrée was easily enough for two meals. Coffee grounds coated the meat and imbued it with a rich, almost chocolaty flavor, which was brightened by chopped chives. The accompanying red-eye gravy was also on the sweet side — I thought it was teriyaki sauce at first taste — and there was very little of it. The dish was served with fried onions, cauliflower puree, and a mix of sautéed broccoli, squash and yellow peppers. Though the sautéed veggies were nicely prepared, a few spears of asparagus were underdone, verging on raw.
The same mixed vegetables were on the plate with apple-and-sausage-stuffed chicken breast. The fowl had been wrapped in pancetta, rolled in bread crumbs and fried, which made for something akin to an inside-out Cordon Bleu. A drizzle of fig-Marsala sauce was pleasant — I wished I'd had enough to try it with the mildly creamy scoop of mashed potatoes.
Barkeaters desserts consist mostly of pies baked by locals, with offerings that change daily. Luckily for us, it was chocolate cream the night we dined. The pie's texture was unique, a far sturdier cream than one usually finds. It was also richly chocolaty and topped with not-too-sweet, fresh whipped cream and chocolate shavings.
After dinner, the appearance of another dessert surprised us. The check at Barkeaters is delivered with a toy-sized canoe made of bark. Inside, another kind of bark awaits a bite: White chocolate, studded with dried cranberries, and ultra-dark chocolate mixed with orange zest and sour cherries were a delectable treat. It made the otherwise somewhat casual dining experience feel more special, too. Touches like that that will bring diners back.
Our experience at dinner boded well for our lunchtime visit. We tried the grouper taco, served on a plate-sized tortilla that was evenly covered with chunky mango pico de gallo and a cilantro crema as addictive as it was refreshing. Beneath the sauces lay an assembly of helium-light fish, which had been marinated, battered and fried. This rested atop a pile of shredded lettuce, which filled the taco. The dish could have done with less lettuce — in some bites the taste of greens dominated that of the fish. I preferred the lime-flavored cabbage slaw that was served on the side.
Diners can build their own 6-ounce Angus burger at lunch (at dinnertime, the Barkeaters Highland beef burger is served covered in fried onions and eggs, and and Shelburne Farms cheddar). We went for the ultracrispy, delightfully smoky bacon and Swiss cheese. The patty was seasoned ideally and found a perfect partner in its shiny, eggy challah bun. The thick-cut chips could have used a bit more salt along with their Parmesan coating.
When we were ready for dessert, caramel apple pie had just arrived at the kitchen. Slightly tart apples were nicely spiced and covered with a layer of bubbly caramel rather than crust. More of the golden, gooey compound was drizzled over the plate, too. It was hard to resist asking for seconds.
Barkeaters offers relatively simple food prepared extremely well. Along with the Adirondack whimsy, it's enough to make a Mohawk proud.